FEBRILE DERMATOSIS – A DIAGNOSIS NOT TO FORGET
Pedro Mendes-Bastos

Interno de Dermatovenereologia, Serviço de Dermatologia e Venereologia, Hospital de Curry Cabral, Centro Hospitalar de Lisboa Central, Lisboa, Portugal

Vasco Coelho-Macias

Assistente Hospitalar de Dermatovenereologia, Serviço de Dermatologia e Venereologia, Hospital de Curry Cabral, Centro Hospitalar de Lisboa Central, Lisboa, Portugal

Cândida Fernandes

Assistente Hospitalar Graduada de Dermatovenereologia, Serviço de Dermatologia e Venereologia, Hospital de Curry Cabral, Centro Hospitalar de Lisboa Central, Lisboa, Portugal

Jorge Cardoso

Diretor de Serviço, Serviço de Dermatologia e Venereologia, Centro Hospitalar de Lisboa Central, Lisboa, Portugal
Keywords:
Gonorrhea, skin diseases, Sexually transmitted diseases, Bacterial
Abstract
A 46 year-old male patient with HIV-1/HCV coinfection and liver cirrhosis admitted with fever, prostration, and asthenia. On physical examination, scarce necrotic pustules on an erythematous base on the fingers and toes with swelling, pain and functional limitation of the left tibiotarsal joint were noted. Laboratory revealed only slight elevation of liver enzymology and CRP. We admitted the diagnostic hypotheses of endocarditis, meningococcemia or gonococcemia. After isolation of Neisseria gonorrhoeae from a blood culture, intravenous ceftriaxone was started with clinical improvement. Pharyngeal swab PCR positivity for N. gonorrhoeae confirmed the diagnosis of pharyngeal origin disseminated gonococcemia. Gonorrhea is a sexually transmitted infection caused by Gram-negative diplococcus Neisseria gonorrhoeae. Disseminated gonococcemia in the form of the classical "arthritis-dermatitis" syndrome accompanies only 1-2% of mucosal infections. Pharyngeal gonorrhea is often asymptomatic in men and women, probably constituting an important reservoir of the agent. The rise in gonorrhea incidence makes this case very pertinent in any dermatologist's clinical practice today.
Downloads
Download data is not yet available.
References
Skerlev M, Culav-Koscak I. Gonorrhea: new challenges. Clin Dermatol. 2014; 32:275-81.
Mehrany K, Kist JM, O'Connor WJ, DiCaudo DJ. Disseminated gonococcemia. Int J Dermatol. 2003; 42:208-9.
Bardin T. Gonococcal arthritis. Best Pract Res Clin Rheumatol. 2003; 17(2):201-8.
Feingold DS, Peacocke M. Gonorrhea. In: Freedberg IM, Eisen AZ, Wolff K, et al, editors. Fitzpatrick's Dermatology in General Medicine. New York: McGraw-Hill, 2001.p.931-7.
Gonzalez-Juanatey C, Gonzalez-Gay MA, Llorca J, Crespo F, Garcia-Porrua C, Corredoira J, et al. Rheumatic manifestations of infective endocarditis in non-addicts. A 12-year study. Medicine. 2001; 80:9-19.
Durand ML, Calderwood SB, Weber DJ, Miller SI, Southwick FS, Caviness VS Jr, et al. Acute bacterial meningitis in adults. A review of 493 episodes. N Engl J Med. 1993; 328:21.
Carlin E, Ziza J, Keat A, Janier M. 2014 European Guideline on the management of sexually acquired reactive arthritis. Int J STD AIDS. 2014; 25(13):901-12.
Bignell C, Unemo M. 2012 European Guideline on the Diagnosis and Treatment of Gonorrhoeae in Adults. Int J STD AIDS. 2013; 24(2):85-92.
Manavi K, Young H, McMillan A. The outcome of oropharyngeal gonorrhea treatment with different regimens. Int J STD AIDS. 2005; 16:68-70.
Moran JS. Treating uncomplicated Neisseria gonorrhoeae infections: is the anatomic site of infection important? Sex Transm Dis. 1995; 22(1):39-47.
European Centre for Disease Prevention, Control (ECDC). Annual epidemiological report: reporting on 2011 surveillance data and 2012 epidemic intelligence data. 2013. [9th August 2014] [http://www.ecdc.europa.eu].
Direcção Geral de Saúde. Doenças de Declaração obrigatória: 2009-2012. Volume II. 2014. [12th September 2014] [http://www.dgs.pt].
European Centre for Disease Prevention, Control (ECDC). Gonococcal antimicrobial susceptibility surveillance in Europe – 2010. Stockholm: ECDC. 2012. [9th August 2014] [http://www.ecdc.europa.eu].
Tavares E, Fernandes C, Borrego M, Rodrigues A, Cardoso J. Resistência aos antibióticos em Neisseria gonorrhoeae – passado, presente e futuro. Rev Soc Port Dermatol Venereol. 2013; 70(4), 483-93.
Metzger AL. Gonococcal arthritis complicating gonorrheal pharyngitis. Ann Intern Med. 1970; 73(2):267-9.
Morris SR, Klausner JD, Buchbinder SP, Wheeler SL, Koblin B, Coates T, et al. Prevalence and incidence of pharyngeal gonorrhea in a longitudinal sample of men who have sex with men: the EXPLORE study. Clin Infect Dis. 2006; 43:1284-9.
Koedijk FD, van-Bergen JE, Dukers-Muijrers NH, van-Leeuwen AP, Hoebe CJ, van-der-Sande MA. The value of testing multiple anatomic sites for gonorrhea and chlamydia in sexually transmitted infection centers in the Netherlands, 2006-2010. Int J STD AIDS. 2012; 23:626-38.
Janier EM, Lassau F, Casin I, Morel P. Pharyngeal gonorrhea: the forgotten reservoir. Sex Transm Infect 2003; 79:345-352.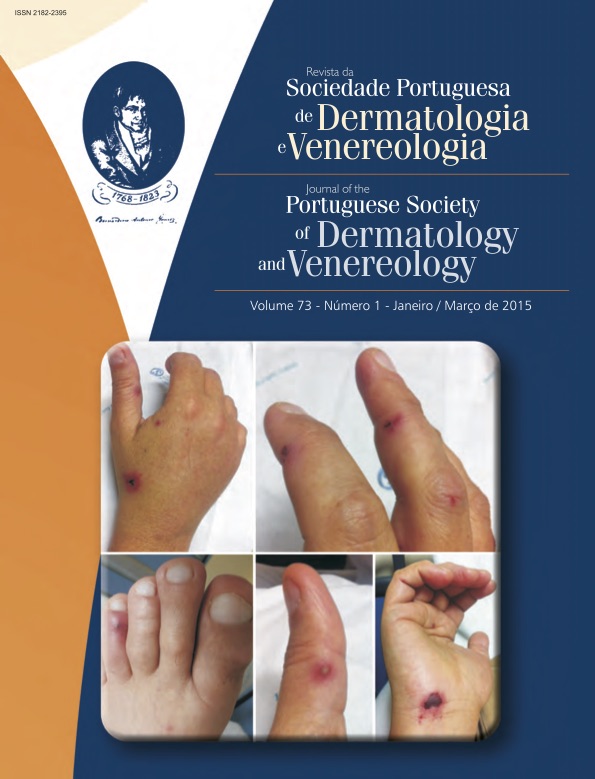 How to Cite
Mendes-Bastos, P., Coelho-Macias, V., Fernandes, C., & Cardoso, J. (2015). FEBRILE DERMATOSIS – A DIAGNOSIS NOT TO FORGET. Journal of the Portuguese Society of Dermatology and Venereology, 73(1), 141-145. https://doi.org/10.29021/spdv.73.1.356
All articles in this journal are Open Access under the Creative Commons Attribution-NonCommercial 4.0 International License (CC BY-NC 4.0).