PAPULO-NODULES LOCATED TO BOTH LOWER EXTREMITIES
Leonor Ramos

Interna de Dermatologia e Venereologia/Resident, Dermatology and Venereology, Serviço de Dermatologia e Venereologia, Centro Hospitalar e Universitário de Coimbra - HUC

M. M. Canelas

Assistente Hospitalar de Dermatologia e Venereologia/Consultant, Dermatology and Venereology, Centro Hospitalar e Universitário de Coimbra - HUC

Ricardo Vieira

Assistente Hospitalar Graduado de Dermatologia e Venereologia /Graduated Consultant, Dermatology and Venereology; Assistente Convidado/Invinted Professor, Faculdade de Medicina, Universidade de Coimbra

J. P. Reis

Assistente Hospitalar Graduado de Dermatologia e Venereologia /Graduated Consultant, Dermatology and Venereology; Assistente Convidado/Invinted Professor, Faculdade de Medicina, Universidade de Coimbra

Óscar Tellechea

Assistente Graduado Sénior, Chefe de Serviço, de Dermatologia e Venereologia/Consultant Chief of Dermatology and Venereology; Assistente Convidado/Invinted Professor, Faculdade de Medicina, Universidade de Coimbra

Américo Figueiredo

Assistente Graduado Sénior, Director de Serviço, Professor Associado com Graduação/Consultant Chief of Dermatology and Venereology, Head of the Dermatology Department, Professor of Dermatology and Venereology, Coimbra University
Keywords:
Perforating dermatosis, Skin diseases
Abstract
Perforating diseases are characterized by transepidermal elimination of degenerated material, including collagen or elastic fibers. Acquired perforating dermatosis affects patients with diabetes mellitus or renal disease, especially under dialysis. An 86-year-old diabetic patient presents with very pruritic erythematous-violaceus papules and papulo-nodules, with a central crust. Lesions were evoluting for 2 months and were located to both lower extremities. The biopsy revealed a depression with fibrinous material and picnotic cells. Van-Gieson coloration showed elimination of vertical collagen bundles. The patient was treated with topical retinoid, with complete resolution.
Downloads
Download data is not yet available.
References
Saray Y, Seçkin D, Bilezikçi B. Acquired perforating dermatosis: clinicopathological features in twenty-two cases. J Eur Acad Dermatol Venereol. 2006, 20:679-88.
Hoque SR, Ameen M, Holden AC. Acquires reactive perforating collagenosis: four patients with a giant variant with allopurinol. Br JDermatol. 2006; 154:759-62.
Hong SB, Park JH, Ihm CG, Kim MI. Acquired perforating dermatosis in patients with chronic renal failure and diabetes mellitus. J Korean Med Sci. 2004; 19:283-8.
Rapini R. Perforating Diseases. In: Bolognia JL, Jorizzo JL, Rapini RP, editors. Dermatology. 2nd ed. Amsterdam: Mosby Elsevier; 2008.p.1461-7.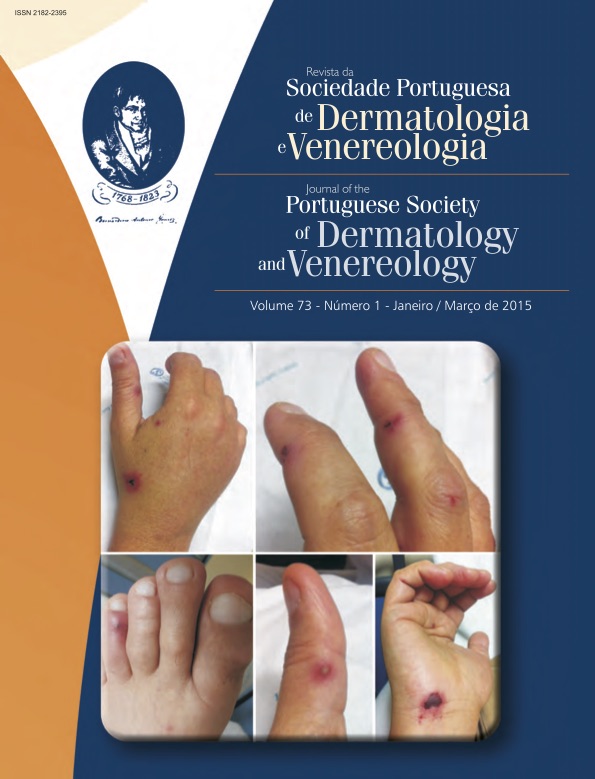 How to Cite
Ramos, L., Canelas, M. M., Vieira, R., Reis, J. P., Tellechea, Óscar, & Figueiredo, A. (2015). PAPULO-NODULES LOCATED TO BOTH LOWER EXTREMITIES. Journal of the Portuguese Society of Dermatology and Venereology, 73(1), 159-162. https://doi.org/10.29021/spdv.73.1.360
All articles in this journal are Open Access under the Creative Commons Attribution-NonCommercial 4.0 International License (CC BY-NC 4.0).