ANNULAR LESIONS RESTRICTED TO THE PENIS AND SCROTUM
Leonor Ramos

Interna de Dermatologia e Venereologia/Resident, Dermatology and Venereology, Serviço de Dermatologia e Venereologia, Centro Hospitalar e Universitário de Coimbra – HUC

Ana Brinca

Assistente Hospitalar de Dermatologia e Venereologia/Consultant, Dermatology and Venereology, Centro Hospitalar e Universitário de Coimbra - HUC

Margarida Gonçalo

Assistente Graduado Sénior, Chefe de Serviço, de Dermatologia e Venereologia/Consultant Chief of Dermatology and Venereology; Assistente Convidado/Invinted Professor, Faculdade de Medicina, Universidade de Coimbra

Hugo Oliveira

Assistente Hospitalar Graduado de Dermatologia e Venereologia/Graduated Consultant, Dermatology and Venereology, Centro Hospitalar e Universitário de Coimbra - HUC

J. Reis

Assistente Hospitalar Graduado de Dermatologia e Venereologia/Graduated Consultant, Dermatology and Venereology, Centro Hospitalar e Universitário de Coimbra - HUC

Américo Figueiredo

Assistente Graduado Sénior, Director de Serviço, Professor Associado com Graduação/Consultant Chief of Dermatology and Venereology, Head of the Dermatology Department, Professor of Dermatology and Venereology, Coimbra University
Keywords:
Granuloma annulare, Scrotum
Abstract
A 30-year-old HIV1 positive male, presented with multiple erythematous-violaceous lesions, with elevated borders and an annular configuration, restricted to the penis and scrotum. The lesions were asymptomatic, evolved for 2 weeks, and clinically resembled granuloma annulare. He also had discrete erythematous papules in the trunk that appeared simultaneously.
A cutaneous biopsy was made and histopathology revealed a lichenoid infiltrate, mainly of plasma cells. Syphilis screening was positive, with a positive TPHA and a reactive RPR (titer of 1:256). The diagnosis of secondary syphilis was established and the patient was submitted to treatment with 3 weekly doses of intramuscular benzathine penicillin (2.4 million units).
HIV co-infection can affect the initial presentation, disease course and hamper syphilis diagnosis. Syphilis, known as "the great imitator", must be kept in mind, even before unusual presentations, especially in HIV positive patients.
Downloads
Download data is not yet available.
References
Jiang G, Zhang L, Zhong L, Zheng J, Liu J. An illustrative case report of secondary syphilis with alopecia syphilitica, perianal condyloma latum, and granuloma annulare–like lesions. Cutis. 2013. 92(5):E13-5.
Oliveira F, Benicio K, Cerutti G, Natividade N, Nery J. Manifestações clínicas e sorológicas conflitantes de sífilis em coinfecção pelo HIV. DST - J Bras Doenças Sex Transm. 2011; 23(4):222-4.
Santana Azevedo WA, Campos do Carmo G. Quinete S, Carvalho CR, Souza Marques A. Sífilis exuberante em paciente co-infectado pelo HIV. Med Cutan Iber Lat Am 2009; 37(2):98-101.
Zetola N, Klausner JD. Syphilis and HIV infection: An Update. Clin Infect Dis. 2007; 44:1222-8.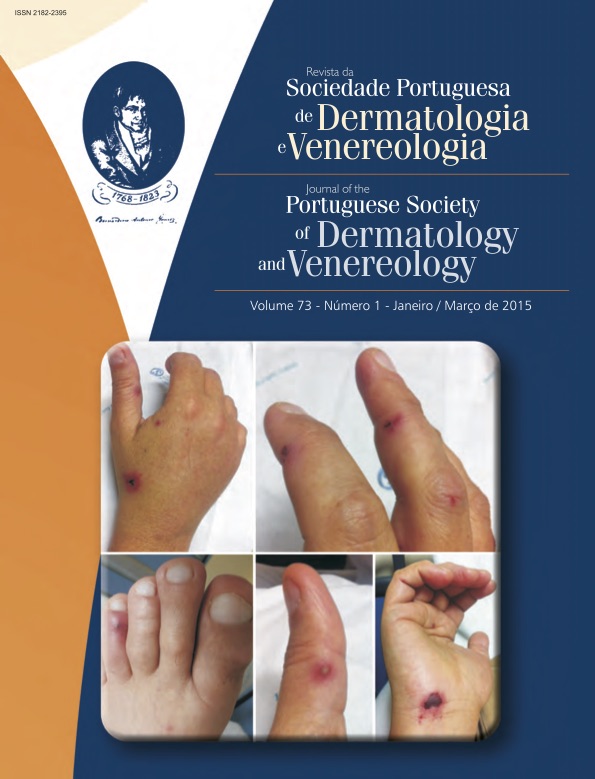 How to Cite
Ramos, L., Brinca, A., Gonçalo, M., Oliveira, H., Reis, J., & Figueiredo, A. (2015). ANNULAR LESIONS RESTRICTED TO THE PENIS AND SCROTUM. Journal of the Portuguese Society of Dermatology and Venereology, 73(1), 155-158. https://doi.org/10.29021/spdv.73.1.359
All articles in this journal are Open Access under the Creative Commons Attribution-NonCommercial 4.0 International License (CC BY-NC 4.0).