GLUCOCORTICOID USE IN STEVENS-JOHNSON SYNDROME AND TOXIC EPIDERMAL NECROLYSIS CASES IN HOSPITAL NOSSA SENHORA DA CONCEIÇÃO - MARCH 2007 TO AUGUST 2014
Mariana Palazzo Carpena

Médica Endocrinologista, preceptora da Residência de Medicina Interna/Specialist in Endocrinology and Responsible for the Residency in Internal Medicine, Hospital Nossa Senhora da Conceição, Porto Alegre, Rio Grande do Sul, Brasil

Bruna Maggioni Bussetti

Médica Especialista em Medicina Interna/Specialist in Internal Medicine, Hospital Nossa Senhora da Conceição, Porto Alegre, Rio Grande do Sul, Brasil

Camila Britto Rodrigues

Médica Especialista em Medicina Interna/Specialist in Internal Medicine, Hospital Nossa Senhora da Conceição, Porto Alegre, Rio Grande do Sul, Brasil

Lílian Moraes Ferreira

Médica Especialista em Medicina Interna/Specialist in Internal Medicine, Hospital Nossa Senhora da Conceição, Porto Alegre, Rio Grande do Sul, Brasil

Paola Cavalheiro Herbstrith

Médica Especialista em Medicina Interna/Specialist in Internal Medicine, Hospital Nossa Senhora da Conceição, Porto Alegre, Rio Grande do Sul, Brasil
Keywords:
Adrenal cortex hormones, Brazil, Stevens-Johnson syndrome
Abstract
Introduction: Stevens-Johnson syndrome and toxic epidermal necrolysis are severe skin reactions associated with mucosal lesions and systemic involvement. Glucocorticoids were used for many years in the treatment of Stevens-Johnson syndrome / Toxic Epidermal Necrolysis, but there is no evidence to support this approach.
Objective: Assessment of mortality in Stevens-Johnson syndrome/Toxic Epidermal Necrolysis cases in a group of patients that used systemic glucocorticoids and another group who did not.
Secondary objective: Description of the study population; review of secondary infection and extra-cutaneous complications in both groups of patients.
Material and Methods: Retrospective cohort of patients selected by consulting requested to the Dermatology Service of the Hospital Nossa Senhora da Conceição, as well as the diagnosis at admission or death, during the period March 2007 to August 2014.
Results: Mortality rate was 63.2% in the group that used corticosteroids and 9.1% in the group that did not use steroids, with p value 0.005 (95% CI 1.79-163.8). Multivariate analysis adjusted for SCORTEN showed only a trend for harm, with an odds ratio for mortality in patients who used glucocorticoids being of 7:38 (95% CI 0.87-161.43) and p value 0.06.
Conclusion: This study suggests a trend for harm associated with glucocorticoids use for treatment of these diseases, especially in regard to mortality.
Downloads
Download data is not yet available.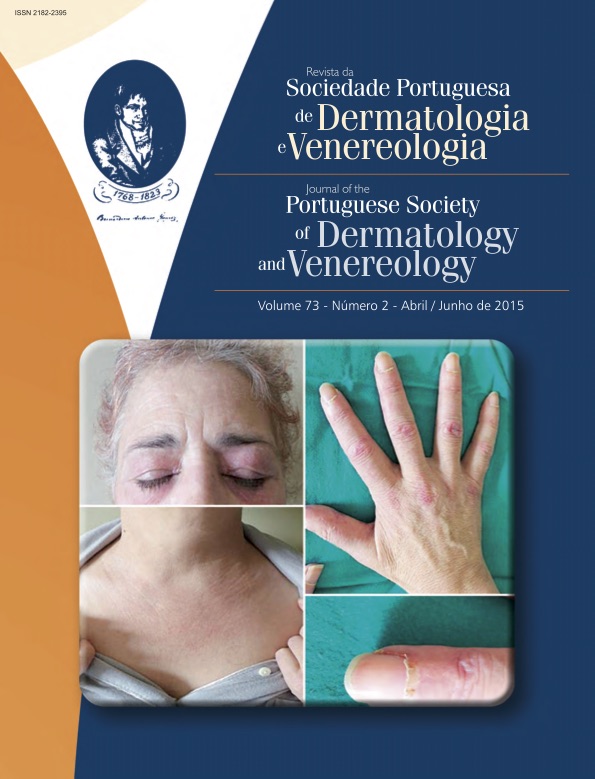 How to Cite
Palazzo Carpena, M., Maggioni Bussetti, B., Britto Rodrigues, C., Moraes Ferreira, L., & Cavalheiro Herbstrith, P. (1). GLUCOCORTICOID USE IN STEVENS-JOHNSON SYNDROME AND TOXIC EPIDERMAL NECROLYSIS CASES IN HOSPITAL NOSSA SENHORA DA CONCEIÇÃO - MARCH 2007 TO AUGUST 2014. Journal of the Portuguese Society of Dermatology and Venereology, 73(2), 247-252. https://doi.org/10.29021/spdv.73.2.371
Section
Original Articles
All articles in this journal are Open Access under the Creative Commons Attribution-NonCommercial 4.0 International License (CC BY-NC 4.0).