PHOTODYNAMIC THERAPY IN THE TREATMENT OF BASAL CELL CARCINOMA - EXPERIENCE OF BRAGA´S HOSPITAL
Cristina Resende

Interno do Internato Complementar de Dermatologia e Venereologia/Resident, Dermatology and Venereology, Hospital de Braga, Portugal

C. Araújo

Interno do Internato Complementar de Dermatologia e Venereologia/Resident, Dermatology and Venereology, Hospital de Braga, Portugal

R. Santos

Interno do Internato Complementar de Dermatologia e Venereologia/Resident, Dermatology and Venereology, Hospital de Braga, Portugal

C. Macedo

Assistente Hospitalar de Dermatologia e Venereologia/Consultant, Dermatology and Venereology, Hospital de Braga, Portugal

C. Brito

Chefe de Serviço, Diretora do Serviço de Dermatologia e Venereologia/Consultant Chief, Head of Department o f Dermatology and Venereology, Hospital de Braga, Portugal
Keywords:
Carcinoma, basal cell, Photochemotherapy, Photosensitizing agents, Skin neoplasms
Abstract
Introduction: Photodynamic therapy is noninvasive and is based on the topical application of a photosensitizing agent, which after exposure to light source generates free radicals that selectively injure the pre-neoplastic and neoplastic cells. It is approved for the treatment of actinic keratosis, Bowen's disease and basal cell carcinomas.
Methods: This retrospective study evaluated the results obtained in the treatment of basal cell carcinoma with photodynamic therapy in the Department of Dermatology, Hospital de Braga, during a 10-year period (2003-2013), in particular cosmetic outcome, patient satisfaction, the relapse and side effects.
Results: A total of 161 patients were included. In females, the median age of patients was 69 years and for males the median age was 68 years. Regarding sex, 85 (52.8%) of the patients were female and 76 (47.2%) were male. In females there was a predominance of basal cell carcinomas on the face (n = 97, 50.8%), while in males there was a predominance in the trunk (n = 67, 41.1%), and this difference was statistically significant. The median area of treated basal cell carcinomas was 20 mm2. All patients reported slight pain at the time of irradiation. The recurrence of treated lesions was 0.5%.
Discussion: Photodynamic therapy had excellent cosmetic results, low percentage of recurrence, few secondary effects and high patient satisfaction. However, the classical surgery continues to play a key role, particularly in nodular basal cell carcinoma and morpheaform basal cell carcinoma, which are contraindications to performing the photodynamic therapy.
Downloads
Download data is not yet available.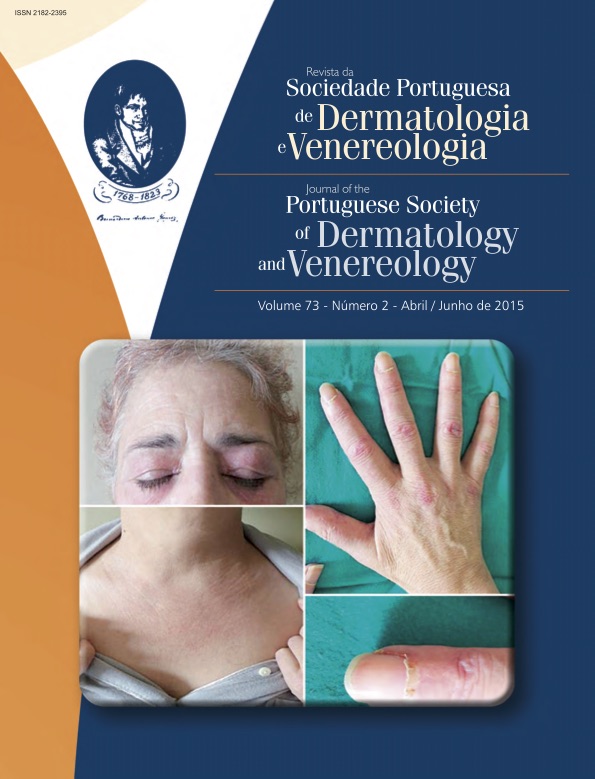 How to Cite
Resende, C., Araújo, C., Santos, R., Macedo, C., & Brito, C. (1). PHOTODYNAMIC THERAPY IN THE TREATMENT OF BASAL CELL CARCINOMA - EXPERIENCE OF BRAGA´S HOSPITAL. Journal of the Portuguese Society of Dermatology and Venereology, 73(2), 253-257. https://doi.org/10.29021/spdv.73.2.372
Section
Original Articles
All articles in this journal are Open Access under the Creative Commons Attribution-NonCommercial 4.0 International License (CC BY-NC 4.0).