PITYRIASIS RUBRA PILARIS
Luana Pizarro Meneghello

Especialista em Dermatologia/Dermatologista, SBD, Brasil

Fernanda Silveira Costa

Graduada em Medicina/Medical Graduated, UNIFESO, Brasil

Daniela de Abreu e Silva Martinez

Graduada em Medicina/Medical Graduated, Fundação Técnico Educacional Souza Marques, Brasil

Aline Morales De Domenico

Graduada em Medicina/Medical Graduated, Centro Universitário São Camilo, Brasil

Fernanda Tardelli Sanchez Tatsch

Estudante do 6º ano de Medicina/Medical Student, UNIGRANRIO, Brasil

Flávia Feitosa Serôdio Araújo

Graduada em Medicina/Medical Graduated, UNIGRANRIO, Brasil
Keywords:
Pityriasis rubra pilaris, Acitretin, Hyperkeratosis, eidermolytic
Abstract
Pityriasis rubra pilaris is a chronic scaly papular disease, of unknown etiology. Although there are familial cases, most of them are acquired. It Affects men and women equally, presenting bimodal incidence peaks in the first and fifth decades of life. We report a case of Pityriasis rubra pilaris in the classic adult form, on a male patient aged 40, who had chronic erythematous scaly follicular papules, 4 years of evolution, on the dorsum of the fingers. This study addresses the clinical course of the disease, differential diagnoses, histopathological findings and treatment with acitretin.
Downloads
Download data is not yet available.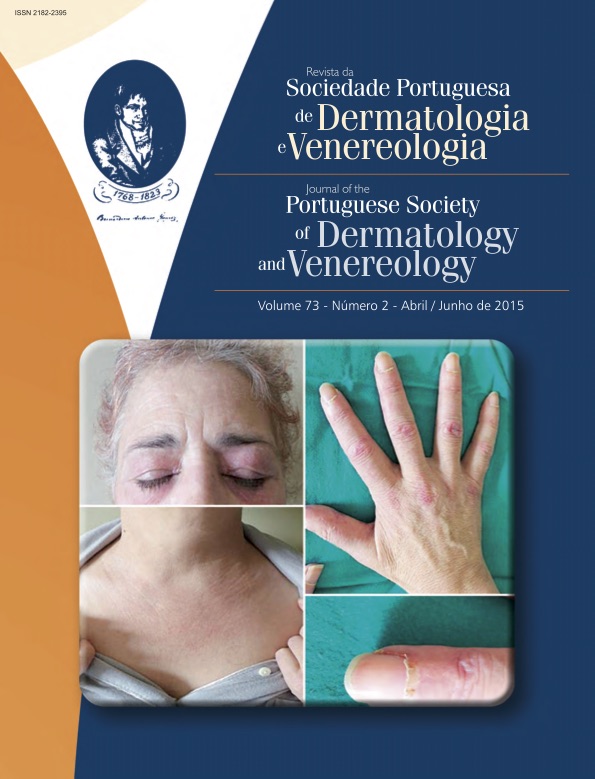 How to Cite
Pizarro Meneghello, L., Silveira Costa, F., de Abreu e Silva Martinez, D., Morales De Domenico, A., Tardelli Sanchez Tatsch, F., & Feitosa Serôdio Araújo, F. (1). PITYRIASIS RUBRA PILARIS. Journal of the Portuguese Society of Dermatology and Venereology, 73(2), 279-282. https://doi.org/10.29021/spdv.73.2.377
All articles in this journal are Open Access and meet the requirements of funding bodies or academic institutions. Each article published in the Journal is published under the Creative Commons Attribution-NonCommercial-NoDerivatives 4.0 International License (CC BY-NC-ND 4.0). Articles can be read, downloaded, printed, and shared.
Submission of an article for publication implies the authors' consent to publication under the applicable Creative Commons license and the terms and conditions of the Publisher's Licensing Agreement.
It is the author's responsibility to obtain permission to reproduce illustrations, tables, etc. from other publications.
Upon acceptance of an article, authors will be asked to complete a 'Journal Publishing Agreement'. An e-mail will be sent to the corresponding author confirming receipt of the manuscript together with a 'Journal Publishing Agreement' form or a link to the online version of this agreement.
Author rights: As an author you (or your employer or institution) have certain rights to reuse your work.
The Journal reserves the right to use plagiarism detection software on any submitted material.