NSAID HYPERSENSITIVITY AND BASOPHIL ACTIVATION TEST
Jorge Viana

Assistente de Imunoalergologia/Consultant, Immunology and Allergology, Serviço de Imunoalergologia, Centro Hospitalar e Universitário de Coimbra

Sofia Vale Pereira

Investigadora do Instituto de Patologia Geral/Investigator atf the Institute of General Pathology, Faculdade de Medicina, Universidade de Coimbra

Carlos Loureiro

Assistente Hospitalar Graduado/Graduated Consultant, Serviço de Imunoalergologia, Centro Hospitalar e Universitário de Coimbra

Anabela Mota Pinto

Professora Catedrática de Fisiopatologia/Professor of Physiopathology, da Faculdade de Medicina da Universidade de Coimbra; Diretora do Instituto de Patologia Geral/Head of the Institute of General Pathology, Faculdade de Medicina, Universidade de Coimbra

Ana Todo-Bom

Diretora de Serviço/Head of the Department, Serviço de Imunoalergologia, Centro Hospitalar e Universitário de Coimbra Centro Hospitalar e Universitário de Coimbra, Coimbra, Portugal
Keywords:
Anti-inflammatory agents, Non-steroidal, adverse effects, Basophil degranulation test, Drug hypersensitivity, diagnosis, Urticaria, complications, Drug provocation test
Abstract
Introduction: Allergy to nonsteroidal anti-inflammatory drugs (NSAIDs) is often associated with severe hypersensitivity reactions and with difficult diagnosis. Basophil activation test by flow cytometry with Flow2cast (BAT) is a novel in vitro test for identification of hypersensitivity reactions to these drugs but with some limitations.
Clinical case: Young male manifesting chronic urticaria since childhood presented with worsening of hives with angioedema immediately after NSAID intake. Last reaction happened over a year before after lysine acetylsalicylate. Initial BAT for diagnosis with acetylsalicylic acid (ASA) was inconclusive. Drug provocation test (DPT) negative to celecoxib. Another DPT with 700mg of ASA triggered anaphylaxis three hours later with hypoxia and serum tryptase 27.1μg / L. A second BAT had higher basal activation and marked increase with ASA incubation.
Discussion: This case shows current BAT recommendation in NSAID hypersensitivity: a negative BAT does not avoid NSAID DPT. However, time between last reaction and BAT seems to influence results.
Downloads
Download data is not yet available.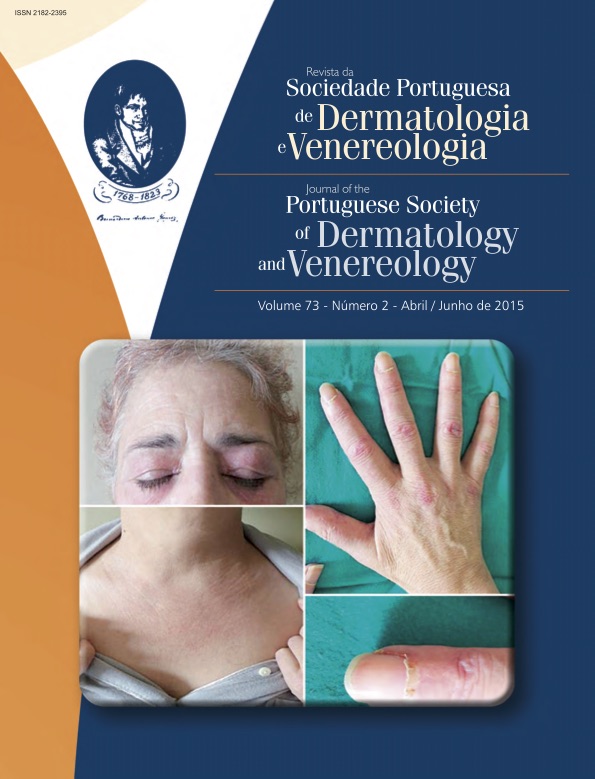 How to Cite
Viana, J., Vale Pereira, S., Loureiro, C., Mota Pinto, A., & Todo-Bom, A. (1). NSAID HYPERSENSITIVITY AND BASOPHIL ACTIVATION TEST. Journal of the Portuguese Society of Dermatology and Venereology, 73(2), 293-298. https://doi.org/10.29021/spdv.73.2.380
All articles in this journal are Open Access under the Creative Commons Attribution-NonCommercial 4.0 International License (CC BY-NC 4.0).