VULVAR LICHEN SCLEROSUS – A REVIEW OF 208 CASES
Ermelindo Torres

Interno(a) do Internato Complementar de Dermatologia e Venereologia/Resident Dermatology and Venereology

Joana Parente

Interno(a) do Internato Complementar de Dermatologia e Venereologia/Resident Dermatology and Venereology

J. C. Almeida

Dermatologista, Ex-Director do Serviço de Dermatologia e Venereologia/Dermatologist, Past Director of Dermatology and Venereology Department, Ex-presidente honorário/Past Honorary President, International Society of Cryosurgery (ISC)

José Teixeira

Assistente de Ginecologia e Obstetrícia/Consultant, Gynecology and Obstetrics, Director do Serviço de Ginecologia e Obstetrícia/Director of the Gynecology and Obstetrics Department

César Martins

Assistente Graduado de Dermatologia e Venereologia/Graduated Consultant, Dermatology and Venereology Consulta de Patologia Vulvar, Hospital Distrital de Santarém, Portugal

João Aranha

Assistente Graduado de Dermatologia e Venereologia/Graduated Consultant, Dermatology and Venereology Consulta de Patologia Vulvar, Hospital Distrital de Santarém, Portugal
Abstract
Introduction: Lichen sclerosus (LS) is a chronic idiopathic inflammatory disease that preferentially affects the anogenital region and postmenopausal Caucasian women.
Aims: Retrospective characterization of patients with vulvar LS diagnosed and treated at our Department (Vulvar Pathology Consultation), between 1986 and 2004.
Material and Methods: A total of 208 Caucasians women were included in the study. We consulted clinical charts and performed statistical analysis of the following variables: age, location, clinical signs and symptoms, association with other disea- ses, treatment modalities, follow-up and complications.
Results: The mean duration of LS was 6.3 years. The mean age at diagnosis was 59.6 years. The mean age at development of symptoms was 53 years. One hundred and eighty-two (87.5%) patients were in the postmenopausal period. Pruritus was the predominant symptom (90.9%). Only 39 (18.8%) patients did not developed vulvar atrophy. One hundred and forty-two (68.2%) had not narrowing of the vaginal in- troitus. Histological examination confirmed LS in 185 cases (93.9%) and it was compatible with LS in the remaining 12 (6.1%). Topical testosterone propionate (TP) was used in 88 (42.3%) cases, topical corticosteroids in 24 (11.5%) and both in 76 (36.6%). The mean follow-up was 9.5 years. Nine (4.3%) women developed vulvar SCC and the mean age at diagnosis was 68.2 years.
Conclusions: LS prevailed in post-menopausal women. Vulvar pruritus and atrophy were the main clinical findings. Most cases were confirmed by histology. Topical TP was the most commonly used therapy. Malignancy occurred in nine cases.
KEYWORDS – Vulvar Lichen Sclerosus; Testosterone Propionate; Glucocorticoids; Carcinoma, Squamous Cell.


Downloads
Download data is not yet available.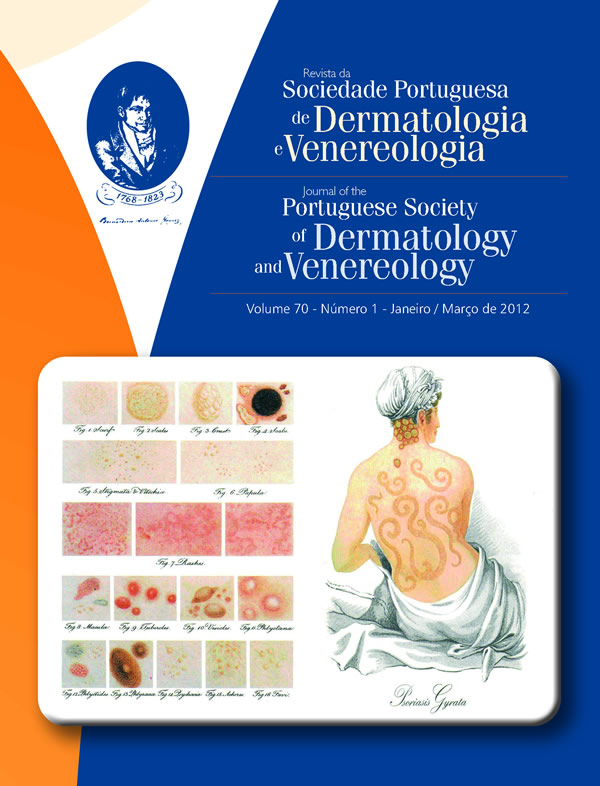 How to Cite
Torres, E., Parente, J., Almeida, J. C., Teixeira, J., Martins, C., & Aranha, J. (1). VULVAR LICHEN SCLEROSUS – A REVIEW OF 208 CASES. Journal of the Portuguese Society of Dermatology and Venereology, 70(1), 81. https://doi.org/10.29021/spdv.70.1.41
Section
Original Articles
All articles in this journal are Open Access and meet the requirements of funding bodies or academic institutions. Each article published in the Journal is published under the Creative Commons Attribution-NonCommercial-NoDerivatives 4.0 International License (CC BY-NC-ND 4.0). Articles can be read, downloaded, printed, and shared.
Submission of an article for publication implies the authors' consent to publication under the applicable Creative Commons license and the terms and conditions of the Publisher's Licensing Agreement.
It is the author's responsibility to obtain permission to reproduce illustrations, tables, etc. from other publications.
Upon acceptance of an article, authors will be asked to complete a 'Journal Publishing Agreement'. An e-mail will be sent to the corresponding author confirming receipt of the manuscript together with a 'Journal Publishing Agreement' form or a link to the online version of this agreement.
Author rights: As an author you (or your employer or institution) have certain rights to reuse your work.
The Journal reserves the right to use plagiarism detection software on any submitted material.