B-CELL CHRONIC LYMPHOCYTIC LEUKEMIA-ASSOCIATED EOSINOPHILIC FOLLICULITIS SUCCESSFULLY TREATED WITH INTRAVENOUS IMMUNOGLOBULIN
Diogo Matos

Interno do Internato Complementar de Dermatologia e Venereologia/Resident, Dermatology and Venereology, Hospital Garcia de Orta, Almada, Portugal

Hugo Barreiros

Dermatologista /Dermatologist, Centro Dermatologia Epidermis, Instituto CUF, Porto, Portugal

Ricardo Coelho

Assistente Hospitalar de Dermatologia e Venereologia/Consultant, Dermatology and Venereology, Hospital Garcia de Orta, Almada, Portugal

Henriqueta Cunha

Assistente Hospitalar de Dermatologia e Venereologia/Consultant, Dermatology and Venereology, Hospital Garcia de Orta, Almada, Portugal

Elvira Bártolo

Chefe de Serviço de Dermatologia e Venereologia, Directora do Serviço de Dermatologia e Venereologia/Chief and Head of Dermatology and Venereology Department, Hospital Garcia de Orta, Almada, Portugal

Fernanda Vargas

Assistente Hospitalar de Hematologia/Consultant, Haematology, Hospital Garcia de Orta, Almada, Portugal
Keywords:
Eosinophilia, Folliculitis, Immunoglobulins, intravenous, Leukemia, Lymphocytic, chronic, B-cell
Abstract
.
Downloads
Download data is not yet available.
References
Ofuji S, Ogino A, Horio T, Oseko T, Uehara M. Eosinophilic pustular folliculitis. Acta Derm Venereol. 1970;50:195-203.
Katoh M, Nomura T, Miyachi Y, Kabashima K. Eosinophilic pustular folliculitis: a review of the Japanese published works. J Dermatol. 2013; 40:15-20.
Ono S, Yamamoto Y, Otsuka A, Kabashima K, Miyachi Y. Evaluation of the effectiveness of antibiotics against eosinophilic pustular folliculitis. Case Rep Dermatol. 2013;5:144-7.
Anthony RM, Kobayashi T, Wermeling F, Ravetch JV. Intravenous gammaglobulin suppresses inflammation through a novel T(H)2 pathway. Nature. 2011;475:110-3.
Hagiwara A, Fujimura T, Furudate S, Kambayashi Y, Kagatani S, Aiba S. Induction of CD163+ M2 macrophages in the lesional skin of eosinophilic pustular folliculitis. Acta Derm Venereol. 2014; 94:104-6.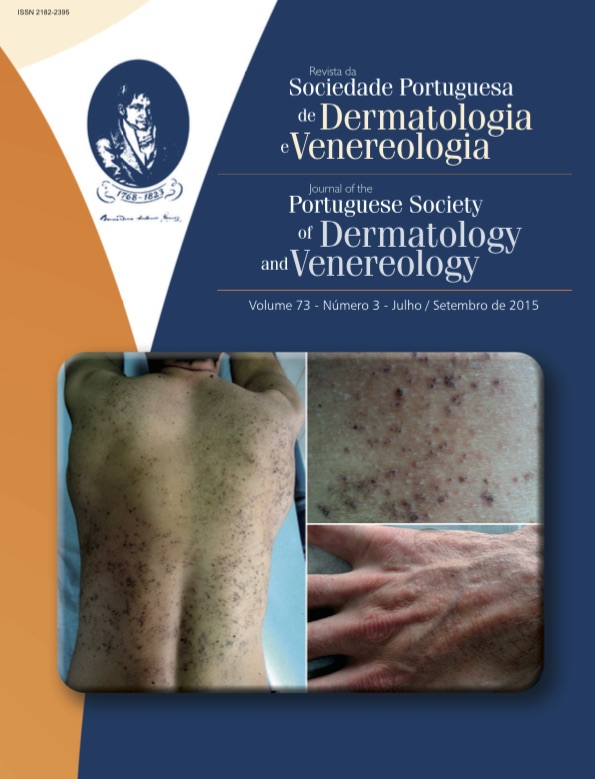 How to Cite
Matos, D., Barreiros, H., Coelho, R., Cunha, H., Bártolo, E., & Vargas, F. (2015). B-CELL CHRONIC LYMPHOCYTIC LEUKEMIA-ASSOCIATED EOSINOPHILIC FOLLICULITIS SUCCESSFULLY TREATED WITH INTRAVENOUS IMMUNOGLOBULIN. Journal of the Portuguese Society of Dermatology and Venereology, 73(3), 397-399. https://doi.org/10.29021/spdv.73.3.466
Section
Letter to the Editor
All articles in this journal are Open Access under the Creative Commons Attribution-NonCommercial 4.0 International License (CC BY-NC 4.0).