CUTANEOUS METASTATIC PLASMACYTOMAS
Diogo Matos

Interno do Internato Complementar de Dermatologia e Venereologia/ Resident, Dermatology and Venereology, Hospital Garcia de Orta, Almada, Portugal

João Alves

Interno do Internato Complementar de Dermatologia e Venereologia/ Resident, Dermatology and Venereology, Hospital Garcia de Orta, Almada, Portugal

Hugo Barreiros

Dermatologista/Dermatologist, Centro Dermatologia Epidermis, Instituto CUF, Porto, Portugal

Ricardo Coelho

Assistente Hospitalar de Dermatologia e Venereologia/Consultant, Dermatology and Venereology, Hospital Garcia de Orta, Almada, Portugal

Elvira Bártolo

Chefe de Serviço de Dermatologia e Venereologia, Directora do Serviço de Dermatologia e Venereologia/ Chief and Head of Dermatology and Venereology Department Hospital Garcia de Orta, Almada, Portugal

Fernanda Vargas

Assistente Hospitalar de Hematologia/Consultant, Haematology, Hospital Garcia de Orta, Almada, Portugal
Keywords:
Plasmacytoma, Skin neoplasms, Multiple myeloma
Abstract
.
Downloads
Download data is not yet available.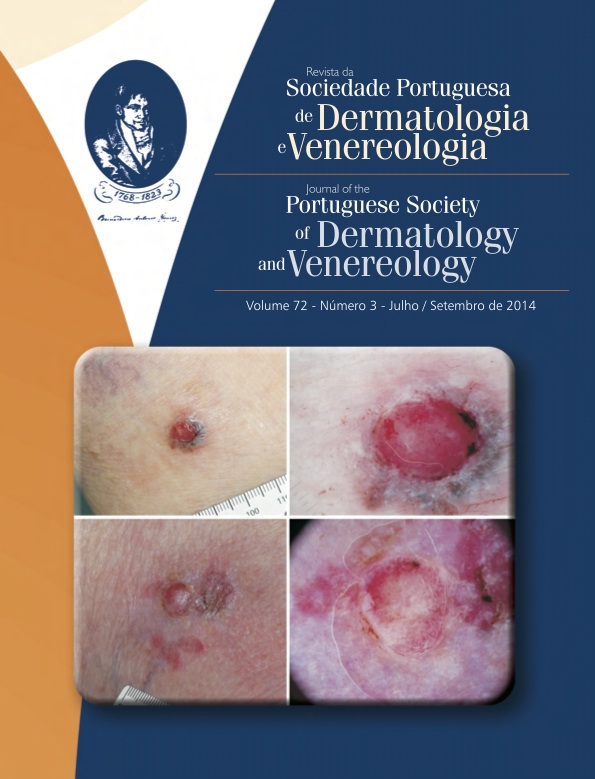 How to Cite
Matos, D., Alves, J., Barreiros, H., Coelho, R., Bártolo, E., & Vargas, F. (1). CUTANEOUS METASTATIC PLASMACYTOMAS. Journal of the Portuguese Society of Dermatology and Venereology, 72(3), 425-427. https://doi.org/10.29021/spdv.72.3.293
Section
Letter to the Editor
All articles in this journal are Open Access under the Creative Commons Attribution-NonCommercial 4.0 International License (CC BY-NC 4.0).