Allergic Contact Cheilitis to Food Additives
Ana Isabel Gouveia

Interna do Internato Complementar de Dermatologia e Venereologia/Resident, Dermatology and Venereology, Clínica Universitária de Dermatologia, Hospital de Santa Maria (CHLN), Lisboa, Portugal

L. Lopes

Interna do Internato Complementar de Dermatologia e Venereologia/Resident, Dermatology and Venereology, Clínica Universitária de Dermatologia, Hospital de Santa Maria (CHLN), Lisboa, Portugal

T. Correia

Assistente Hospitalar Graduada de Dermatologia e Venereologia/Graduated Consultant, Dermatology and Venereology, Clínica Universitária de Dermatologia, Hospital de Santa Maria (CHLN), Lisboa, Portugal
Keywords:
Antioxidants, Cheilitis, Cosmetics, Dermatitis, Allergic Contact, Food Additives, Food Preservatives, Propyl Gallate, Sulfites
Abstract
Food additives are used intentionally to modify food properties. Sulfites are used in food industry due to its antibacterial action, prevention of oxidation and inhibition of enzymatic and nonenzymatic browning discoloration of food during the process of preparation, distribution and storage. Gallates are used as antioxidants both in food and cosmetics. We report the case of a 36 years-old patient with allergic contact cheilitis to sodium metabisulfite (E223) found in a fruit salad, possibly perpetuated by the antioxidants in her lipsticks.
Downloads
Download data is not yet available.
References
Madan V, Walker SL, Beck MH. Sodium metabisulfite allergy is common but is it relevant? Contact Dermatitis. 2007;57:173-6.
Viegas L. Food additives in cosmetics – clinical relevance. Rev Soc Port Dermatol Venereol. 2014; 72:63-72.
García-Melgares ML, de la Cuadra J, Martín B, Laguna C, Martínez L, Alegre V. Sensibilización por galatos. Revisión de 46 casos. Actas Dermosifiliogr. 2007; 98:688-93.
Johansen JD, Aalto-Korte K, Agner T, Andersen KE, Bircher A, Bruze M, et al. European Society of Contact Dermatitis guideline for diagnostic patch testing - Recommendations on best practice. Contact Dermatitis. 2015; 73:195-221.
García-Gavín J, Parente J, Goossens A. Allergic contact dermatitis caused by sodium metabisulfite: A challenging allergen. A case series and literature review. Contact Dermatitis. 2012; 67:260-9.
Cussans A, McFadden J OL. Systemic sodium metabisulfite allergy. Contact Dermatitis. 2015; 73:313-24.
Vally H, Misso NL a, Madan V. Clinical effects of sulphate additives. Clin Exp Allergy. 2009; 39:1643-51.
Vally H, Misso NL. Adverse reactions to the sulphite additives. Gastroenterol Hepatol Bed Bench. 2012; 5:16-23.
Vally H, Misso NL, Madan V. Clinical effects of sulphate additives. Clin Exp Allergy. 2009; 39:1643-51.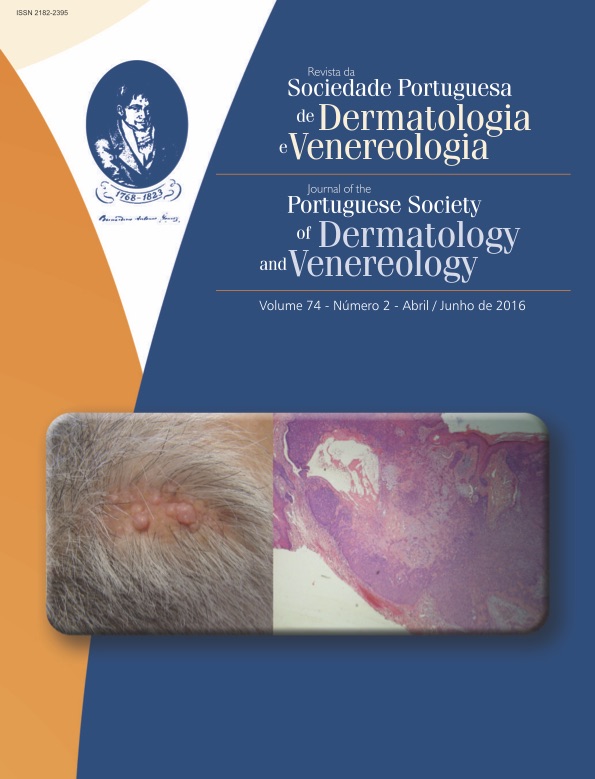 How to Cite
Gouveia, A. I., Lopes, L., & Correia, T. (2016). Allergic Contact Cheilitis to Food Additives. Journal of the Portuguese Society of Dermatology and Venereology, 74(2), 191-193. https://doi.org/10.29021/spdv.74.2.557
Section
Grupo Português de Estudo das Dermites de Contacto (GPEDC)
All articles in this journal are Open Access and meet the requirements of funding bodies or academic institutions. Each article published in the Journal is published under the Creative Commons Attribution-NonCommercial-NoDerivatives 4.0 International License (CC BY-NC-ND 4.0). Articles can be read, downloaded, printed, and shared.
Submission of an article for publication implies the authors' consent to publication under the applicable Creative Commons license and the terms and conditions of the Publisher's Licensing Agreement.
It is the author's responsibility to obtain permission to reproduce illustrations, tables, etc. from other publications.
Upon acceptance of an article, authors will be asked to complete a 'Journal Publishing Agreement'. An e-mail will be sent to the corresponding author confirming receipt of the manuscript together with a 'Journal Publishing Agreement' form or a link to the online version of this agreement.
Author rights: As an author you (or your employer or institution) have certain rights to reuse your work.
The Journal reserves the right to use plagiarism detection software on any submitted material.