Squamous Cell Carcinoma on Marginal Palmar Keratoderma
Heliana Freitas de Oliveira Góes

Universidade Federal Fluminense, Niterói, RJ, Brazil

Maria Claudia Almeida Issa

Universidade Federal Fluminense, Niterói, RJ, Brazil

Flávio Barbosa Luz

Universidade Federal Fluminense, Niterói, RJ, Brazil

Caren dos Santos Lima

Universidade Federal Fluminense, Niterói, RJ, Brazil

Márcia Kalil Aidé

Universidade Federal Fluminense, Niterói, RJ, Brazil

Mayra Corrijo Rochael

Universidade Federal Fluminense, Niterói, RJ, Brazil

Roberta Duarte Bezerra Pinto

Universidade Federal Fluminense, Niterói, RJ, Brazil
Keywords:
Carcinoma, Squamous Cell, Hand, Keratoderma, Palmoplantar, Skin Neoplasms
Abstract
Marginal palmar keratoderma is characterized by palmar keratoderma affecting the limits of the dorsal and palmar regions of ulnar and radial edges in patients with intense sun exposure. According to the literature it is not considered a pre-malignant lesion. Nevertheless, we report the first case of squamous cell carcinoma on marginal palmar keratoderma in a 57 year-old woman.
Downloads
Download data is not yet available.
References
Ramos e Silva J. Queratodermia marginal das palmas. An Brasil DermatolSifilogr. 1957; 32:131-2.
Zanini M. Hiperceratose focal acral: relato de caso e discussão sobre as ceratodermias marginais. An Bras Dermatol. 2006; 81:293-6.
Yanofsky VR, Mercer SE, Phelps RG. Histopathological variants of cutaneous squamous cell carcinoma: a review. J Skin Cancer. 2011; 2011:1-13.
Farasat S, Yu SS, Neel VA, Nehal KS, Lardaro T, Mihm MC, et al. A new American Joint Committee on Cancer staging system for cutaneous squamous cell carcinoma: creation and rationale for inclusion of tumor (T) characteristics. J Am Acad. Dermatol. 2011; 64:1051-9.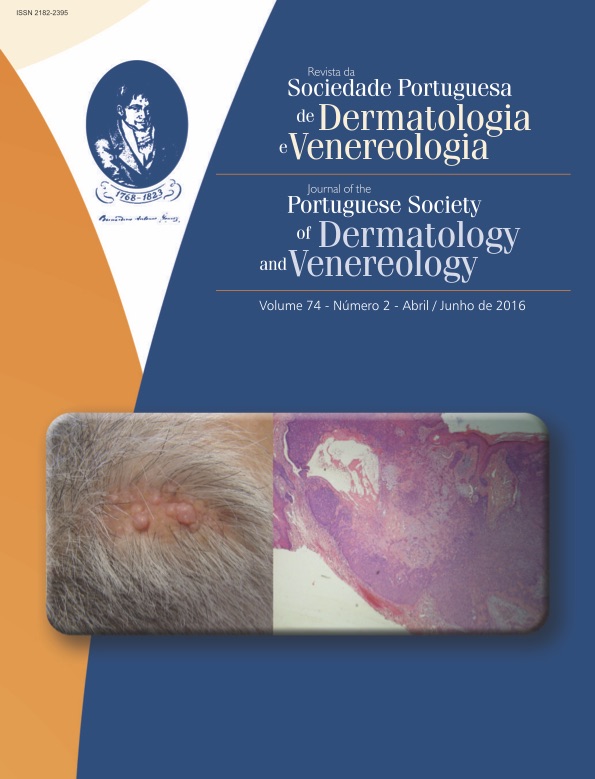 How to Cite
Freitas de Oliveira Góes, H., Almeida Issa, M. C., Barbosa Luz, F., dos Santos Lima, C., Kalil Aidé, M., Corrijo Rochael, M., & Duarte Bezerra Pinto, R. (2016). Squamous Cell Carcinoma on Marginal Palmar Keratoderma. Journal of the Portuguese Society of Dermatology and Venereology, 74(2), 209-210. https://doi.org/10.29021/spdv.74.2.561
All articles in this journal are Open Access and meet the requirements of funding bodies or academic institutions. Each article published in the Journal is published under the Creative Commons Attribution-NonCommercial-NoDerivatives 4.0 International License (CC BY-NC-ND 4.0). Articles can be read, downloaded, printed, and shared.
Submission of an article for publication implies the authors' consent to publication under the applicable Creative Commons license and the terms and conditions of the Publisher's Licensing Agreement.
It is the author's responsibility to obtain permission to reproduce illustrations, tables, etc. from other publications.
Upon acceptance of an article, authors will be asked to complete a 'Journal Publishing Agreement'. An e-mail will be sent to the corresponding author confirming receipt of the manuscript together with a 'Journal Publishing Agreement' form or a link to the online version of this agreement.
Author rights: As an author you (or your employer or institution) have certain rights to reuse your work.
The Journal reserves the right to use plagiarism detection software on any submitted material.