Chronic Hand Eczema Due to Contact Allergy to Sesquiterpene Lactones and Parthenolide
Leonor Lopes

Interna do Internato Complementar de Dermatologia e Venereologia/Resident, Dermatology and Venereology, Clinica Universitária de Dermatologia, Hospital de Santa Maria (Centro Hospitalar Lisboa Norte - CHLN), Lisboa, Portugal

A I. Gouveia

Interna do Internato Complementar de Dermatologia e Venereologia/Resident, Dermatology and Venereology, Clinica Universitária de Dermatologia, Hospital de Santa Maria (Centro Hospitalar Lisboa Norte - CHLN), Lisboa, Portugal

Teresa E. Correia

Assistente Hospitalar Graduada de Dermatologia e Venereologia/Senior Consultant, Dermatology and Venereology, Clinica Universitária de Dermatologia, Hospital de Santa Maria (CHLN), Lisboa, Portugal
Keywords:
Dermatitis, Allergic Contac, Hand Dermatoses, Plant Extracts, Plants, Sesquiterpenes, Tanacetum parthenium
Abstract
Allergic contact dermatitis to plants can assume different clinical patterns. We report a 63-year-old female patient with chronic hand dermatitis. Given the clinical suspicion of allergic contact dermatitis, patch tests were performed with the Baseline series of the GPEDC and a plants series which showed positivity to sesquiterpene lactone mix 0.1% pet (++) and parthenolide 0.1% pet (++) at day D2 and D4. These test results allowed the diagnosis of contact allergy to parthenolide that was related to occupational exposure Chamaemelum fuscatum during gardening. We emphasize the importance of a meticulous clinical history to increase the level of suspicion of Allergic contact dermatitis and evaluate the relevance of a positive patch test to sesquiterpene lactone and parthenolide as the etiology in chronic hand dermatitis.
Downloads
Download data is not yet available.
References
Jean L. Bolognia, Dermatology. 3rd ed. Amsterdam: Elsevier;
Gonçalo M. Dermatosis profesionales por plantas e maderas.
In: Conde-Salazar Gómez L, Ancona Alayón A, editores. Dermatosis Profesionales. Barcelona: Menarini Área Científica; 2000. p.121-8.
De D, Jindal R, Kanwar AJ. Contact dermatitis to parthenium simulating lichen nitidus. Indian J Dermatol Venereol Leprol 2010; 76:286-8.
Chamaemelum fuscatum [consultado a 21 de Abril de 2016]. Disponível em: http://flora-on.pt/index.php? q=Chamaemelum+fuscatum
Sharma VK, Verma P. Parthenium dermatitis in India: Past, present and future. Indian J Dermatol Venereol Leprol 2012; 78:560-8.
Killoran C. Two cases of compositae dermatitis exacerbated
by moisturizer containing feverfew. Dermatitis. 2007; 18:225-9.
Paulsen E, Christense LP, Fretté XC, Andersen KE. Patch test reactivity to feverfew – containing creams in feverfew allergic patients. Contact Dermatitis 2010; 63:146-50.
Orion, E, Paulsen E, Andersen KE, Menné T. Comparison of simultaneous patch testing with parthenolide and sesquiterpene lactone mix. Contact Dermatitis. 1998; 38:207-8.
Paulsen E, Andersen KE, Hausen BM. An 8-year experience with routine SL mix patch testing supplemented with Compositae mix in Denmark. Contact Dermatitis. 2001; 45:29-35.
Bong JL, English JS, Wilkinson SM. Diluted Compositae mix versus sesquiterpene lactone mix as a screening agent for Compositae dermatitis: a multicentre study. Contact Dermatitis. 2001; 45:26-8.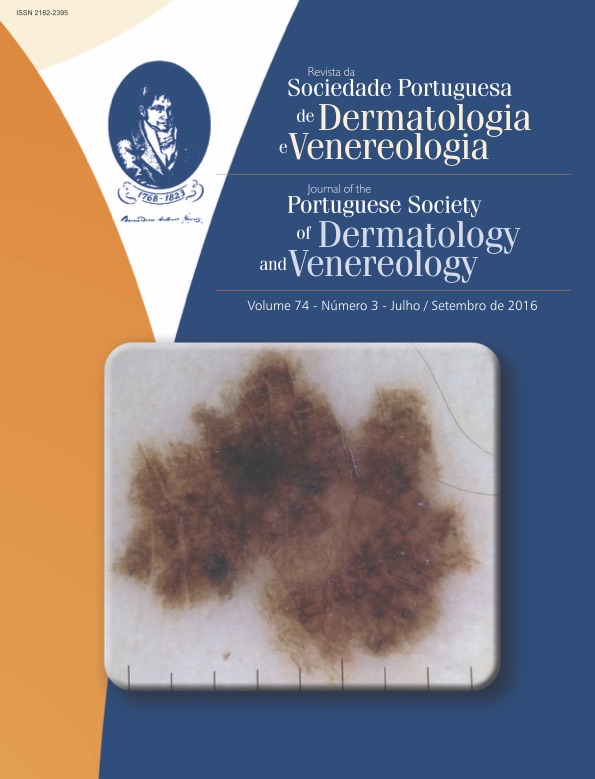 How to Cite
Lopes, L., Gouveia, A. I., & E. Correia, T. (2016). Chronic Hand Eczema Due to Contact Allergy to Sesquiterpene Lactones and Parthenolide. Journal of the Portuguese Society of Dermatology and Venereology, 74(3), 261-264. https://doi.org/10.29021/spdv.74.3.595
Section
Grupo Português de Estudo das Dermites de Contacto (GPEDC)
All articles in this journal are Open Access under the Creative Commons Attribution-NonCommercial 4.0 International License (CC BY-NC 4.0).