Pagetoid Reticulosis Woringer–Kolopp type, a Rare Variant of Mycosis Fungoides
Barbara Roque Ferreira

Médica Interna de Dermatovenereologia/Resident of Dermatology, Serviço de Dermatologia e Venereologia, Centro Hospitalar e Universitário de Coimbra, Coimbra, Portugal

Miguel Pinto Gouveia

Médica Interna de Dermatovenereologia/Resident of Dermatology, Serviço de Dermatologia e Venereologia, Centro Hospitalar e Universitário de Coimbra, Coimbra, Portugal

José Carlos Cardoso

Assistente Hospitalar de Dermatovenereologia/Consultant of Dermatology, Serviço de Dermatologia e Venereologia, Centro Hospitalar e Universitário de Coimbra, Coimbra, Portugal

José Pedro Reis

Assistente Hospitalar Graduado de Dermatovenereologia/Graduated Consultant of Dermatology, Serviço de Dermatologia e Venereologia, Centro Hospitalar e Universitário de Coimbra, Coimbra, Portugal
Keywords:
Mycosis Fungoides, Skin Neoplasms, Pagetoid Reticulosis, T-cell Lymphoma cutaneous
Abstract
Introduction: Pagetoid reticulosis is a rare variant of mycosis fungoides. The typical lesion is a solitary, slow-growing, well circumscribed and hyperkeratotic plaque or patch. A widespread form was also described, but, according to the last classification, the term is reserved for the localized variant (classically, "Woringer-Kolopp").
Case report: We observed a 58-year-old patient, with a solitary keratotic plaque, 15mm x 18mm, on the plantar surface of the left halux. The lesion had been present for years, recently with local pain. The biopsy showed an infiltrate of small atypical lymphocytes with pagetoid invasion of the epidermis. On immunohistochemistry, a predominance of CD4+ T cells was observed. The results confirmed the diagnosis of pagetoid reticulosis. Two months after 0.05% clobetasol propionate applied daily, significant improvement was observed.
Conclusions: Although pagetoid reticulosis is considered a variant of mycosis fungoides, it shows characteristic clinical and histopathological features, and a heterogenous immunophenotype. Extracutaneous involvement has not been reported.
Downloads
Download data is not yet available.
References
Braun-Falco O, Marghescu S, Wolf HH. Pagetoid reticulosis (Morbus Woringer–Kolopp). Hautarzt. 1973;
:11-21.
Morariu SH, Rotaru M, Vartolomei MD, Turcu M, Chiotoroiu AL, Suciu M, et al. Pagetoid reticulosis Woringer–
Kolopp type, a particular variant of mycosis fungoides: a case report. Rom J Morphol Embryol. 2014; 55:1469-
Ally MS, Robson A. A review of the solitary cutaneous T-cell lymphomas. J Cutan Pathol. 2014; 41:703-14.
Bolognia JL, Jorizzo JL, Schaffer JV. Dermatology. 3rd ed. London: Elsevier Health Sciences; 2012.
Mourtzinos N, Puri PK, Wang G, Liu ML. CD4/CD8 double negative pagetoid reticulosis: a case report and literature review. J Cutan Pathol. 2010; 37:491-6.
Martin SJ, Cohen PR, Cho-Vega JH, Tschen JA. CD8+ Pagetoid Reticulosis Presenting as a Solitary Foot Plaque
in a Young Woman. J Clin Aesthet Dermatol. 2010; 3:46-9.
Wang SC, Mistry N. Woringer–Kolopp disease mimicking psoriasis. CMAJ. 2015; 187:1310.
Su O, Dizman D, Onsun N, Bahali AG, Biyik Ozkaya D, Tosuner Z, et al. Treatment of localized pagetoid reticulosis with imiquimod: a case report and literature review. J Eur Acad Dermatol Venereol. 2016; 30:324-6.
Ledet J, Groysman V, Sami N. Woringer-Kolopp (Pagetoid Reticulosis) disease successful response to bexarotene gel. Dermatol Ther. 2016; 29:28-31.
Haghighi B, Smoller BR, LeBoit PE, Warnke RA, Sander CA, Kohler S. Pagetoid reticulosis (Woringer-Kolopp disease): an immunophenotypic, molecular, and clinicopathologic study. Mod Pathol. 2000; 13:502-10.
Skiljevic D, Bogdanovic Z, Vesic S, Vukicevic-Sretenovic J, Gajic-Veljic M, Medenica L. Pagetoid reticulosis of
Woringer–Kolopp, Dermatol Online J. 2008; 14:18.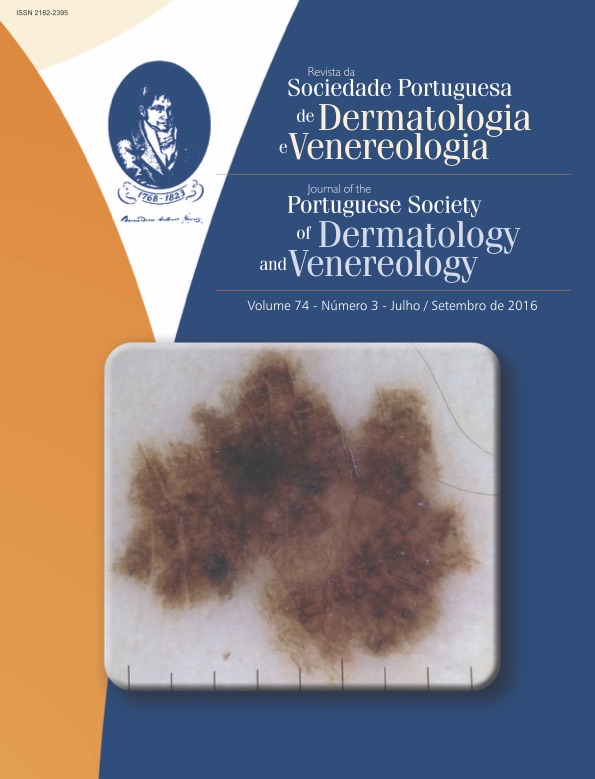 How to Cite
Roque Ferreira, B., Pinto Gouveia, M., Cardoso, J. C., & Reis, J. P. (2016). Pagetoid Reticulosis Woringer–Kolopp type, a Rare Variant of Mycosis Fungoides. Journal of the Portuguese Society of Dermatology and Venereology, 74(3), 285-288. https://doi.org/10.29021/spdv.74.3.599
All articles in this journal are Open Access under the Creative Commons Attribution-NonCommercial 4.0 International License (CC BY-NC 4.0).