SKIN CANCER AWARENESS AND PHOTOPROTECTION KNOWLEDGE AMONG RENAL TRANSPLANT RECIPIENTS: A STUDY WITH 127 PATIENTS
João Borges-Costa

Clínica Universitária Dermatológica de Lisboa

Ana Rita Travassos

Clínica Universitária Dermatológica de Lisboa

Pedro Vasconcelos

Clínica Universitária Dermatológica de Lisboa

José Guerra

Unidade de Transplantação, Serviço de Nefrologia do Hospital de Santa Maria, Lisboa

Alice Santana

Unidade de Transplantação, Serviço de Nefrologia do Hospital de Santa Maria, Lisboa

André Weigert

Serviço de Nefrologia, Hospital de Santa Cruz, Lisboa, Portugal

Manuel Sacramento Marques

Clínica Universitária Dermatológica de Lisboa
Abstract
Introduction: Organ transplanted recipients have higher risk of skin cancer, and cumulative exposure to ultraviolet radiation is the most important risk factor. The objectives of this study were to assess photoprotection beha- vior and skin cancer awareness. Methods: A questionnaire-based study of kidney transplant recipients who were obser- ved for the first time between July of 2010 and December of 2011. A 5% significance level was used. Results: A total of 127 patients was enrolled in the study, with a mean age of 53 (s=12.98) and 66% being males. The mean number of schooling years was 8 (s= 4.7). 70% of the patients knew the higher risk for skin cancer in organ transplanted recipients and regular sunscreen use was referred by 22%. Only 8% of the patients were referred to the dermatologists in their first year after the transplant. In statistical analysis, knowing the higher risk for skin cancer was significantly associated with being observed by a dermatologist after transplantation and more schooling years. Sunscreen use was significantly associated with the female sex and a previous history of skin cancer. Conclusions: Organ transplanted recipients have insufficient knowledge about skin cancer and inadequate photoprotective measures since they are only rarely observed by a dermatologist after transplantation. Early observation in a specialist dermatology clinic is therefore important to improve compliance with photoprotection.
KEYWORDS – Kidney transplantation; Neoplasms, radiation-induced; Skin neoplasms; Sunscreening agents; Ultra- violet rays.
Downloads
Download data is not yet available.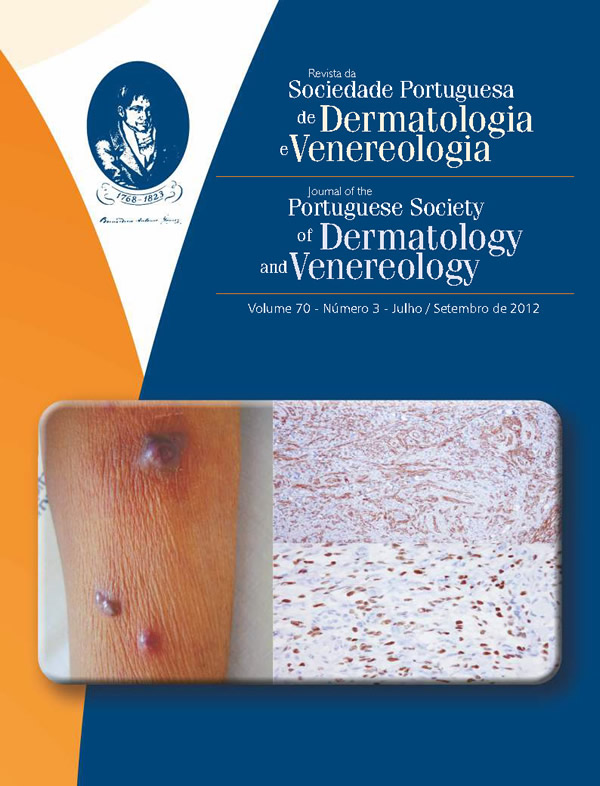 How to Cite
Borges-Costa, J., Travassos, A. R., Vasconcelos, P., Guerra, J., Santana, A., Weigert, A., & Marques, M. S. (2013). SKIN CANCER AWARENESS AND PHOTOPROTECTION KNOWLEDGE AMONG RENAL TRANSPLANT RECIPIENTS: A STUDY WITH 127 PATIENTS. Journal of the Portuguese Society of Dermatology and Venereology, 70(3), 313. https://doi.org/10.29021/spdv.70.3.6
Section
Original Articles
All articles in this journal are Open Access under the Creative Commons Attribution-NonCommercial 4.0 International License (CC BY-NC 4.0).