PHEMPHIGUS VULGARIS EVOLVING INTO PEMPHIGUS VEGETANS
Ana Brinca

Serviço de Dermatologia, Hospitais da Universidade de Coimbra, EPE

Maria Miguel Canelas

Serviço de Dermatologia, Hospitais da Universidade de Coimbra, EPE

Mariana Cravo

Serviço de Dermatologia, Hospitais da Universidade de Coimbra, EPE

Maria Manuel Brites

Serviço de Dermatologia, Hospitais da Universidade de Coimbra, EPE

Américo Figueiredo

Serviço de Dermatologia, Hospitais da Universidade de Coimbra, EPE
Keywords:
Pemphigus vulgaris, Pemphigus vegetans, Autoimmune bullous dermatosis
Abstract
A 76-year-old male presented with multiple painful bullae and erosive lesions scattered through the abdomen and back, and erosive lesions on oral mucosa. Histology and perilesional direct immunofluorescence following cutaneous biopsy led to the diagnosis of pemphigus vulgaris. The patient was submitted to treatment with oral corticosteroid and azathioprine with gradual improvement. After progressive dose reduction, corticotherapy was suspended, keeping treatment with azathioprine alone. After three months clinical deterioration was noticed and new vegetative cutaneous lesions arose in intertriginous areas and, to a smaller extent, in the oral cavity. Histopathologic examination supported the diagnosis of pemphigus vegetans and clinical remission was achieved following re-introduction of oral corticosteroid in association with azathioprine.
Downloads
Download data is not yet available.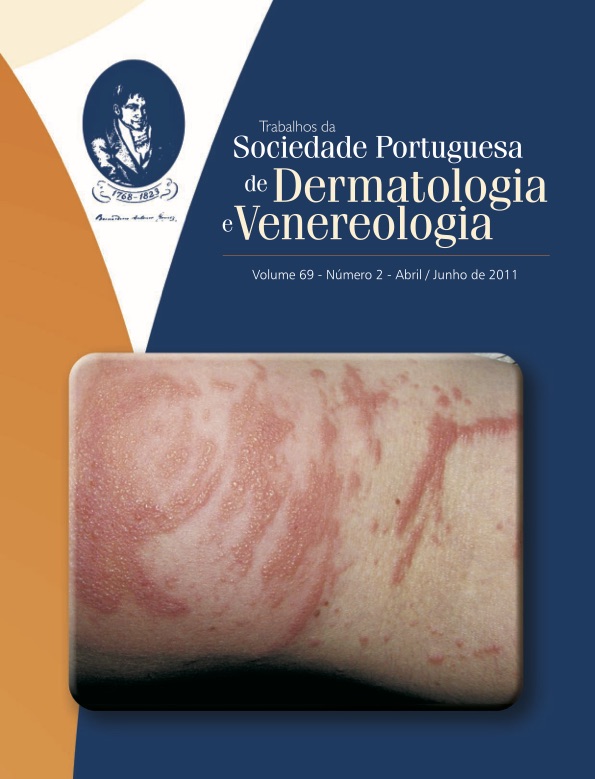 How to Cite
Brinca, A., Canelas, M. M., Cravo, M., Brites, M. M., & Figueiredo, A. (2011). PHEMPHIGUS VULGARIS EVOLVING INTO PEMPHIGUS VEGETANS. Journal of the Portuguese Society of Dermatology and Venereology, 69(2), 273-277. https://doi.org/10.29021/spdv.69.2.616
All articles in this journal are Open Access under the Creative Commons Attribution-NonCommercial 4.0 International License (CC BY-NC 4.0).