Nodulosis by the use of the Methotrexate in Patient with Rheumatoid Arthritis
Francisco Ronaldo Moura Filho

Médico Residente/Resident, Dermatology, Serviço de Dermatologia do Hospital Universitário Getúlio Vargas (HUGV), Universidade Federal do Amazonas (UFAM), Manaus (AM), Brazil

Aline Guimarães Grana

Médico Residente/Resident, Dermatology, Serviço de Dermatologia do Hospital Universitário Getúlio Vargas (HUGV), Universidade Federal do Amazonas (UFAM), Manaus (AM), Brazil

Aline do Amaral Silva

Médico Residente/Resident, Dermatology, Serviço de Dermatologia do Hospital Universitário Getúlio Vargas (HUGV), Universidade Federal do Amazonas (UFAM), Manaus (AM), Brazil

Suzi Marla Carvalho Maron

Médico Residente/Resident, Dermatology, Serviço de Dermatologia do Hospital Universitário Getúlio Vargas (HUGV), Universidade Federal do Amazonas (UFAM), Manaus (AM), Brazil

Bárbara Rodovalho

Acadêmica de Medicina/Academic Medicine, Universidade Federal do Amazonas, Manaus (AM), Brazil

Fabio Francesconi

Dermatologista Especialista pela Sociedade Brasileira de Dermatologia/Specialist in Dermatology, Mestre em Medicina Tropical/ Master in Tropical Medicine, Universidade do Estado do Amazonas, Manaus (AM)
Keywords:
Arthritis, Rheumatoid, Methotrexate/adverse effects, Rheumatoid Nodule, Subcutaneous Tissue
Abstract
Extra-articular manifestations in patients with rheumatoid arthritis are common. Subcutaneous nodules appear in almost 8% of users of methotrexate with rheumatoid arthritis. Methotrexate, one of the recommended drugs in this disease, may cause unwanted effects such as accelerated nodulosis. This complication is an important differential diagnosis in subcutaneous nodules rapidly evolving in rheumatoid arthritis patients on methotrexate and TNF inhibitors. Early diagnosis is essential for a forehand treatment. We describe a case of accelerated nodulosis associated with the use methotrexate and etanercept in patients with rheumatoid arthritis.
Downloads
Download data is not yet available.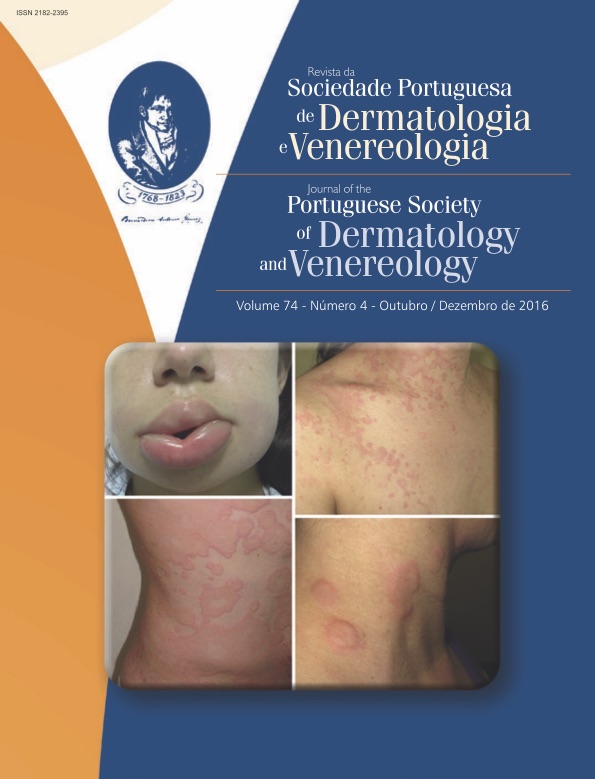 How to Cite
Moura Filho, F. R., Guimarães Grana, A., do Amaral Silva, A., Carvalho Maron, S. M., Rodovalho, B., & Francesconi, F. (2016). Nodulosis by the use of the Methotrexate in Patient with Rheumatoid Arthritis. Journal of the Portuguese Society of Dermatology and Venereology, 74(4), 387-390. https://doi.org/10.29021/spdv.74.4.679
All articles in this journal are Open Access under the Creative Commons Attribution-NonCommercial 4.0 International License (CC BY-NC 4.0).