Graham-Little-Piccardi-Lasseur Syndrome: Report of a Case
Monisa Martins Nóbrega

Médico Residente/Resident of Dermatology, Serviço de Dermatologia do Hospital Universitário Pedro Ernesto (HUPE/UERJ)- Rio de Janeiro (RJ), Brasil

Thais Marques Feitosa Mendes Siqueira

Médico Residente/Resident of Dermatology, Serviço de Dermatologia do Hospital Universitário Pedro Ernesto (HUPE/UERJ)- Rio de Janeiro (RJ), Brasil

Mariana Santiago Ormay

Médico Residente/Resident of Dermatology, Serviço de Dermatologia do Hospital Universitário Pedro Ernesto (HUPE/UERJ)- Rio de Janeiro (RJ), Brasil

Daniel Lago Obadi

Pós-graduado em Dermatologia/Graduated in Dermatology, Universidade do Estado do Rio de Janeiro (UERJ); Professor substituto de Dermatologia da Universidade do Estado do Rio de Janeiro (UERJ) – Rio de Janeiro (RJ), Brasil

Alexandre Carlos Gripp

Mestre em Dermatologia/Master in Dermatology. Professor assistente de Dermatologia/Professor of Dermatology; Responsável pela enfermaria de Dermatologia/Head of the Dermatology Department, Hospital Universitário Pedro Ernesto – Universidade do Estado do Rio de Janeiro (HUPE – UERJ) – Rio de Janeiro (RJ), Brasil
Keywords:
Alopecia, Lichen Planus, Hypotrichosis, Syndrome
Abstract
Graham-Little-Piccardi-Lasseur Syndrome (SGLPL) is characterized by a progressive multifocal scarring alopecia of the scalp associated with disseminated follicular hyperkeratosis and non-scarring axillary and pubic hypotrichosis. These clinical aspects may occur simultaneously, although alopecia of the scalp often precedes the other findings in months to years. It affects mainly adult females and is considered a rare disease. Treatment is challenging with many suggested medications but with controversial results. We report the case of a female patient with an area of alopecia in the right parietal region, paravertebral violaceous pruritic polygonal papules, hyperchromic macules with white reticular lesions on the oral mucosa as well as a slight hypotrichosis of the axillae. A slight improvement was observed after oral hidroxizine associated with topical clobetasol propionate and intralesional betamethasone in the limits of the alopecic area.
Downloads
Download data is not yet available.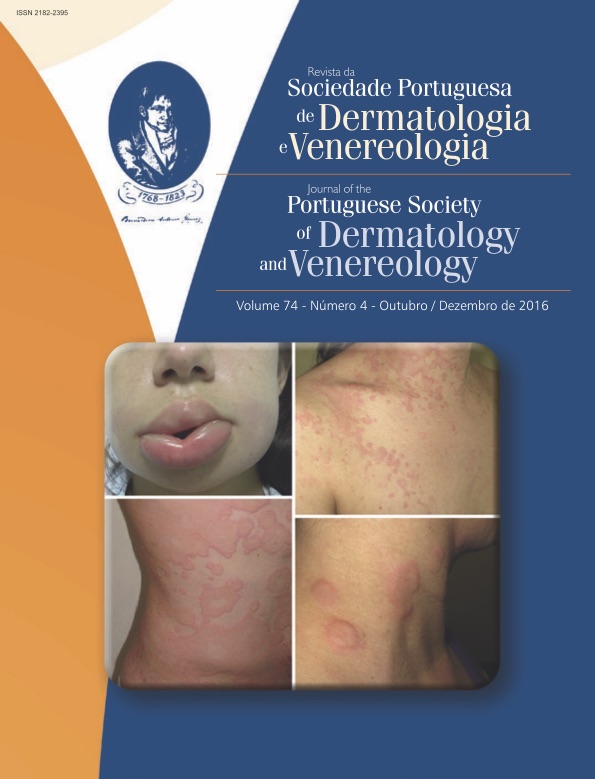 How to Cite
Martins Nóbrega, M., Marques Feitosa Mendes Siqueira, T., Santiago Ormay, M., Lago Obadi, D., & Gripp, A. C. (2016). Graham-Little-Piccardi-Lasseur Syndrome: Report of a Case. Journal of the Portuguese Society of Dermatology and Venereology, 74(4), 397-400. https://doi.org/10.29021/spdv.74.4.681
All articles in this journal are Open Access under the Creative Commons Attribution-NonCommercial 4.0 International License (CC BY-NC 4.0).