Peeling Skin Syndrome: Case Report
Priscila Silva Correia

Pós-graduandos e residentes/Residents, Serviço de Dermatologia da Universidade do Estado do Rio de Janeiro (UERJ/HUPE), Brasil

Gabriela Higino de Souza

Pós-graduandos e residentes/Residents, Serviço de Dermatologia da Universidade do Estado do Rio de Janeiro (UERJ/HUPE), Brasil

Thais Marques Feitosa Mendes Siqueira

Pós-graduandos e residentes/Residents, Serviço de Dermatologia da Universidade do Estado do Rio de Janeiro (UERJ/HUPE), Brasil

Fernando Aguiar Luz

Pós-graduandos e residentes/Residents, Serviço de Dermatologia da Universidade do Estado do Rio de Janeiro (UERJ/HUPE), Brasil

Daniel Lago Obadia

Médico dermatologista voluntário/Dermatologist, Serviço de Dermatologia da Universidade do Estado do Rio de Janeiro (UERJ/ HUPE), Brasil

Luna Azulay-Abulafia

Mestre e doutora/Master pela, Universidade Federal do Rio de Janeiro; Professora da pós-graduação do Instituto de Dermatologia Prof. Rubem David Azulay/Master and Professor of dermatology; Professora adjunta/Associated Professor, Universidade do Estado do Rio de Janeiro, Brasil
Keywords:
Dermatitis, Exfoliative, Skin Diseases, Genetic
Abstract
Peeling skin syndrome (PSS) is a rare genodermatosis of autosomal recessive inheritance caused by mutations in CDSN, TGM5 or CHST8, depending on the type of disease. It is characterized by localized or generalized superficial peeling of the skin, with or without erythema and itching. Concerning to the generalized form, Heiko Traupe proposed distinction between noninflammatory (type A) and associated with congenital erythroderma (type B). Mevorah described the type C, with features similar to type B. Noninflammatory type is characterized for continuous spontaneous clearance areas of stratum corneum, which begins at birth or during childhood. We describe a 19 year's old male patient, with skin peeling of the neck, trunk and upper limbs since childhood and a similar dermatoses in the family.
Downloads
Download data is not yet available.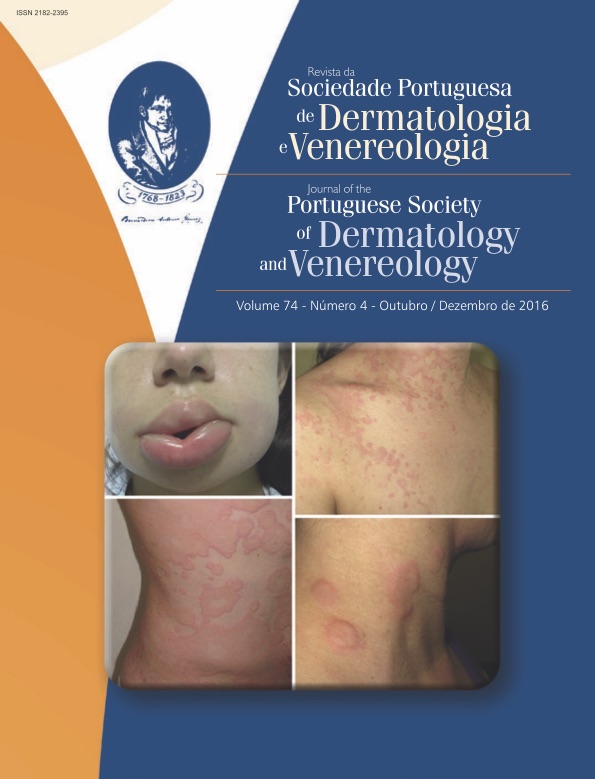 How to Cite
Silva Correia, P., Higino de Souza, G., Marques Feitosa Mendes Siqueira, T., Aguiar Luz, F., Lago Obadia, D., & Azulay-Abulafia, L. (2016). Peeling Skin Syndrome: Case Report. Journal of the Portuguese Society of Dermatology and Venereology, 74(4), 401-404. https://doi.org/10.29021/spdv.74.4.682
All articles in this journal are Open Access under the Creative Commons Attribution-NonCommercial 4.0 International License (CC BY-NC 4.0).