Uncommon "Sleep Mask-Like" Presentation of Lichen Planus Pigmentosum
Ana Beatriz Farias Goncalves

Universidade Federal Fluminense (UFF) - Niterói - Rio de Janeiro - Brasil

Dandara Meurer Missio

Universidade Federal Fluminense (UFF) - Niterói - Rio de Janeiro - Brasil

Nicoly Augusta da Silva Quezada dos Santos

Universidade Federal Fluminense (UFF) - Niterói - Rio de Janeiro - Brasil

Pedro Paulo Farias Gonçalves

Centro de Ensino Superior de Valença André Arco Verde (CESVA/ FAA) - Valença - Rio de Janeiro - Brasil

Maria Cláudia Issa

Universidade Federal Fluminense (UFF) - Niterói - Rio de Janeiro- Brasil

Mayra Rachael

Universidade Federal Fluminense ( UFF) - Niterói - Rio de Janeiro- Brasil
Keywords:
Child, Facial Dermatoses, Hyperpigmentation, Lasers, Solid-State, Laser Therapy, Lichen Planus
Abstract
Introduction: Lichen planus pigmentosum is a variant of lichen planus observed mostly in India, the Middle East and Latin America. It usually begins in the third and fourth decade of life, with equal sex distribution and is more frequent in type III-V phototypes. Skin lesions are characterized by brownish, dark brown or brownish-gray, oval or rounded, usually symmetrical and bilateral macules.
Case report: We observed a 12-year-old boy presenting typical clinical manifestations of lichen planus pigmentosum, however with an unusual clinical appearance around the eyes, resembling a sleeping mask.
Conclusion: The case reported is particular due to the age of the patient and the peculiar arrangement of the lesions in the periorbicular area, resembling a "sleeping mask", which alerts to the possibility of differential diagnosis of hyperchromic and photosensitive lesions in the pediatric population.
Downloads
Download data is not yet available.
References
Gorouhi F, Davari P, Fazel N. Cutaneous and mucosal lichen planus: a comprehensive review of clinical subtypes, risk factors, diagnosis, and prognosis. ScientificWorldJournal. 2014;2014:742826
Ghosh A, Coondoo A. Lichen planus pigmentosus: the controversial consensus. Indian J Dermatol. 2016;61:482-6.
Sharma VK, Bhari N, Subhadarshani S, Taneja N, Deepak RK. Reticulate pigmentation associated with scarring alopecia in an elderly woman: an unusual manifestation of lichen planus pigmentosus. Indian J Dermatol. 2016;61:700.
Kim KJ, Bae GY, Choi JH, Sung KJ, Moon KC, Koh JK. A case of localized lichen planus pigmentosus on the thigh. J Dermatol. 2002;29:242–3.
Levin MK, Ng E, Bae YC, Brauer JA, Geronemus RG. Treatment of pigmentary disorders in patients with skin of color with a novel 755-nm Picosecond, Q-switched Ruby, and Q-switched Nd:YAG Nanosecond Lasers: a retrospective photographic review. Lasers Surg Med. 2016;48:181-7.
Yates B, Keena S, Souza L, Suchecki J, Finch J. Laser treatment of periocular skin conditions. Clin Dermatol. 2015; 33: 197-206.
Al-Mutairi N, El-Khalawany M. Clinicopathological characteristics of lichen planus pigmentosus and its response to tacrolimus ointment: an open label, non-randomized, prospective study. J Eur Acad Dermatol Venereol. 2010;24:535-40.
Kumar YH, Babu AR Segmental lichen planus pigmentosus: An unusual presentation. Indian Dermatol Online J. 2014; 5: 157-9.
Cho S, Whang KK. Lichen planus pigmentosus presenting in zosteriform pattern. J Dermatol. 1997;24:193–7.
Kanwar AJ, Dogra S, Handa S, Parsad D, Radotra BD. A study of 124 Indian patients with lichen planus pigmentosus. Clin Exp Dermtol. 2003; 28: 481-5
Ho GY, Goh CL. Laser tattoo removal: a clinical update. J Cutan Aesthet Surg. 2015;8:9-15.
Kim J, Won C, Chang S, Lee M, Choi J, Moon K. Linear lichen planus pigmentosus of the forehead treated by neodymium: yttrium-aluminum-garnet laser and topical tacrolimus. J Dermatol. 2012;39:189-91.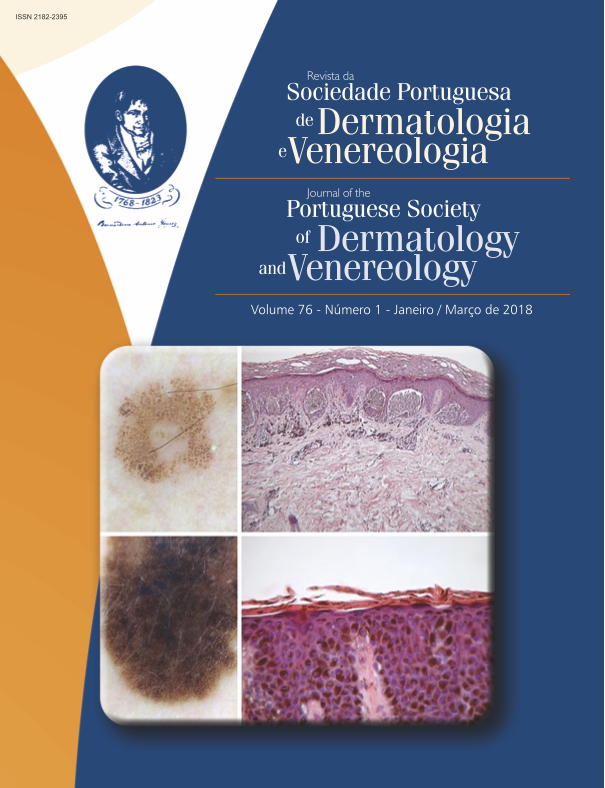 How to Cite
Farias Goncalves, A. B., Meurer Missio, D., da Silva Quezada dos Santos, N. A., Farias Gonçalves, P. P., Issa, M. C., & Rachael, M. (2018). Uncommon "Sleep Mask-Like" Presentation of Lichen Planus Pigmentosum. Journal of the Portuguese Society of Dermatology and Venereology, 76(1), 71-74. https://doi.org/10.29021/spdv.76.1.703
All articles in this journal are Open Access under the Creative Commons Attribution-NonCommercial 4.0 International License (CC BY-NC 4.0).