Pseudoxanthoma Elasticum: Case Report
Maria Fernanda Gomes

Médica Residente/Resident, Serviço de Dermatologia do Complexo Hospitalar Heliópolis, São Paulo, Brasil

Vinícius Broseghini Pinto

Médico Residente/Resident, Serviço de Dermatologia do Complexo Hospitalar Heliópolis, São Paulo, Brasil

Gabrielli Saab Oliveira de Caprio

Médico Residente/Resident, Serviço de Dermatologia do Complexo Hospitalar Heliópolis, São Paulo, Brasil

Isabella Lemos Baltazar

Médica Fellow/Consultant, Serviço de Dermatologia do Complexo Hospitalar Heliópolis, São Paulo, Brasil
Keywords:
Angioid Streaks, Calcinosis, Multidrug Resistance-Associated Proteins/genetics, Pseudoxanthoma Elasticum, Skin
Abstract
Pseudoxanthoma Elasticum (PXE) is a rare hereditary autosomal recessive disorder with a molecular defect in the ABCC6 gene. This dysfunction causes accumulation of calcium that causes degeneration of the elastic fibers, mainly in the eyes, cardiovascular system and skin. The case of a 61-year-old patient with PXE, with decreased visual acuity for 5 years and asymptomatic yellowish papules in the underarms and neck for 30 years is presented.
Downloads
Download data is not yet available.
References
Chassaing N, Martin L, Calvas P, Le Bert M, Hovnanian
A. Pseudoxanthoma elasticum: a clinical, pathophysiological
and genetic update including 11 novel ABCC6
mutations. J Med Genet. 2005; 42:881-92.
Marconi B, Bobyr I, Campanati A, Molinelli E, Consales
V, Brisigotti V, et al. Pseudoxanthoma elasticum
and skin: Clinical manifestations, histopathology,
pathomechanism, perspectives of treatment. Intractable
Rare Dis Res. 2015; 4:113-22.
Li Q, Jiang Q, Pfendner E, Váradi A, Uitto J. Pseudoxanthoma
elasticum: Clinical phenotypes, molecular
genetics and putative pathomechanisms. Exp Dermatol.
; 18:1-11.
Hosen MJ, Lamoen A, De Paepe A, Vanakker OM. Histopathology
of pseudoxanthoma elasticum and related
disorders: histological hallmarks and diagnostic clues.
Scientifica. 2012; 2012: 598262.
LaRusso J, Jiang Q, Li Q, Uitto J. Ectopic mineralization
of connective tissue in Abcc6−/− mice: Effects of dietary
modifications and a phosphate binder--a preliminary
study. Exp Dermatol. 2008; 17:203-7.
Jiang Q, Endo M, Dibra F, Wang K, Uitto J.
Pseudoxanthoma elasticum is a metabolic disease. J Invest
Dermatol. 2009; 129:348-54.
Lopes L, Reis MD, Gouveia AI, Vasconcelos JP, Soares de
Almeida L, Filipe PL. Elastólise da derme papilar semelhante
a pseudoxantoma elástico. Rev Soc Port Dermatol
Venereol. 2014; 72:223-6.
Li Q, Arányi T, Váradi A, Terry SF, Uitto J. Research progress
in pseudoxanthoma elasticum and related ectopic
mineralization disorders. J Invest Dermatol. 2016;
:550-6.
Myung JS, Bhatnagar P, Spaide RF, Klancnik JM Jr, Cooney
MJ, Yannuzzi LA, Freund KB Retina. 2010; 30:748-55.
Verbraak FD. Antivascular endothelial growth factor
treatment in pseudoxanthoma elasticum patients. Dev
Ophthalmol. 2010;46:96-106.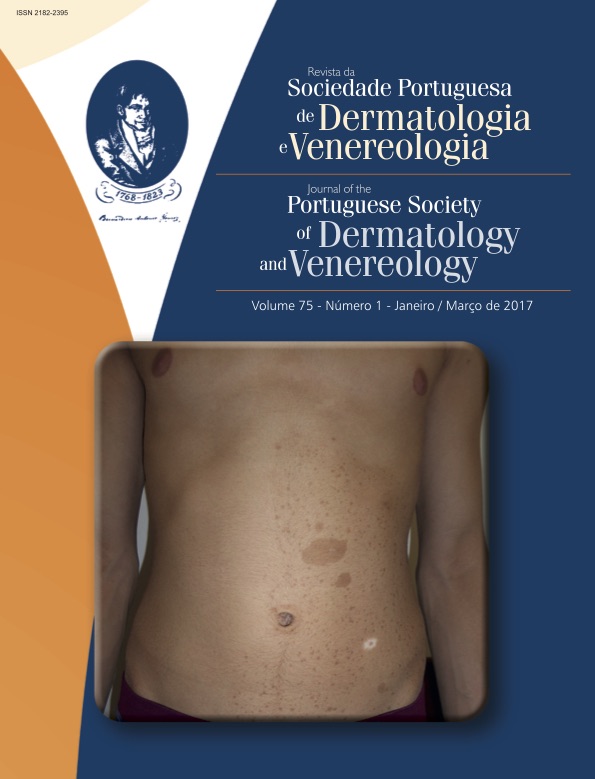 How to Cite
Gomes, M. F., Broseghini Pinto, V., Saab Oliveira de Caprio, G., & Lemos Baltazar, I. (2017). Pseudoxanthoma Elasticum: Case Report. Journal of the Portuguese Society of Dermatology and Venereology, 75(1), 93-96. https://doi.org/10.29021/spdv.75.1.725
All articles in this journal are Open Access under the Creative Commons Attribution-NonCommercial 4.0 International License (CC BY-NC 4.0).