Refractory Bullous Pemphigoid in HIV-Infected Patient
Chan I Thien

Hospital Universitário Pedro Ernesto (UERJ) - Dermatologia

Mariana Rita de Novaes Fernandes

Hospital Universitário Pedro Ernesto (UERJ) - Dermatologia

Marcella D'Elia Novello

Hospital Universitário Pedro Ernesto (UERJ) - Dermatologia

Fernanda Cabral

Hospital Universitário Pedro Ernesto (UERJ) - Dermatologia

Aline Lopes Bressan

Hospital Universitário Pedro Ernesto (UERJ) - Dermatologia

Juan Manuel Piñeiro-Maceira

Hospital Universitário Pedro Ernesto (UERJ) - Dermatologia Hospital Universitário Clementino Fraga Filho (HUCFF) - Patologia

Alexandre Carlos Gripp

Hospital Universitário Pedro Ernesto (UERJ) - Dermatologia
Keywords:
HIV Infections, Pemphigoid, Bullous, Rituximab
Abstract
Bullous pemphigoid, the most common autoimmune subepidermal blistering disease, is due to autoantibodies against BP180/230 present in the hemodesmosomes of the basal keratinocytes that typically causes pruritus and tense cutaneous bullae on an erythematous or normal skin It affects predominantly the elderly, often in association with neurologic or neoplastic disease. The association with the human immunodeficiency virus infection is rare. We present a case of a young VIH+ patient under antiretroviral therapy with undetectable viral load and normal CD4+ T-cell count who developed an extensive bullous pemphigoid refractory to pulses of corticosteroids, oral steroids and methotrexate and improved only after the infusion of rituximab, an anti-CD20 monoclonal antibody.
Downloads
Download data is not yet available.
References
ReferênciasTarazona MJM, Unterstell N, Mota da Silva AN, Bressan AL, Gripp AC. Penfigoide bolhoso e doença neurológica: casuística de um Serviço de Dermatologia. An Bras Dermatol. 2015; 90: 282-4.
Kasperkiewicz M, Zillikens D, Schmidt E. Pemphigoid diseases: pathogenesis, diagnosis, and treatment. Autoimmunity. 2012; 45: 55-70.
Verraes S, Hornebeck W, Polette M, Borradori L, Bernard P. Respective contribution of neutrophil elastase and matrix metalloproteinase 9 in the degradation of BP180 (type XVII collagen) in human bullous pemphigoid. J Invest Dermatol. 2001; 117: 1091-6.
Donoso-Hofer F. Lesiones orales asociadas con la enfermedad del virus de immunodeficiencia humana en pacientes adultos, una perspectiva clínica. Rev Chilena Infectol. 2016; 33 (Suppl 1): 27-35.
Dipankar De, Amrinder JK, Bishan DR, Tarun N. Bullous eruption in a patient infected with the human immunodeficiency virus. Skinmed. 2008:7; 98-101.
Stahl D, Lacroix-Desmazes S, Misra N, Karmochkine M, Kaveri SV, Costagliola D, et al. Alterations of self-reactive antibody repertoires in HIV disease: an insight into the role of T cells in the selection of autoreactive B cells. Immunol Lett. 2005; 99: 198-208.
Tsiakalos A, Routsias JG, Kordossis T, Moutsopoulos HM, Tzioufas AG, Sipsas NV. Fine epitope specificity of anti-erythropoietin antibodies reveals molecular mimicry with HIV-1 p17 protein: a pathogenetic mechanism for HIV-1 related anemia. J Infect Dis. 2011; 204: 902-11.
Savige JA, Chang L, Horn S, Crowe SM. Anti-nuclear, anti-neutrophil cytoplasmic and anti-glomerular basement membrane antibodies in HIV-infected individuals. Autoimmunity. 1994; 18: 205-11.
Iordache L, Launay O, Bouchaud O, Jeantils V, Goujard C, Boue F, et al. Autoimmune diseases in HIV-infected patients: 52 cases and literature review. Autoimmun Rev. 2014; 13:850-7.
Lateef A, Packles MR, White SM, Don PC, Weinberg JM. Pemphigus vegetans in association with human immunodeficiency virus. Int J Dermatol. 1999; 38: 778-81.
Cruz MJ, Santos P, Morais P, Barreto F, Azevedo F. Refractory bullous pemphigoid with fatal outcome in a Young patient. Int J Dermatol. 2013; 52: 601-2.
Feliciani C, Joly P, Jonkman MF, Zambruno G, Zillikens D, Ioannides D,et al. Management of bullous pemphigoid: the European Dermatology Forum consensus in collaboration
with the European Academy of Dermatology and Venereology. Br J Dermatol. 2015; 172: 867-77.
Joly P, Roujeau JC, Benichou J, Picard C, Dreno B, Delaporte E, et al. A comparison of oral and topical corticosteroids in patients with bullous pemphigoid. N Engl J Med. 2002; 346:321–7.
Cabete J, Fidalgo A, Páris FR, Santos G, Serrão V. Intravenous immunoglobulin for the treatment of quetiapin-induced bullous pemphigoid in an HIV-infected patient. J Am Acad Dermatol. 2013: AB113.
Joly P, Mouquet H, Roujeau JC, D'Incan M, Gilbert D, Jacquot S, et al. A single cycle of rituximab for the treatment of severe pemphigus. N Engl J Med. 2007; 357: 545-52.
Bomm L, Sodré JL, Fracaroli TS, Bressan AL, Gripp AC. Uso off label do rituximab na dermatologia: tratamento dos pênfigos. An Bras Dermatol. 2013; 88: 687-9.
Shetty S, Ahmed AR. Treatment of bullous pemphigoid with rituximab: critical analysis of the current literature. J Drugs Dermatol. 2013;12: 672-7.
Ahmed AR, Shetty S, Kaveri S, Spigelman ZS. Treatment of recalcitrant bullous pemphigoid (BP) with a novel protocol: A retrospective study with a 6-year follow-up. J Am Acad Dermatol. 2016; 74: 700-8.
Barta SK, Xue X, Wang D, Tamari R, Lee JY, Mounier N, Kaplan LD et al. Treatment factors affecting outcomes in HIV-associated non-Hodgkin lymphomas: a pooled analysis of 1546 patients. Blood. 2013; 122: 3251-62.
Brunnberg U, Hentrich M, Hoffmann C, Wolf T, Hubel K. HIV-associated malignant lymphoma. Oncol Res Treat. 2017; 40: 82-87.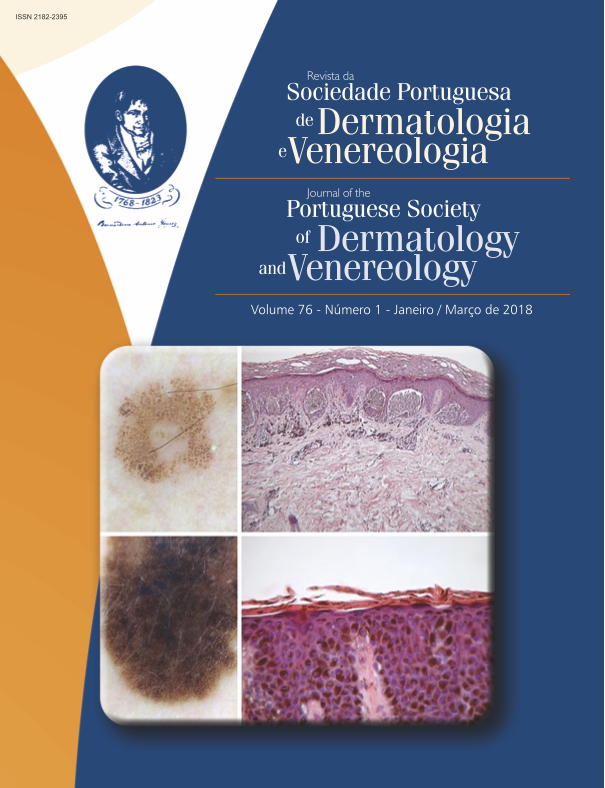 How to Cite
I Thien, C., Fernandes, M. R. de N., Novello, M. D., Cabral, F., Bressan, A. L., Piñeiro-Maceira, J. M., & Gripp, A. C. (2018). Refractory Bullous Pemphigoid in HIV-Infected Patient. Journal of the Portuguese Society of Dermatology and Venereology, 76(1), 75-78. https://doi.org/10.29021/spdv.76.1.739
All articles in this journal are Open Access under the Creative Commons Attribution-NonCommercial 4.0 International License (CC BY-NC 4.0).