Scabies: Review and Focus on the Portuguese Reality
Felicidade Santiago

Assistente Hospitalar de Dermatologia/Consultant of Dermatology, Serviço de Dermatologia, Centro Hospitalar de Leiria, Leiria, Portugal

Gustavo Januário

Assistente Hospitalar de Pediatria/Pediatric Consultant, Unidade de Infeciologia e Serviço de Urgência, Hospital Pediátrico de Coimbra, Centro Hospitalar e Universitário de Coimbra, Coimbra, Portugal
Keywords:
Benzoates, Ivermectin, Permethrin, Portugal, Scabies
Abstract
Introduction: Scabies is a parasitic cutaneous infection, which is common in primary care, pediatrics and dermatology. Although it isn't life threatening it causes considerable morbidity and has a substantial impact in the quality of life. In developing countries it is associated with high rates of cutaneous bacterial superinfection, namely impetigo.
Objectives: To review the general aspects of scabies, with a particular emphasis on the diagnosis and treatment. To analyze the national and international epidemiological situation and the available treatment options, particularly in Portugal.
Material and Methods: Narrative review of the scientific literature, including textbooks and scientific databases (PubMed/Medline, Cochrane, UpToDate, IndexRMP).
Discussion: Scabies is a dermatosis with typical clinical characteristics, namely pruritus, type of cutaneous lesions and their distribution, and presence of epidemiological context. Efficacy of treatment of scabies patients and close contacts depends on a timely diagnosis, and diagnostic delay, low-adherence to treatment and incorrect treatment application should fundamentally be avoided.
Conclusions: Given the efficacy and toxicity of the various treatment options, 5% permethrin and oral ivermectin are considered first-line. However, in Portugal, since neither are available, benzyl benzoate is most frequently used. A careful explanation of treatment steps and its correct application is essential for therapeutic success. In Portugal it would be useful and advisable that scabies becomes a notifiable disease.
Downloads
Download data is not yet available.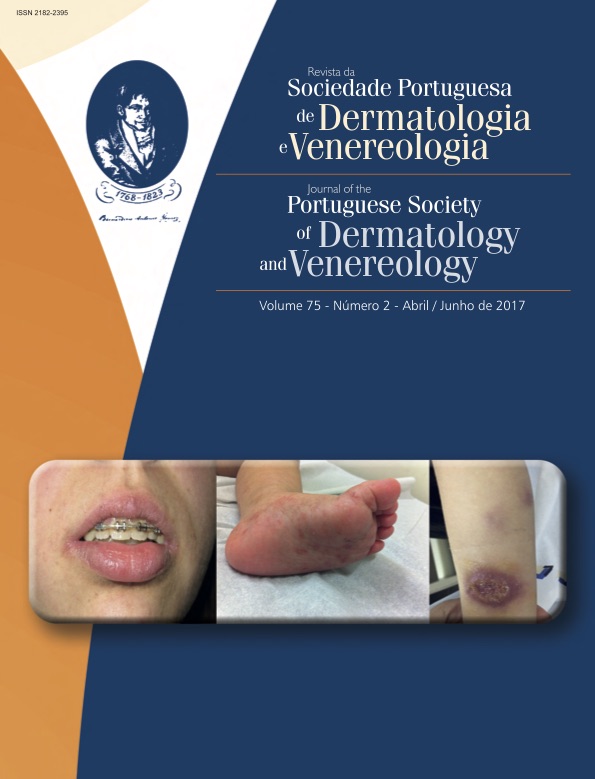 How to Cite
Santiago, F., & Januário, G. (2017). Scabies: Review and Focus on the Portuguese Reality. Journal of the Portuguese Society of Dermatology and Venereology, 75(2), 129-137. https://doi.org/10.29021/spdv.75.2.767
All articles in this journal are Open Access under the Creative Commons Attribution-NonCommercial 4.0 International License (CC BY-NC 4.0).