Allergic Contact Dermatitis in the Pediatric Age: A Retrospective Study
Ana Catarina Cordeiro

Aluna do mestrado integrado em Medicina da Faculdade de Medicina da Universidade de Coimbra, Coimbra, Portugal

Leonor Ramos

Assistente Hospitalar do Serviço de Dermatologia do Centro Hospitalar e Universitário de Coimbra (CHUC), Coimbra, Portugal

Margarida Gonçalo

Assistente Sénior do Serviço de Dermatologia do Centro Hospitalar e Universitário de Coimbra (CHUC), e Professor Auxiliar convidada da Faculdade de Medicina da Universidade de Coimbra, Coimbra, Portugal
Keywords:
Allergens, Children, Dermatitis, Allergic Contact, Nickel, Patch Tests
Abstract
Introduction: Allergic contact dermatitis in children, although usually considered infrequent, has been the object of numerous recent publications and an apparent increase in prevalence. This may be due to early exposure and sensitization to contact allergens, increasing the likelihood of skin reactions in a new exposure, or the more widespread use of patch tests, which are crucial to the diagnosis of this pathology.
Methods: In order to know the characteristics and causes of allergic contact dermatitis in the pediatric age, we evaluated the medical records of patients with < 18 years who were patch tested between January 2005 and December 2014 at the Contact Allergology Unit of the Department of Dermatology University Hospital of Coimbra. The following parameters were analyzed: sex, age, personal and familiar history of atopy, main location of the dermatitis, reactive allergens within the baseline or complementary test series, suspected and final diagnosis.
Results: A total of 106 pediatric patients were tested (3.6% of all patients), 68 females (64.2%) and 38 males (35.8%), four aged between 3-5 years (3.8%), 28 between 6-11 years (26.4%) and 74 between 12-17 years (69.8%), 52,8% with a personal history of atopy, 36.8% with facial and/or neck lesions. At least one positive test was observed in 51 patients (48.1%), mostly in girls especially because of nickel (18.9%). Nevertheless there were no positive tests to nickel in the last two years of the study. After nickel, cobalt, p-phenylenediamine, caine mix and palladium were reactive in five patients. Twelve patients reacted to allergens that are not included in the baseline series, mostly to drugs.
Discussion: Contact allergy and allergic contact dermatitis were a relatively common diagnosis before the age of 18. An early etiologic diagnosis is important to prevent chronicity of lesions and a possible future negative personal and professional impact. Knowing the main allergens in this age group is important to establish avoidance measures and prevent further sensitization. 
Downloads
Download data is not yet available.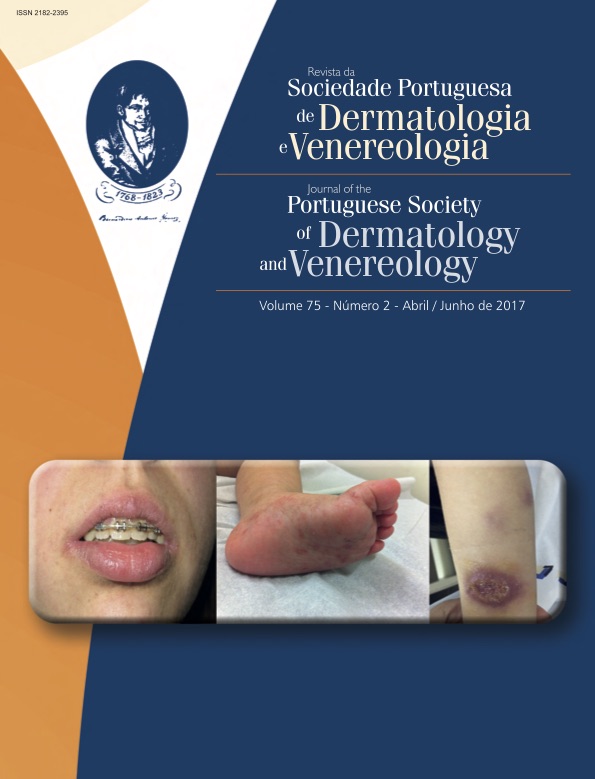 How to Cite
Cordeiro, A. C., Ramos, L., & Gonçalo, M. (2017). Allergic Contact Dermatitis in the Pediatric Age: A Retrospective Study. Journal of the Portuguese Society of Dermatology and Venereology, 75(2), 143-152. https://doi.org/10.29021/spdv.75.2.769
Section
Original Articles
All articles in this journal are Open Access under the Creative Commons Attribution-NonCommercial 4.0 International License (CC BY-NC 4.0).