Hyperpigmentation in Addison's Disease: Case Report
Rafael Figueiredo Gatti

Residente em Dermatologia/Resident of Dermatology, Faculdade Estadual de Medicina de São José do Rio Preto (FAMERP), São José do Rio Preto, Brasil

Carolina Medeiros Prohmann

Residente em Dermatologia/Resident of Dermatology, Faculdade Estadual de Medicina de São José do Rio Preto (FAMERP), São José do Rio Preto, Brasil

Camila Araújo Dantas

Residente em Dermatologia/Resident of Dermatology, Faculdade Estadual de Medicina de São José do Rio Preto (FAMERP), São José do Rio Preto, Brasil

Lorena Barcelos e Silva

Residente em Dermatologia/Resident of Dermatology, Faculdade Estadual de Medicina de São José do Rio Preto (FAMERP), São José do Rio Preto, Brasil

Thalita Marçal Machado

Residente em Dermatologia/Resident of Dermatology, Faculdade Estadual de Medicina de São José do Rio Preto (FAMERP), São José do Rio Preto, Brasil

Fernanda Rodrigues de Oliveira Mattar

Dermatologista/Dermatologist, Membro da SBD e Preceptora do Ambulatório de Dermatologia da Faculdade Estadual de Medicina de São José do Rio Preto (FAMERP), São José do Rio Preto, Brasil

João Roberto Antônio

Dermatologista/Dermatologist, Membro da SBD e Chefe do Ambulatório de Dermatologia e Professor Emérito da Faculdade Estadual de Medicina de São José do Rio Preto (FAMERP), São José do Rio Preto, Brasil
Keywords:
Addison Disease, Hyperpigmentation
Abstract
The primary adrenal insufficiency or Addison's disease is a rare disorder of the adrenal glands and is a risk factor, since its diagnosis is often not recognized in the early stages of the disease. Currently, its main cause is idiopathic atrophy, but it can occur due to infectious, traumatic and neoplastic causes. Symptoms of the condition include: asthenia, weakness, nausea, weight loss, hypotension, and hyperpigmentation. The skin and mucosa hyperpigmentation is the most characteristic symptom of the disease, but may be present in other differential diagnoses, such as hemochromatosis, chronic kidney disease, hyperthyroidism, ocronosis, among others. We report a case of a patient who was referred for investigation of diffuse cutaneous and mucosa hyperpigmentation. The patient also indicated complaints of weight loss, fatigue, anorexia, hypotension and constipation. Several tests were conducted to research and accomplished the diagnosis of Addison's disease.
Downloads
Download data is not yet available.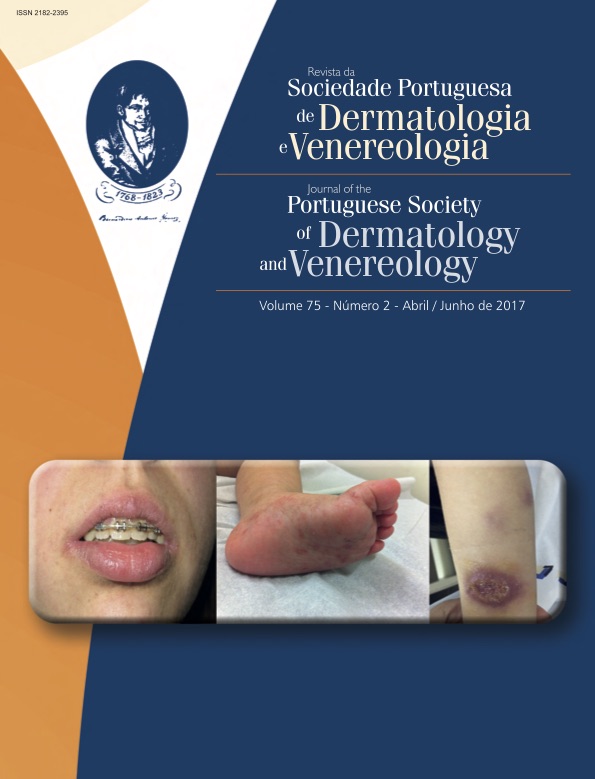 How to Cite
Figueiredo Gatti, R., Medeiros Prohmann, C., Araújo Dantas, C., Barcelos e Silva, L., Marçal Machado, T., Rodrigues de Oliveira Mattar, F., & Roberto Antônio, J. (2017). Hyperpigmentation in Addison's Disease: Case Report. Journal of the Portuguese Society of Dermatology and Venereology, 75(2), 169-172. https://doi.org/10.29021/spdv.75.2.772
All articles in this journal are Open Access under the Creative Commons Attribution-NonCommercial 4.0 International License (CC BY-NC 4.0).