Pyoderma Gangrenosum associated with Paroxysmal Nocturnal Haemoglobinuria
Francisco Ronaldo Moura Filho

Médico Residente/Resident of Dermatology, Serviço de Dermatologia do Hospital Universitário Getúlio Vargas (HUGV), Universidade Federal do Amazonas (UFAM), Manaus, Brasil

Aline Guimarães Grana

Médico Residente/Resident of Dermatology, Serviço de Dermatologia do Hospital Universitário Getúlio Vargas (HUGV), Universidade Federal do Amazonas (UFAM), Manaus, Brasil

Suzi Marla Carvalho Maron

Médico Residente/Resident of Dermatology, Serviço de Dermatologia do Hospital Universitário Getúlio Vargas (HUGV), Universidade Federal do Amazonas (UFAM), Manaus, Brasil

Raquel Rodrigues Ferreira Rocha de Alencar

Acadêmico de Medicina/Medical Academic, da Universidade Federal do Amazonas, Manaus, Brasil

Bruno Vianei Real Antonio

Acadêmico de Medicina/Medical Academic, da Universidade Federal do Amazonas, Manaus, Brasil

Patricia Chicre Bandeira de Melo

Dermatologista Especialista pela Sociedade Brasileira de Dermatologia/Dermatologist, Mestre em Medicina Tropical pela Universidade do Estado do Amazonas, Manaus, Brasil
Keywords:
Hemoglobinuria, Paroxysmal, Pyoderma Gangrenosum
Abstract
Pyoderma gangrenosum is a chronic neutrophilic dermatosis with no established etiology. It is often associated with systemic diseases such as inflammatory rheumatic diseases, inflammatory bowel diseases, malignant neoplasms and haematological diseases including nocturnal paroxysmal hemoglobinuria. It presents as ulcerated and painful skin lesions with rapid and progressive evolution, mainly in the lower limbs. Ulcerations may arise spontaneously or induced by trauma (pathergy phenomenon). The period between the onset of the lesions and the diagnosis is usually prolonged. The diagnosis is based on clinical data and confirmed after the exclusion of other causes of cutaneous ulcerations. We report a case of Pyoderma gangrenosum in the left upper limb with onset after a traumatic event in a patient with nocturnal paroxysmal hemoglobinuria.
Downloads
Download data is not yet available.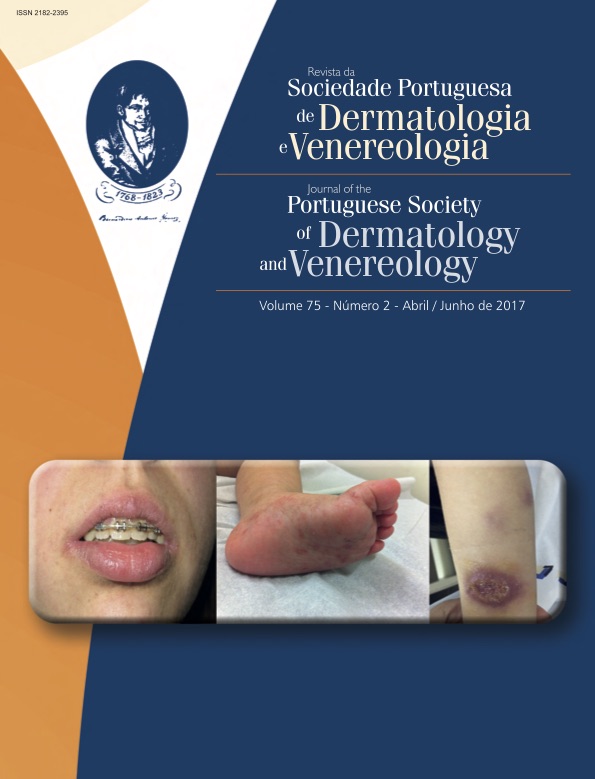 How to Cite
Moura Filho, F. R., Guimarães Grana, A., Carvalho Maron, S. M., Rodrigues Ferreira Rocha de Alencar, R., Vianei Real Antonio, B., & Chicre Bandeira de Melo, P. (2017). Pyoderma Gangrenosum associated with Paroxysmal Nocturnal Haemoglobinuria. Journal of the Portuguese Society of Dermatology and Venereology, 75(2), 173-177. https://doi.org/10.29021/spdv.75.2.773
All articles in this journal are Open Access under the Creative Commons Attribution-NonCommercial 4.0 International License (CC BY-NC 4.0).