Skin Effects in the Treatment of Palmar Hperhidrosis Using Tap Water Iontophoresis: Case Report
Carolyne Mendes dos Santos

Fellow do Serviço de Dermatologia do Complexo Hospitalar Heliópolis, Cidade Nova Heliópolis, São Paulo,Brasil

Maísa Fabri Mazza

Estagiária/rESIDENT, Serviço de Dermatologia do Complexo Hospitalar Heliópolis, Cidade Nova Heliópolis, São Paulo Brasil

Domingos Jardão Neto

Diretor do Serviço/Head of Dermatology Department, Serviço de Dermatologia do Complexo Hospitalar Heliópolis, Cidade Nova Heliópolis, São Paulo Brasil

Maria Cristina J. Maldonado

Médica Assistente/Consultant, Serviço de Dermatologia do Complexo Hospitalar Heliópolis, Cidade Nova Heliópolis, São Paulo Brasil
Keywords:
Hand, Hyperhidrosis/therapy, Iontophoresis, Water/pharmacology
Abstract
Excessive sweating, either isolated or associated with other symptoms, characterizes hyperhidrosis. It commonly occurs on the forehead, hands, feet and armpits. It affects about 1% of the general population, both men and women of all ages. Although sweating represents an indispensable thermoregulatory skin function, excessive sweating is a benign disease that causes significant impact on quality of life and career of patients. Diagnosis is, essentially clinical and treatment can be either conservative or surgical. We describe the case of a 27-years-old female patient with palmar hyperhidrosis from adolescence who, after several therapeutic failures and difficulties, achieved excellent clinical response to iontophoresis with tap water. The patient has been at least one year without clinical treatment.
Downloads
Download data is not yet available.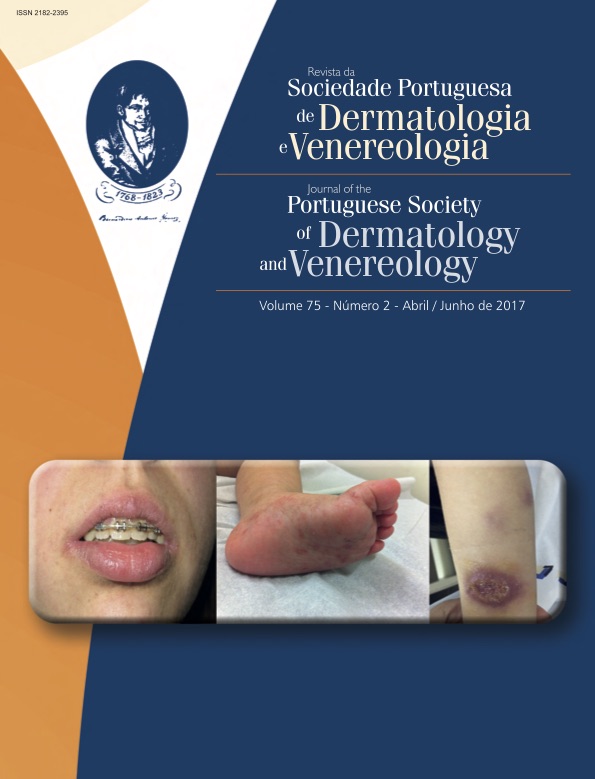 How to Cite
Mendes dos Santos, C., Fabri Mazza, M., Jardão Neto, D., & J. Maldonado, M. C. (2017). Skin Effects in the Treatment of Palmar Hperhidrosis Using Tap Water Iontophoresis: Case Report. Journal of the Portuguese Society of Dermatology and Venereology, 75(2), 179-182. https://doi.org/10.29021/spdv.75.2.774
All articles in this journal are Open Access under the Creative Commons Attribution-NonCommercial 4.0 International License (CC BY-NC 4.0).