Multiple Adult Xanthogranuloma: Case Report and Brief Literature Review
Felipe Siqueira Ramos

Médico Especializando do 1º ano de Dermatologia/Resident of Dermatology, Hospital Universitário de Taubaté - HUT/UNITAU – Taubaté-SP, Brasil

Flávia Regina Ferreira

Mestre e Doutora em Ciências pela Universidade Federal de São Paulo -UNIFESP/EPM - Professora Assistente III da disciplina de Dermatologia do Departamento de Medicina da Universidade de Taubaté/Médica do Serviço de Dermatologia/Dermatologist and Assistant Professor of Dermatology, Hospital Universitário de Taubaté - HUT/UNITAU – Taubaté-SP, Brasil

Samuel Henrique Mandelbaum

Especialista em Dermatologia - Professor Assistente da disciplina de Dermatologia do Departamento de Medicina da Universidade de Taubaté/Chefe do Serviço de Dermatologia/Dermatologist Chief and Assistant Professor of Dermatology, Hospital Universitário de Taubaté - HUT/ UNITAU – Taubaté-SP, Brasil

Fernanda da Rocha Gonçalves

Especialista em Patologia - Médica Patologista Assistente/Specialist of Pathology, Hospital do Servidor Público Estadual – São Paulo-SP, Brasil
Keywords:
Adult, Granuloma, Histiocytosis, Non-Langerhans-Cell, Skin Diseases, Xanthomatosis
Abstract
Multiple adult xanthogranuloma is a non-Langerhans cell histiocytosis, a rare variant of the juvenile xanthogranuloma. The etiology is unknown, affecting individuals predominantly below 30 years of age, without predilection for gender. Clinically presents itself as multiple, disseminated, yellow-brownish papules or nodules. Diagnostic confirmation is given by histopathology and by immunohistochemistry, which further allow to distinguish it from Langerhans cell histiocytosis. The spontaneous regression is uncommon. We report a classic, rare and clinically exuberant case of multiple adult xanthogranuloma and took the opportunity to perform a brief literature review on the topic.
Downloads
Download data is not yet available.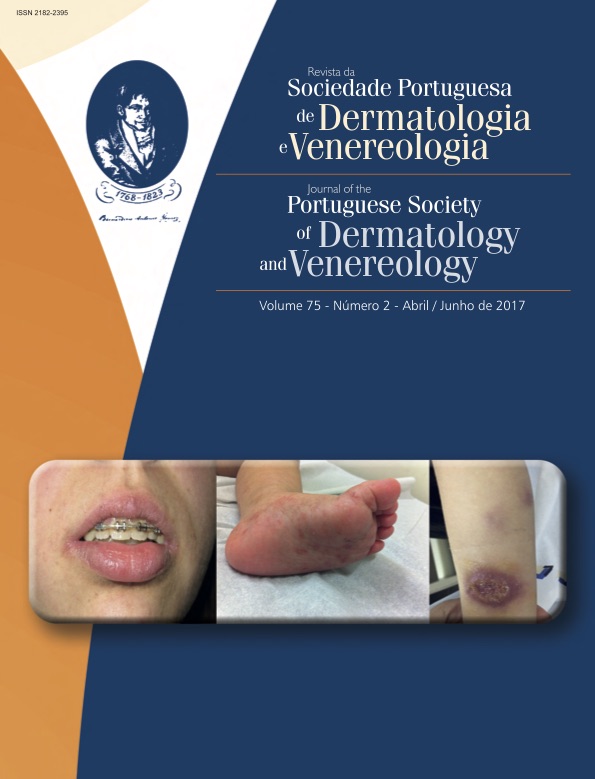 How to Cite
Siqueira Ramos, F., Ferreira, F. R., Mandelbaum, S. H., & da Rocha Gonçalves, F. (2017). Multiple Adult Xanthogranuloma: Case Report and Brief Literature Review. Journal of the Portuguese Society of Dermatology and Venereology, 75(2), 193-196. https://doi.org/10.29021/spdv.75.2.777
All articles in this journal are Open Access under the Creative Commons Attribution-NonCommercial 4.0 International License (CC BY-NC 4.0).