Cutaneous Histoplasmosis in AIDS Patient: Case Report
A. Kombo

Serviço de Dermatologia do Hospital Central de Maputo, Maputo, Moçambique

I. Monteiro

Serviço de Dermatologia do Hospital Central de Maputo, Maputo, Moçambique

N. César

Serviço de Dermatologia do Hospital Central de Maputo, Maputo, Moçambique

G. Catorze

Serviço de Dermatologia do Hospital de Egas Moniz, Lisboa, Portugal

M. Henriques

Serviço de Dermatologia do Hospital Central de Maputo, Maputo, Moçambique

R. Manuel

Serviço de Dermatologia do Hospital Central de Maputo, Maputo, Moçambique

A. Cunha

Serviço de Dermatologia do Hospital Central de Maputo, Maputo, Moçambique

G. Luciano

Serviço de Dermatologia do Hospital Central de Maputo, Maputo, Moçambique
Keywords:
Acquired Immunodeficiency Syndrome, AIDS-Related Opportunistic Infections, Dermatomycoses, Histoplasmosis
Abstract
This report describes a case of disseminated cutaneous histoplasmosis in a 30 years old black woman, born and living in Mozambique, with disseminated eruptive multiple papules, some of them with erosions, localized also in palms, plants and oropharyngeal mucosa. The HIV 2 test was positive and the CD4 count was 1 cel/mm3. Histopathology was compatible with infection by Histoplasma capsulatum. She was treated with amphotericin B during 21 days, with clinical improvement, followed by oral fluconazole 400 mg/day and antiretroviral, but she died 13 months later from gastroenteritis.
Downloads
Download data is not yet available.
References
Ferreira MS, Borges A. Histoplasmosis. Rev Soc Bras Trop. 2009; 42:680-2.
Saheki MN, Schubach Ade O, Salgueiro Mde M, Conceição-Silva F, Wanke B, Lazera M. Histoplasmose cutanea primaria: relato de caso em paciente imunocompetente e revisao de literatura. Rev Soc Bras Med Trop. 2008;41:680-2.
Gumaa SA, Ahmed MA, Hassan ME, Hassan AM. A case of African histoplasmosis from Sudan. Trans R Soc Trop Med Hyg. 1988;82:503-5.
Bahr NC, Antinori S, Wheat LJ, Sarosi GA. Histoplasmosis infections worldwide: thinking outside of the Ohio River valley. Curr Trop Med Rep. 2015;2:70-80.
Ravindran S, Sobhanakumari K, Celine M, Palakkal S. African histoplasmosis: the first report of an indigenous case in India. Int J Dermatol. 2015;54:451-5.
Nacher M, Adenis A, Blanchet D, Vantilcke V, Demar M, Basurko C, et al. Risk factors for disseminated histoplasmosis in a cohort of HIV-infected patients in French Guiana. PLoS Negl Trop Dis. 2014;8:e2638.
Guarner J, Brandt ME. Histopathologic diagnosis of fungal infections in the 21st century. Clin Microbiol Rev. 2011;24:247-80.
Wolff K, Goldsmith L, Katz S, Gilchrest B, Paller AS, Leffell D. Fitzpatrick's Dermatology in General Medicine. 7th ed. New York: McGraw-Hill; 2008.
Bolognia JL, Jorizzo JJ, Schaffer JV, Callen JP, Cerroni L, Heymann WR, et al. 3rd ed. London:Elsevier; 2012.
Griffiths C, Barker J, Bleiker T, Chalmers R, Creamer D. Rooks Textbook of Dermatology. 8th ed. London: Wiley; 2016.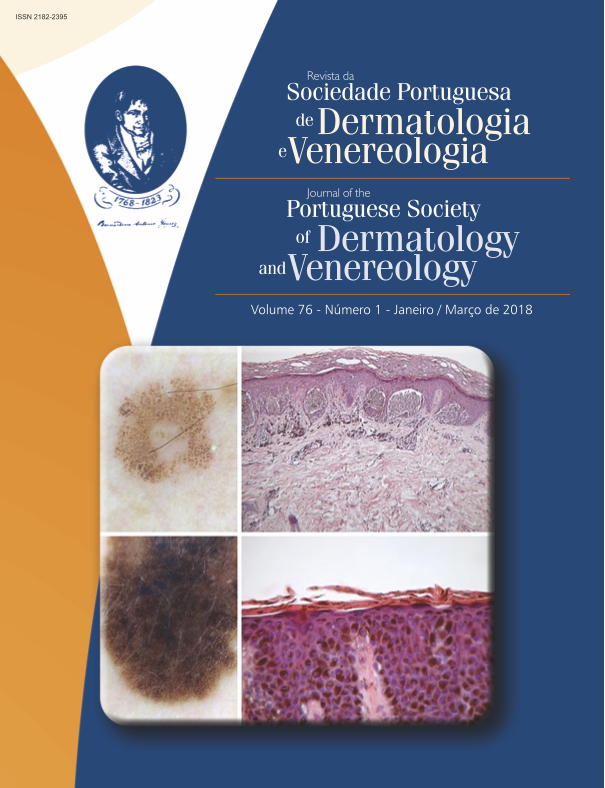 How to Cite
Kombo, A., Monteiro, I., César, N., Catorze, G., Henriques, M., Manuel, R., Cunha, A., & Luciano, G. (2018). Cutaneous Histoplasmosis in AIDS Patient: Case Report. Journal of the Portuguese Society of Dermatology and Venereology, 76(1), 83-86. https://doi.org/10.29021/spdv.76.1.801
All articles in this journal are Open Access under the Creative Commons Attribution-NonCommercial 4.0 International License (CC BY-NC 4.0).