Sporotrichosis and its Clinical Polymorphism: Centrofacial Ulcerated Lesions in an Adult Patient
Victor Bechara de Castro

Serviço de Dermatologia, HUPE/UERJ- Hospital Universitário Pedro Ernesto, Rio de Janeiro, Brasil

Carolina Portela

Serviço de Dermatologia, HUPE/UERJ- Hospital Universitário Pedro Ernesto, Rio de Janeiro, Brasil

Marina Câmara de Oliveira

Serviço de Dermatologia, HUPE/UERJ- Hospital Universitário Pedro Ernesto, Rio de Janeiro, Brasil

Daniel Lago Obadia

Serviço de Dermatologia, HUPE/UERJ- Hospital Universitário Pedro Ernesto, Rio de Janeiro, Brasil

Alexandre Carlos Gripp

Serviço de Dermatologia, HUPE/UERJ- Hospital Universitário Pedro Ernesto, Rio de Janeiro, Brasil
Keywords:
Facial Dermatoses, Mycoses, Rosacea, Skin Ulcer, Sporotrichosis
Abstract
Sporotrichosis is the most frequent subcutaneous mycosis worldwide, caused by a geophilic and dimorphic fungus of the species Sporothrix spp. Lymphocutaneous form is the most common clinical presentation and facial involvement is more prevalent in pediatric patients due to low stature and leisure habits of holding cats close to the face. In this case report, a female patient, with previous diagnosis of rosacea, resident in Rio de Janeiro, an epidemic region of the disease, presented ulcerated lesions on dorsal nasal, upper lip and glabella regions, diagnosed lately as sporotrichosis
Downloads
Download data is not yet available.
References
Carrasco Zuber JE, Navarrete Dechent C, Bonificaz A, Fich F, Vial-Leterlier V, Berroeta Mauriziano D. Parte 1: micosis subcutâneas. Actas Dermo-Sifiliográf. 2016;107: 806-15.
Reis BD, Cobucci FO, Zacaron LH, D'Acri, AM, Lima RB, Martins CJ. Sporotrichosis in an unusual location: a case report. An Bras Dermatol. 2015;90 (3 Suppl 1):S84-7.
Bernardes-Engemann AR, de Lima Barros M, Zeitune T, Russi DC, Orofino-Costa R, Lopes-Bezerra LM. Validation of a serodiagnostic test for sporotrichosis: a follow-up study of patients related to the Rio de Janeiro zoonotic outbreak. Med Mycol. 2015 53:28-33.
Araujo ML, Rodrigues AM, Fernandes GF, Camargo ZP, Hoog GS. Human sporotrichosis beyond the epidemic front reveals classical transmission types in Espírito Santo, Brazil. Mycoses. 2015;58: 485–90.
Barros MB, Schubach Ade O, do Valle AC, Gutierrez Galhardo MC, Conceição-Silva F, Schubach TM, et al. Cat-transmitted sporotrichosis epidemic in Rio de Janeiro, Brazil: description of a series of cases. Clin Infect Dis. 2004; 38:529–35.
Read SI, Sperling LC. Feline sporotrichosis. Transmission to man. Arch Dermatol. 1982;118:429-31.
Gremião ID, Menezes RC, Schubach TM, Figueiredo AB, Cavalcanti MC, Pereira SA. Feline sporotrichosis: epidemiological and clinical aspects. Med Mycol. 2015;53:15-21.
Orofino-Costa R, Macedo PM, Bernardes-Engemann AR. Hyperendemia of sporotrichosis in the Brazilian Southeast: learning from clinics and therapeutic. Curr Fungal Infect Rep. 2015;9:220–8.
Rafal ES, Rasmussen JE. An unusual presentation of fixed cutaneous sporotrichosis: a case report and review of the literature. J Am Acad Dermatol. 1991; 25(5 Pt 2):928-32.
Mahajan VK, Sharma NL, Shanker V, Gupta P, Mardi K. Cutaneous sporotrichosis: unusual clinical presentations Indian J Dermatol Venereol Leprol. 2010;76:276-80.
Bargman HB. Sporotrichosis of the nose with spontaneous cure. Can Med Assoc J. 1981;124:1027.
Martins-Costa GM, Bonamigo RR. Facial verrucous sporotrichosis in an adult during treatment for rosacea. Int J Dermatol. 2014;53: e80–e157.
Song JG, Song YB, Yun SY, Suh MK, Ha GY, Kim JR, et al. Cutaneous sporotrichosis presenting as clinical feature of facial cellulitis in an adult. Ann Dermatol. 2016;28:507-8.
Sharma NL, Mehta KI, Mahajan VK, Kanga AK, Sharma VC, Tegta GR. Cutaneous sporotrichosis of face: polymorphism and reactivation after intralesional triamcinolone. Indian J Dermatol Venereol Leprol. 2007;73:188-90.
Bernardes-Engemann AR, Orofino-Costa R, Miguens BR, Penha CV, Neves E, Pereira BA, et al. Development of an enzyme-linked immunosorbent assay for the serodiagnosis of several clinical forms of sporotrichosis. Med Mycol. 2005; 43:487–93.
Mahajan VK. Sporotrichosis: an overview and therapeutic options. Dermatol Res Pract. 2014;2014:272-376.
Kauffman CA, Bustamante B, Chapman SW, Pappas PG; Infectious Diseases Society of America. Clinical practice guidelines for the management of sporotrichosis: 2007 update by the Infectious Diseases Society of America. Clin Infect Dis. 2007;45:1255-6.
Machado T, Dantas C, Prohmann C, Silva L, Montes L, Gatti R, et al. Esporotricose na infância: Mimetizando Leishmanise: Evolução favorável com iodeto de potássio: Rev Soc Port Dermatol Venereol. 2017;75: 183-5.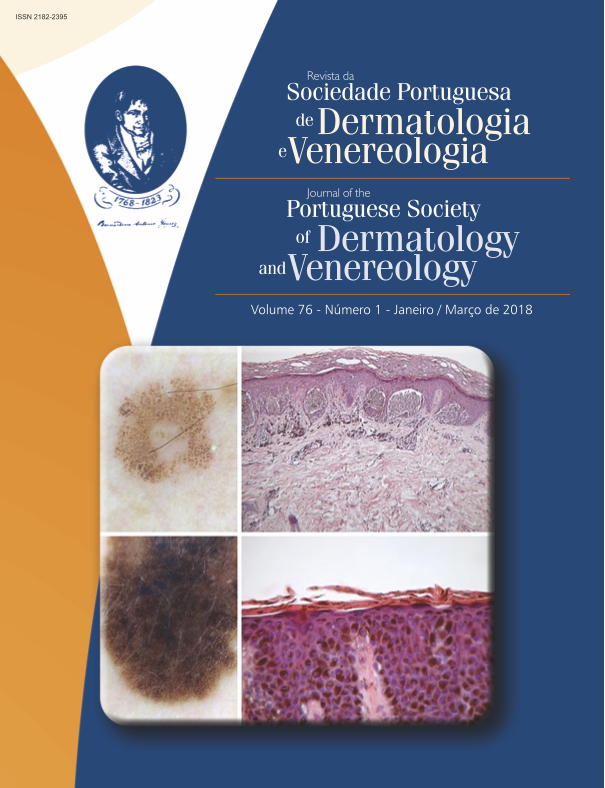 How to Cite
Bechara de Castro, V., Portela, C., Câmara de Oliveira, M., Lago Obadia, D., & Gripp, A. C. (2018). Sporotrichosis and its Clinical Polymorphism: Centrofacial Ulcerated Lesions in an Adult Patient. Journal of the Portuguese Society of Dermatology and Venereology, 76(1), 87-90. https://doi.org/10.29021/spdv.76.1.805
All articles in this journal are Open Access under the Creative Commons Attribution-NonCommercial 4.0 International License (CC BY-NC 4.0).