An Unusual Case of Cellular Neurothekeoma in a Child: Case Report and Brief Review of Literature
Eugénia Matos Pires

Serviço de Dermatologia e Venereologia, Hospital de Santo António dos Capuchos, CHLC, Lisboa

Rodrigo Carvalho

Serviço de Dermatologia e Venereologia, Hospital de Santo António dos Capuchos, CHLC, Lisboa

André Lencastre

Serviço de Dermatologia e Venereologia, Hospital de Santo António dos Capuchos, CHLC, Lisboa

Maria João Paiva Lopes

Serviço de Dermatologia e Venereologia, Hospital de Santo António dos Capuchos, CHLC, Lisboa
Keywords:
Child, Dermoscopy, Neurothekeoma
Abstract
Neurothekeoma is a rare benign neoplasm of uncertain histogenesis. Progresses in immunohistochemistry have brought new insights into its cellular differentiation and origin, recognizing the possibility of a fibrohystiocitic lineage. Also, it has been subclassified histopathologically as either myxoid, cellular, or mixed type, depending on the amount of myxoid matrix and on immunohistochemical analysis. Few cases of cellular neurothekeoma have been reported. Most of them are found on the head, neck and upper extremities and mostly in young female adults. On review of literature we have not found reports regarding dermoscopic features of neurothekeoma. Herein we report an uncommon case of cellular neurothekeoma on the axilla of a 7–year-old girl, with description of its dermoscopic findings.
Downloads
Download data is not yet available.
References
Hornick JL, Fletcher CD. Cellular neurothekeoma: detailed characterization in a series of 133 cases. Am J Surg Pathol. 2007;31:329-40.
Rosati LA, Fratamico FC, Eusebi V. Cellular neurothekeoma. Appl Pathol. 1986;4:186-91.
Fetsch JF, Laskin WB, Hallman JR. Neurothekeoma: an analysis of 178 tumors with detailed immunohistochemical data and long-term patient follow-up information. Am J Surg Pathol. 2007;31:1103-14.
Fetsch JF, Laskin WB, Miettinen M. Nerve sheath myxoma: a clinicopathologic and immunohistochemical analysis of 57 morphologically distinctive, S-100 protein and GFAP-positive, myxoid peripheral nerve sheath tumors with a predilection for the extremities and a high local recurrence rate. Am J Surg Pathol. 2005; 29: 1615-24.
Jaffer S, Ambrosini-Spaltro A, Mancini AM, Eusebi V, Rosai J. Neurothekeoma and plexiform fibrohistiocytic tumor: mere histologic resemblance or histogenetic relationship? Am J Surg Pathol. 2009; 33: 905-13.
Barnhill RL, Dickersin GR, Nickeleit V, Bhan AK, Muhlbauer JE, Phillips ME, et al. Studies on the cellular origin of neurothekeoma: clinical, light microscopic, immunohistochemical, and ultrastructural observations. J Am Acad Dermatol. 1991;25:80-8.
Calonje E, Wilson-Jones E, Smith NP, Fletcher CD. Cellular 'neurothekeoma': an epithelioid variant of pilar leiomyoma? Morphological and immunohistochemical analysis of a series. Histopathology. 1992;20:397-404.
Misago N, Satoh T, Narisawa Y. Cellular neurothekeoma with histiocytic differentiation. J Cutan Pathol. 2003; 30:196-201.
McKee PH, Calonje E, Granter SR. Pathology of the skin with clinical correlations. Philadephia: Elsevier Mosby; 2005.
Wang GY, Nazarian RM, Zhao L, Hristov AC, Patel RM, Fullen DR, et al. Protein gene product 9.5 (PGP9.5) expression in benign cutaneous mesenchymal, histiocytic, and melanocytic lesions: comparison with cellular neurothekeoma. Pathology. 2017; 49 :44-9.
Plaza JÁ Torres-Cabala C, Evans H, Diwan AH Prieto VG. Immunohistochemical expression of S100A6 in cellular neurothekeoma: clinicopathologic and immunohistochemical analysis of 31 cases. Am J Dermatopathol. 2009; 31: 419-22
Aydingoz IE, Mansur AT, Dikicioglu-Cetin E. Arborizing vessels under dermoscopy: A case of cellular neurothekeoma instead of basal cell carcinoma. Dermatol Online J. 2013;19: 5.
Papadopoulos EJ, Cohen PR, Hebert AA. Neurothekeoma: report of a case in an infant and review of the literature. J Am Acad Dermatol. 2004; 50:129-34.
Ferrari A, Soyer HP, Peris K, Argenziano G, Mazzocchetti G, Piccolo D et al. Central white scarlike patch: a dermatoscopic clue for the diagnosis of dermatofibroma. J Am Acad Dermatol. 2000; 43:1123-5.
Karaarslan KI, Gencoglan G, Akalin T, Ozdemir F. Different dermoscopic faces of dermatofibromas. J Am Acad Dermatol. 2007; 57:401-6.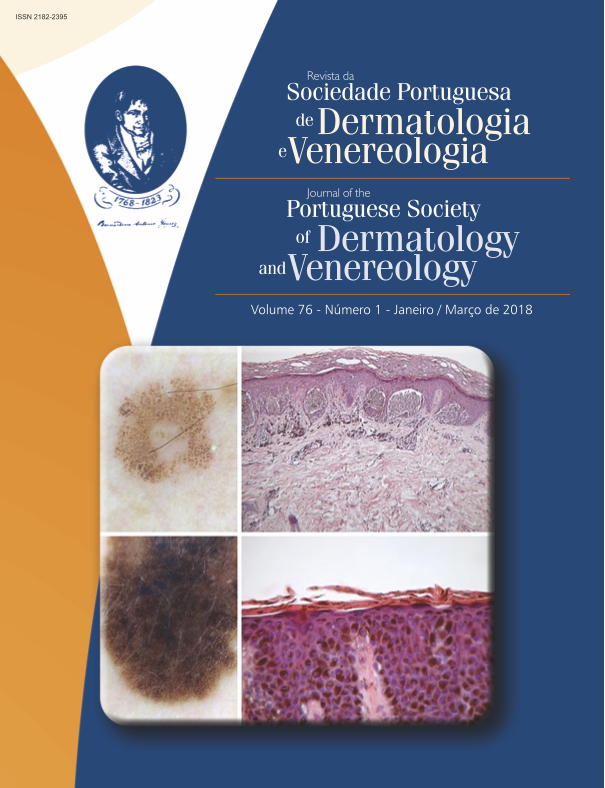 How to Cite
Matos Pires, E., Carvalho, R., Lencastre, A., & Paiva Lopes, M. J. (2018). An Unusual Case of Cellular Neurothekeoma in a Child: Case Report and Brief Review of Literature. Journal of the Portuguese Society of Dermatology and Venereology, 76(1), 91-94. https://doi.org/10.29021/spdv.76.1.807
All articles in this journal are Open Access under the Creative Commons Attribution-NonCommercial 4.0 International License (CC BY-NC 4.0).