Case of Permanent Chemotherapy-Induced Alopecia with Response to Topical Minoxidil
Eugénia Matos Pires

Dermatology and Venereology Department, Centro Hospitalar de Lisboa Central, Hospital de Santo António dos Capuchos, Lisbon, Portugal

Rita Ramos Pinheiro

Dermatology and Venereology Department, Centro Hospitalar de Lisboa Central, Hospital de Santo António dos Capuchos, Lisbon, Portugal

André Lencastre

Dermatology and Venereology Department, Centro Hospitalar de Lisboa Central, Hospital de Santo António dos Capuchos, Lisbon, Portugal; Dermatology and Venereology Department, Hospital da Luz, Lisbon, Portugal
Keywords:
Alopecia/chemically induced, Alopecia/therapy, Minoxidil, Taxoids
Abstract
Permanent chemotherapy-induced alopecia is uncommon and has primarily been reported after high-dose busulfan chemotherapy in bone marrow transplant patients. Nevertheless, cases of PCIA, after taxane chemotherapy protocols for breast cancer, have been recently described. Despite the impact on patients' quality of life, no consistently effective treatment has been previously described for taxane-associated permanent chemotherapy-induced alopecia. We herein report a case of a 38-year-old woman who presented inaugural and persistent hair loss after completion of adjuvant chemotherapy with taxane (docetaxel) for breast carcinoma, 2 years before the present observation. After 6 months of continuous therapy with topical minoxidil solution 5%, twice daily, significant hair regrowth was noted. We discuss the pathophysiology of permanent chemotherapy-induced alopecia and the effects of minoxidil on hair growth, in order to substantiate topical minoxidil 5% as an option to consider in the therapeutic approach for permanent chemotherapy-induced alopecia.
Downloads
Download data is not yet available.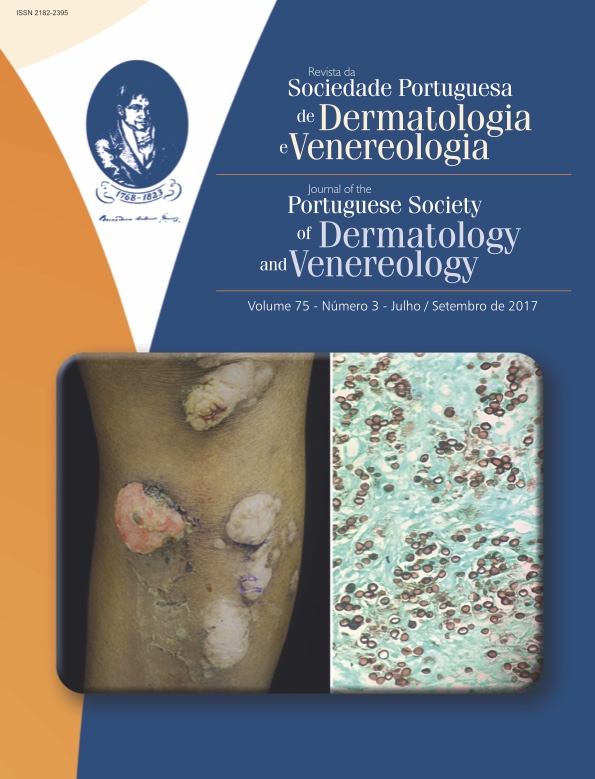 How to Cite
Matos Pires, E., Ramos Pinheiro, R., & Lencastre, A. (2018). Case of Permanent Chemotherapy-Induced Alopecia with Response to Topical Minoxidil. Journal of the Portuguese Society of Dermatology and Venereology, 75(3), 297-299. https://doi.org/10.29021/spdv.75.3.821
All articles in this journal are Open Access under the Creative Commons Attribution-NonCommercial 4.0 International License (CC BY-NC 4.0).