Postirradiation Multiple Minute Digitate Porokeratosis: Case Report
Rui Tavares Bello

Dermatology Unit, Hospital dos Lusíadas, Lisbon, Portugal

Pedro Ponte

Dermatology Unit, Hospital dos Lusíadas, Lisbon, Portugal

Esmeralda Vale

Dermatopathology, Private Practice, Lisbon, Portugal
Keywords:
Carcinoma, Ductal, Breast/radiotherapy, Cobalt Radioisotopes/adverse effects, Keratosis, Porokeratosis/etiology, Radiotherapy/adverse effects.
Abstract
A spectrum of skin conditions – inflammatory, preneoplastic and neoplastic in nature – have been reported to occur as late side effects of radiation therapy. Postiradiation multiple minute digitate porokeratosis (PIMMDP), although seldom reported, has emerged as a distinctively unique variant among porokeratoses. The case of a 47-year-old Caucasianwoman who developed multiple filiform spiny papules mainly over the right chest wall, 12 months after receiving post-operative cobalt therapy for infiltrating ductal carcinoma of the right breast, is reported. The papules, mostly confined to the irradiation field, were pathologically found to consist of cornoid lamellae overlying a somewhat atrophic epidermis devoid of granular layer. PIMMDP is a rare, peculiar type of a late-onset radiation-induced porokeratotic skin reaction pattern that should be differentiated on pathological grounds from other clinical mimickers such as those included in the heterogenous group of multiple minute digitate hyperkeratoses. This case is ichnographically depicted and the relevant literature is discussed.
Downloads
Download data is not yet available.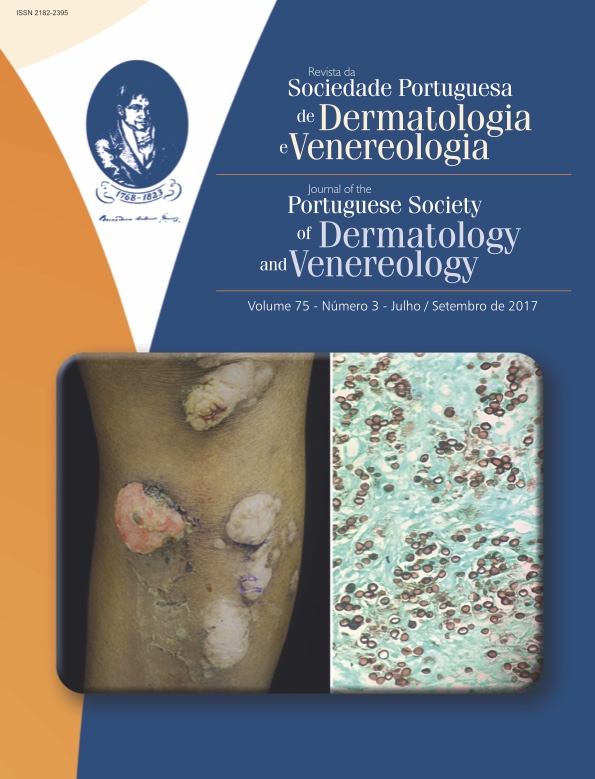 How to Cite
Tavares Bello, R., Ponte, P., & Vale, E. (2018). Postirradiation Multiple Minute Digitate Porokeratosis: Case Report. Journal of the Portuguese Society of Dermatology and Venereology, 75(3), 305-308. https://doi.org/10.29021/spdv.75.3.823
All articles in this journal are Open Access under the Creative Commons Attribution-NonCommercial 4.0 International License (CC BY-NC 4.0).