Reconstruction of the Lower Lip Region: An Example of Versatility of Naso-Labial Flap
Ermelindo Tavares

Serviço Dermatologia e Venereologia, Hospital Vila Franca de Xira, Vila Franca de Xira, Portugal
Keywords:
Carcinoma, Basal Cell, Dermatologic Surgical Procedures, Lip/surgery, Nose/surgery, Surgical Flaps
Abstract
The nasolabial flap represents a valid and well known option to reconstruct defects of the lower lip as in the following case. An 82-year-old male patient with a basal cell carcinoma located on the right lower lip skin had a surgical excision under local anesthesia. The large surgical defect was closed with an inferiorly based pedicle nasolabial flap, with no flap necrosis and acceptable functional and aesthetic results.
Downloads
Download data is not yet available.
References
Sousa H, Ferreira R, Almeida JR. Potencialidades do retalho nasogeniano. Rev Port ORL. 2006; 44: 129-34.
Andrade P, Brinca A, Vieira R, Figueiredo A. Double rhomboidal flap for reconstruction of large surgical defect of the labial commissure. An Bras Dermatol. 2012; 87:456-58.
Coutinho I, Ramos L, Gameiro AR, Vieira R, Figueiredo A. Lower lip reconstruction with nasolabial flap - going back to basics. An Bras Dermatol. 2015;90 (3 Suppl 1):S206-8.
Matos D, Goulão J. Retalho nasogeniano V-Y de avanço – duas variantes úteis na reconstrução nasal. Rev Soc Port Dermatol Venereol. 2014; 72: 525-29.
Matos D, Goulão J. Retalho nasogeniano de transposição com pedículo superior – princípios e aplicação fundamentais. Rev Soc Port Dermatol Venereol. 2014; 72: 513-23.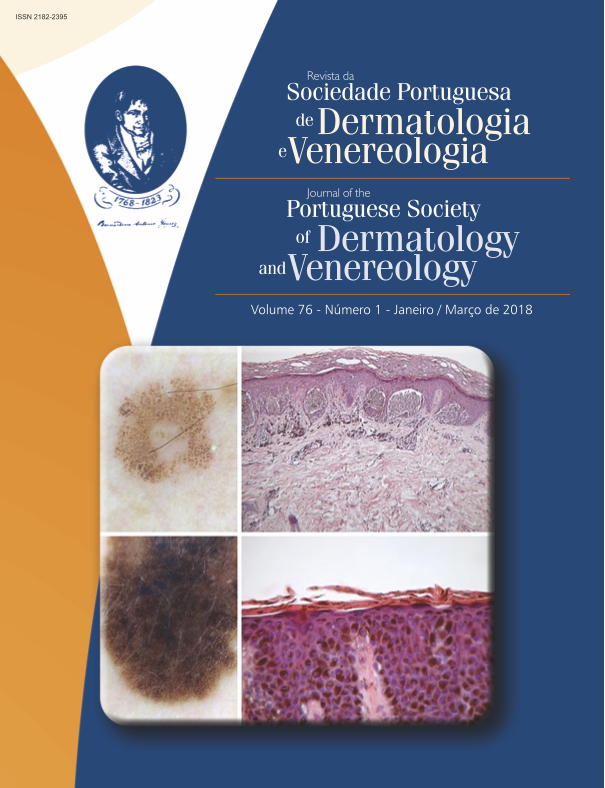 How to Cite
Tavares, E. (2018). Reconstruction of the Lower Lip Region: An Example of Versatility of Naso-Labial Flap. Journal of the Portuguese Society of Dermatology and Venereology, 76(1), 95-97. https://doi.org/10.29021/spdv.76.1.833
All articles in this journal are Open Access under the Creative Commons Attribution-NonCommercial 4.0 International License (CC BY-NC 4.0).