Retrospective Study of 109 Patients with Scabies: Profile of a Region
Katarina Kieselova

Serviço de Dermatologia, Centro Hospitalar de Leira

http://orcid.org/0000-0002-0064-7571

Felicidade Santiago

Serviço de Dermatologia, Centro Hospitalar de Leira

Martinha Henrique

Serviço de Dermatologia, Centro Hospitalar de Leira
Keywords:
Scabies/diagnosis, Scabies/epidemiology, Portugal
Abstract
Introduction: Scabies is a common cutaneous infestation occurring at any age and, in some communities, it represents a major public health problem. In Portugal, there is a lack of studies about this parasitosis. The aim of our study was to evaluate the principal characteristics of the patients with scabies diagnosed in Department of Dermatology in Centro Hospitalar de Leiria.
Material and Methods: We performed a retrospective observational study, including patients diagnosed with scabies observed at the Consultation and Urgency of General Dermatology and at the Consultation and Urgency of Pediatric Dermatology of CHL between January 2015 and December 2016.
Results: The study included 109 patients (69 children; 40 adults). The mean age of the patients in the pediatric group was 6.95 years (± 5.92) and 47.33 years (± 22.06) in the group of adults. In 2015, we diagnosed 46 cases of scabies and in 2016, 63 cases were diagnosed, which represents an increment of 37%. The majority of patients (74.3%) was not able to identify the source of contagion. The diagnostic delay was similar in both groups (50 days in the pediatric vs 58 days in the adult group), nonetheless the diagnostic concordance was much higher in the pediatric group (70.8% vs 27.6%, p = 0.000).
Conclusion: The authors present the first study of patients affected by scabies in Portugal, showing an increasing incidence, yet probably underestimated. Similarly, other studies have shown that the diagnostic delay is still relevant both in adults and children, however, we highlight higher diagnostic concordance in the pediatric group. The knowledge of the local epidemiologic features of scabies permits to design more consistent preventive strategies and social support.
Downloads
Download data is not yet available.
References
Chosidow O. Clinical practices. Scabies. N Engl J Med. 2006; 354:1718-27.
Heukelbach J, Feldmeier H. Scabies. Lancet. 2006; 367:1767-74.
Goldstein B, Goldstein A. Scabies. [accessed 2017 Nov 4]. Available from: http://www.uptodate.com/contents/scabies.
FitzGerald D, Grainger RJ, Reid A. Interventions for preventing the spread of infestation in close contacts of people with scabies. Cochrane Database Syst Rev. 2014; 24:CD009943.
Santiago F, Januario G. Escabiose: Revisão e Foco na Realidade Portuguesa. Rev Soc Port Dermatol Venereol. 2017;75:129-37.
Romani L, Steer AC, Whitfeld MJ, Kaldor JM. Prevalence of scabies and impetigo worldwide: a systematic review. Lancet Infect Dis. 2015;15:960–7.
Lassa S, Campbell MJ, Bennett CE. Epidemiology of scabies prevalence in the U.K. from general practice records. Br J Dermatol. 2011;164:1329–34.
Downs AM, Harvey I, Kennedy CT. The epidemiology of head lice and scabies in the UK. Epidemiol Infect. 1999; 122:471–7.
Noronha N, Januário G, Ferraz A, Mação P, Gata L, Januário L. Escabiosis en urgencias de pediatría. XX Reunión Anual de la Sociedad Española de Urgencias de Pediatría,16-18 de abril de 2015.
Liu J, Wang H, Chang F, Liu YP, Chiu FH, Lin YC, et al. The effects of climate factors on scabies. A 14-year population-based study in Taiwan. Parasite. 2016;23.
Instituto Nacional e Estatística. Censos 2011 Resultados Definitivos – Região Centro. Lisboa: INE; 2012.
Carta Estratégia de Desenvolvimento para o concelho da Marinha Grande. [accessed 2017 Nov 03] Available from: http:// www.cm-mgrande.pt
Feldmeier H, Jackson A, Ariza L, Calheiros CM, Soares Vde L, Oliveira FA, et al. The epidemiology of scabies in an impoverished community in rural Brazil: presence and severity of disease are associated with poor living conditions and illiteracy. J Am Acad Dermatol. 2009;60:436–43.
Buczek A, Pabis B, Bartosik K, Stanislawek IM, Salata M, Pabis A. Epidemiological study of scabies in different environmental conditions in central Poland. Ann Epidemiol. 2006;16:423–8.
PORDATA. Dimensão média dos agregados domésticos privados. [accessed 2017 Nov 03] Available from: https://www.pordata.pt/
Pouessel G, Dumortier J, Lagrée M, Pierre MH, Ganga-Zandzou PS, Ythier H, et al. Scabies: a common infection in children. Arch Pediatr. 2012; 19:1259-60.
Boralevi F, Diallo A, Miquel J, Guerin-Moreau M, Bessis D, Chiavérini C, et al. Clinical phenotype of scabies by age. Pediatrics. 2014; 133:910-6.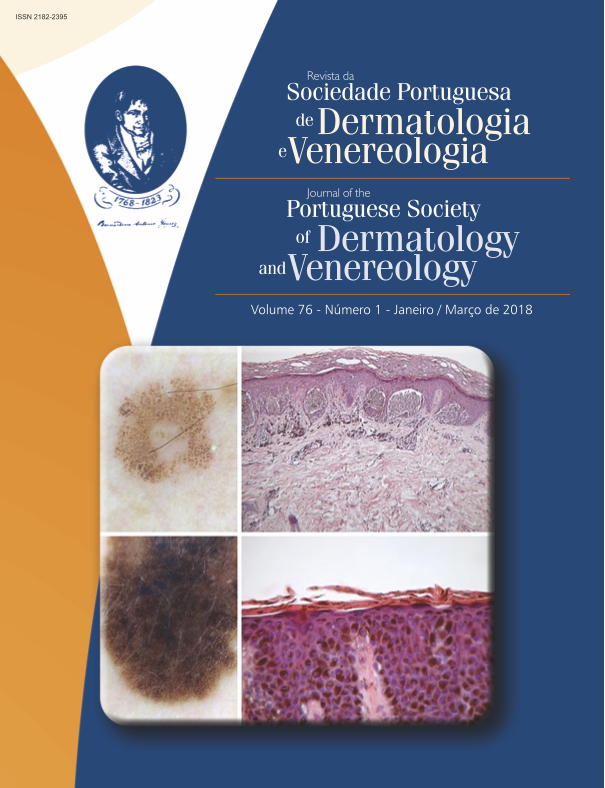 How to Cite
Kieselova, K., Santiago, F., & Henrique, M. (2018). Retrospective Study of 109 Patients with Scabies: Profile of a Region. Journal of the Portuguese Society of Dermatology and Venereology, 76(1), 25-30. https://doi.org/10.29021/spdv.76.1.846
Section
Original Articles
All articles in this journal are Open Access under the Creative Commons Attribution-NonCommercial 4.0 International License (CC BY-NC 4.0).