Atypical Clinical Manifestations of Genital Herpes Simplex Virus Infection and Their Treatment
Pedro Miguel Garrido

Clínica Universitária de Dermatologia de Lisboa, Centro Hospitalar Lisboa Norte, EPE (CHLN) – Lisboa, Portugal

João Borges-Costa

Clínica Universitária de Dermatologia de Lisboa, Centro Hospitalar Lisboa Norte, EPE (CHLN) – Lisboa, Portugal; Unidade de Investigação em Dermatologia da Faculdade de Medicina da Universidade de Lisboa (FMUL) – Lisboa, Portugal; Instituto de Higiene e Medicina Tropical, Universidade Nova de Lisboa, Lisboa, Portugal
Keywords:
AIDS-Related Opportunistic Infections, Antiviral Agents, Herpes Genitalis, Herpes Simplex, Sexually Transmitted Diseases, Viral
Abstract
Genital herpes is a sexually transmitted infection with high global prevalence. Atypical clinical presentations of herpetic infection are rare but are becoming increasingly frequent due to the growing number of immunosuppressed patients. Therapy is challenging, with a longer treatment duration being frequently needed and an important resistance rate to the common anti-viral agents. Foscarnet and cidofovir are effective alternatives. In this article we review three atypical cutaneous presentations of herpetic infection, selected by their relevance in clinical practice: hypertrophic lesions, chronic ulcers and herpetic folliculitis.
Downloads
Download data is not yet available.
References
Gnann JW, Whitley RJ. Genital herpes. N Engl J Med. 2016; 375: 666-74.
Sauerbrei A. Optimal management of genital herpes: current perspectives. Infect Drug Resist. 2016; 9:129–141.
Looker KJ, Elmes JR, Gottlieb SL, Schiffer JT, Vickerman P, Turner KM, et al. Effect of HSV-2 infection on subsequent HIV acquisition: an updated systematic review and meta-analysis. Lancet Infect Dis. 2017; 17:1303-6.
Tyring SK, Carlton SS, Evans T. Herpes. Atypical clinical manifestations. Dermatol Clin. 1998; 16:783-8.
Swetter SM, Hill EL, Kern ER, Koelle DM, Posavad CM, Lawrence W, et al. Chronic vulvar ulceration in an immunocompetent woman due to acyclovir-resistant, thymidine kinase-deficient herpes simplex virus. J Infect Dis. 1998; 177:543-50.
Carrasco DA, Trizna Z, Colome-Grimmer M, Tyring SK. Verrucous herpes of the scrotum in a human immunodeficiency virus positive man: case report and review of the literature. J Eur Acad Dermatol Venereol. 2002; 16:511-5.
Ranu H, Lee J, Chio M, Sen P. Tumour-like presentations of anogenital herpes simplex in HIV-positive patients. Int J STD AIDS. 2011; 22:181-6
Leeyaphan C, Surawan TM, Chirachanakul P, Prasertworonun N, Punyaratabandhu P, Omcharoen V, et al. Clinical characteristics of hypertrophic herpes simplex genitalis and treatment outcomes of imiquimod: a retrospective observational study. Int J Infect Dis. 2015; 33:165-70.
Yudin MH, Kaul R. Progressive hypertrophic genital herpes in an VIH-infected woman despite immune recovery on antiretroviral therapy. Infect Dis Obstet Gynecol. 2008:2008:592532.
Strehl JD, Mehlhorn G, Koch MC, Harrer EG, Harrer T, Becjmann MW, et al. HIV-associated hypertrophic herpes simplex genitalis with concomitant early invasive squamous cell carcinoma mimicking advanced genital cancer: case report and literature review. Int J Gynecol Pathol. 2012; 31: 286–93.
Domfeh AB, Silasi DA, Lindo F, Parkash V. Chronic hypertrophic vulvar herpes simulating neoplasia. Int J Gynecol Pathol. 2012; 31:33-7.
Piret J, Boivin G. Resistance of herpes simplex viruses to nucleoside analogues: mechanisms, prevalence, and management. Antimicrob Agents Chemother. 2011;55:459-72.
Patel R, Kennedy OJ, Clarke E, Geretti A, Nilsen A, Lautenschlager S, et al. 2017 European guidelines for the management of genital herpes. Int J STD AIDS. 2017; 28:1366-79.
Jiang YC, Feng H, Lin YC, Guo XR. New strategies against drug resistance to herpes simplex virus. Int J Oral Sci. 2016; 8:1-6.
Tandon S, Singh J, Sharma P, Sinha S. Recalcitrant hypertrophic herpes genitalis in HIV-infected patient successfully treated with topical imiquimod. Dermatol Ther. 2017; 30:e12479
Perkins N, Nisbet M, Thomas M. Topical imiquimod treatment of aciclovir-resistant herpes simplex disease: case series and literature review. Sex Transm Infect. 2011; 87:292-5.
Barbosa LN, Souto R, Furtado AL, Gripp AC, Daxbacher E. Association of oral acyclovir and imiquimod for the treatment of hypertrophic genital herpes simplex in HIV positive patients: report of two cases. An Bras Dermatol. 2011; 86:1043-5.
Matos D, Alves J, António AM, Coelho R, Bártolo E. Ulcerações genitais herpéticas recalcitrantes tratadas com imiquimod associado ao valaciclovir. Rev Soc Port Dermatol Venereol. 2014; 72:535-9.
Arinze F, Shaver A, Raffanti S. Surgical excision for recurrent herpes simplex virus 2 (HSV-2) anogenital infection in a patient with human immunodeficiency virus (HIV). Infection. 2017; 45:705-7.
Usoro A, Batts A, Sarria JC. Intravenous foscarnet with topical cidofovir for chronic refractory genital herpes in a patient with AIDS. J Investig Med High Impact Case Rep. 2015; 3:2324709615621095.
Kieselova K, Santiago F, Falhas C, Henrique M. Chronic penile ulcer as the first manifestation of HIV infection. BMJ Case Rep 2017; 2017: pii: bcr-2017-221604.
Garib G, Hughey LC, Elmets CA, Cafardi JA, Andea AA. Atypical presentation of exophytic herpes simplex virus type 2 with concurrent cytomegalovirus infection: a significant pitfall in diagnosis. Am J Dermatopathol. 2013; 35:371-6.
Gouveia AI, Borges-Costa J, Soares-Almeida L, Sacramento-Marques M, Kutzner H. Herpes simplex virus and cytomegalovirus co-infection presenting as exuberant genital ulcer in a woman infected with human immunodeficiency virus. Clin Exp Dermatol. 2014; 39:915-7.
Böer A, Herder N, Winter K, Falk T. Herpes folliculitis: clinical, histopathological, and molecular pathologic observations. Br J Dermatol. 2006; 154:743-6.
Foti C, Calvario A, d'Ovidio R, Bonamonte D, Scarasciulli ML, Conserva A, et al. Recalcitrant scalp folliculitis: a possible role of herpes simplex virus type 2. New Microbiol. 2005; 28:157-9.
Campanelli A, Marazza G, Stucki L, Abraham S, Prins C, Kaya G, et al. Fulminant herpetic sycosis: atypical presentation of primary herpetic infection. Dermatology.
;208:284-6.
Al-Dhafiri SA, Molinari R. Herpetic folliculitis. J Cutan Med Surg. 2002; 6:19-22.
Bae-Harboe YS, Bhawan J, Demierre MF, Goldberg LJ. Herpes folliculitis masquerading as cutaneous lymphoma. Am J Dermatopathol. 2013; 35:663-5.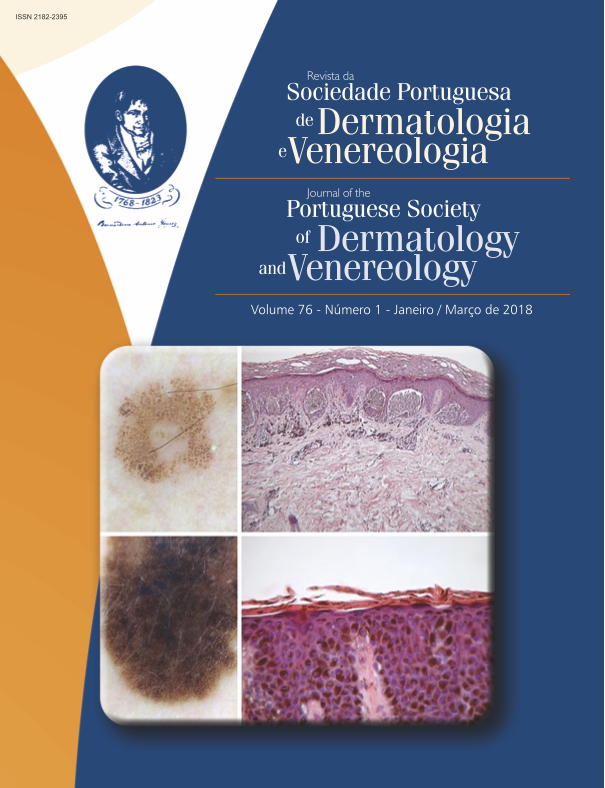 How to Cite
Garrido, P. M., & Borges-Costa, J. (2018). Atypical Clinical Manifestations of Genital Herpes Simplex Virus Infection and Their Treatment. Journal of the Portuguese Society of Dermatology and Venereology, 76(1), 65-70. https://doi.org/10.29021/spdv.76.1.847
Section
Grupo para o Estudo e Investigação das Doenças Sexualmente Transmissíveis (GEIDS
All articles in this journal are Open Access under the Creative Commons Attribution-NonCommercial 4.0 International License (CC BY-NC 4.0).