Oral PUVA Versus Bath PUVA in Chronic Plaque Psoriasis: A Comparative Study of Efficacy
Katarina Kieselova

Interna de Dermatologia e Venereologia/Resident of Dermatology and Venereology, Centro Hospitalar de Leiria

http://orcid.org/0000-0002-0064-7571

Felicidade Santiago

Assistente Hospitalar de Dermatologia e Venereologia/Consultant of Dermatology and Venereology, Centro Hospitalar de Leiria

Martinha Henrique

Chefe de Serviço, Diretora do Serviço de Dermatologia/Consultant Chief, Head of Department of Dermatology Centro Hospitalar de Leiria, Leiria, Portugal
Keywords:
Administration, Oral, Topical, Baths, PUVA Therapy/methods, Psoriasis/therapy
Abstract
Introduction: Phototherapy has long been recognized as beneficial for psoriasis treatment, with a favorable risk- -benefit relation. Photochemotherapy comprises the use of psoralen, either orally (oral PUVA) or topically (bath PUVA), prior to UVA irradiation. Oral administration of psoralen may lead to short or long-term side effects. Bath PUVA is particularly useful to minimize systemic toxicity and psoralen side effects. The aim of this study was to compare the effectiveness of these two PUVA modalities.
Material and Methods: A retrospective review of patients with chronic plaque psoriasis treated with PUVA therapy (oral and bath) in our dermatology department, between January 2001 and December 2016.
Results: We performed 81 treatments with oral PUVA and 38 treatments with bath PUVA, in 68 and 26 patients, respectively. The mean age of the patients was 50,6 years. Oral PUVA group achieved PASI 75 in 68 cases (89.5%), and bath PUVA group in 26 (74.3%), with p-value=0 .05. The mean total dose needed to achieve PASI 75 in the oral PUVA group was 113.1 J/cm2 and in the bath PUVA group was 69.8 J/cm2. The mean number of sessions performed to achieve remission in the oral PUVA group was 23.31, and in the bath PUVA group was 17.58.
Conclusion: Despite requiring specialized equipment and being more time consuming, bath PUVA represents one of the most effective therapies available for psoriasis and it should be considered as a treatment option for patients who are not candidates for systemic treatment.
Downloads
Download data is not yet available.
References
Wong B, Hsu B, Liao M. Phototherapy in psoriasis: a review of mechanisms of action. J Cutan Med Surg. 2012; 17: 6–12.
Almutawa F, Alnomair N, Wang Y, Hamzavi I, Lim HW. Systematic review of UV-based therapy for psoriasis. Am J Clin Dermatol. 2013 ;14:87-109.
Rodríguez-Granados MT, Carrascosa JM, Gárate T, Gómez-Díez S, Guimaraens-Juantorena D. Consensus document on therapy with Bath Psoralen UVA. Actas Dermosifiliogr. 2007;98:164-70.
Hannuksela-Svahn A, Sigurgeirsson B, Pukkala E, Lindelöf B, Berne B, Hannuksela M, et al. Trioxsalen bath PUVA did not increase the risk of squamous cell skin carcinoma and cutaneous malignant melanoma in a joint analysis of 944 Swedish and Finnish patients with psoriasis. Br J
Dermatol. 1999;141:497-501.
Hannuksela A, Pukkala E, Hannuksela M, Karvonen J. Cancer incidence among Finnish patients with psoriasis treated with trioxsalen bath PUVA. J Am Acad Dermatol. 1996;35: 685-9.
Berneburg M, Herzinger T, Rampf, J, Hoetzenecker W, Guenova E, Meisner C, et al. Efficacy of bath psoralen plus ultraviolet A (PUVA) vs. system PUVA in psoriasis: a prospective, open, randomized, multicentre study. Br J Dermatol. 2013;169:704–8.
Cooper EJ, Herd RM, Priestley GC, Hunter JA. A comparison of bathwater and oral delivery of 8-methoxypsoralen in PUVA therapy for plaque psoriasis. Clin Exp Dermatol. 2000;25:111–114.
Collins P, Rogers S. Bath water compared with oral delivery of 8-methoxypsoralen PUVA therapy for chronic plaque psoriasis. Br J Dermatol. 1992;127:392-5.
Lowe NJ, Weingarten D, Bourget T, Moy LS. PUVA therapy for psoriasis: Comparison of oral and bath-water delivery of 8-methoxypsoralen. J Am Acad Dermatol. 1986;14:754-60
Collins P, Rogers S. 8-Methoxypsoralen bath PUVA clears psoriasis after failure of oral PUVA. Clin Exp Dermatol. 1990;15:320.
Alshiyab D, Chin MF, Edwards C, Anstey AV. An evaluation of the preferences of patients with psoriasis between systemic psoralen plus ultraviolet A and bath psoralen plus ultraviolet A. Br J Dermatol. 2015;172: 1457–8.
Halpern SM, Anstey AV, Dawe RS, Diffey BL, Farr PM, Ferguson J, et al. Guidelines for topical PUVA: a report of a workshop of the British photodermatology group. Br
J Dermatol. 2000;142:22–31.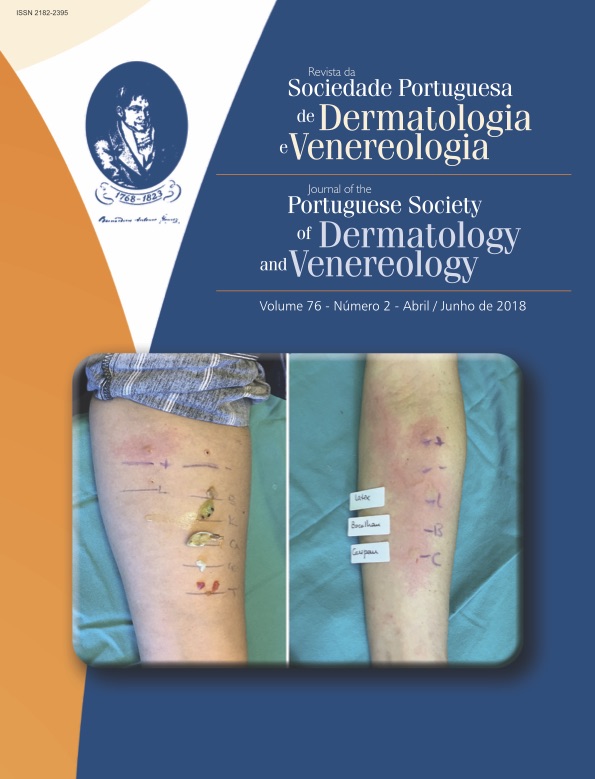 How to Cite
Kieselova, K., Santiago, F., & Henrique, M. (2018). Oral PUVA Versus Bath PUVA in Chronic Plaque Psoriasis: A Comparative Study of Efficacy. Journal of the Portuguese Society of Dermatology and Venereology, 76(2), 165-168. https://doi.org/10.29021/spdv.76.2.889
Section
Original Articles
All articles in this journal are Open Access under the Creative Commons Attribution-NonCommercial 4.0 International License (CC BY-NC 4.0).