Neoadjuvant use of Imiquimod Before Surgery in Extramammary Paget's Disease
M. Costa e Silva

Interno do Internato Complementar de Dermatologia e Venereologia/Resident, Dermatology and Venereology, Centro Hospitalar São João, EPE, Porto, Portugal

M. A. Costa

Professora Doutora, Especialista em Ginecologia e Obstetrícia/ Professor, Consultant of Gynecology, Centro Hospitalar São João, EPE, Porto, Portugal; Departamento da Mulher e da Criança, Faculdade de Medicina da Universidade do Porto, Portugal

J. S. Costa

Especialista em Cirurgia Plástica/ Consultant of Plastic Surgery, Centro Hospitalar São João, EPE, Porto, Portugal

F. Azevedo

Diretora do Serviço de Dermatologia e Venereologia/Head of the Dermatology and Venereology Department, Centro Hospitalar São João, EPE, Porto, Portugal

Carmen Lisboa

Professora Doutora, Especialista em Dermatologia e Venereologia/Professor, Consultant of Dermatology and Venereology, Centro Hospitalar São João, EPE, Porto, Portugal; Serviço de Microbiologia, Faculdade de Medicina do Porto, Porto, Portugal
Keywords:
Imiquimod, Neoadjuvant Therapy, Paget Disease, Extramammary/therapy, Vulvar
Abstract
Extramammary Paget's disease (EMPD) is a distinct form of a rare malignant skin neoplasm, primarily seen in postmenopausal Caucasian women. Surgery is the most common treatment. However, concerning vulvar EMPD, radical surgery can be mutilating and leads to loss of femininity. Recent therapeutic development has included medical and medical-surgical approaches, allowing better preservation of genital anatomy with subsequent reduced morbidity. Accordingly, off-label use of imiquimod has been reported as a monotherapy or adjuvant therapy in EMPD.
We report the case of a woman with extensive EMPD in the anogenital area, submitted to surgical resection complemented with plastic reconstruction and preceded by imiquimod medical treatment. Neoadjuvant imiquimod induced a significant cytoreduction of the tumor area, minimizing surgical radicality and maintaining local function and morphology
Downloads
Download data is not yet available.
References
Machida H, Moeini A, Roman LD, Matsuo K. Effects of imiquimod on vulvar Paget's disease: a systematic review of literature. Gynecol Oncol. 2015;139:165-71.
Crocker HR. Paget's disease, affecting the scrotum and penis. Trans Pathol. Soc Lond. 1889; 40:187–91.
Dubreuilh W. Paget's disease of the vulva. Br J Dermatol. 1901;13:403–13.
Edey KA, Allan E, Murdoch JB, Cooper S, Bryant A. Interventions for the treatment of Paget's disease of the vulva. Cochrane Database Syst Rev. 2013; 26:CD009245.
Onaiwu CO, Salcedo MP, Pessini SA, Munsell MF, Euscher EE, Reed KE, et al. Paget's disease of the vulva: A review of 89 cases. Gynecol Oncol Rep. 2016;30;19:46-9.
Preti M, Micheletti L, Ghiringhello B, Privitera S, Condello V, Chieppa P, et al. La malattia di Paget vulvare. Revisione clinico-patologica della letteratura. Minerva Ginecol. 2000;52:203-11.
Tebes S, Cardosi R, Hoffman M. Paget's disease of the vulva. Am J Obstet Gynecol. 2002;187:281-3.
Toledo F, Silvestre JF, Cuesta L, Ballester I, Latorre N, Monteagudo A. Sequential use with imiquimod and surgery in extramammary Paget's disease. Dermatol Ther. 2012;25:82-5.
Koh YX, Tay TK, Xu S, Lee CM, Teo MC. A clinical series and literature review of the management of inguinal nodal metastases in patients with primary extramammary Paget disease of the scrotum. Asian J Surg. 2015;38:40-6.
Choi JH, Jue MS, Kim EJ, Joh OJ, Song KY, Park HJ. Extramammary Paget disease: minimal surgical therapy. Ann Dermatol. 2013;25:213-7.
Murata Y, Kumano K. Extramammary Paget's disease of the genitalia with clinically clear margins can be adequately resected with 1 cm margin. Eur J Dermatol 2005;15:168-70.
Liau MM, Yang SS, Tan KB, Aw CW. Topical imiquimod in the treatment ofextramammary Paget's disease: A 10 year retrospective analysis in an Asian tertiary centre. Dermatol Ther. 2016;29:459-62.
Yang WJ, Kim DS, Im YJ, Cho KS, Rha KH, et al. Extramammary Paget's disease of penis and scrotum. Urology 2005;65:972-5.
Cowan RA, Black DR, Hoang LN, Park KJ, Soslow RA, Backes FJ, et al. A pilot study of topical imiquimod therapy for the treatment of recurrent extramammary Paget's disease. Gynecol Oncol. 2016;142:139-43.
Ohara K, Fujisawa Y, Yoshino K, Kiyohara Y, Kadono T, Murata Y, et al. A proposal for a TNM staging system for extramammary Paget disease: Retrospective analysis of 301 patients with invasive primary tumors. J Dermatol Sci. 2016;83:234-9.
Zampogna JC, Flowers FP, Roth WI, Hassenein AM. Treatment of primary limited cutaneous extramammary Paget's disease with topical imiquimod monotherapy: two case reports. J Am Acad Dermatol 2002;47(Suppl 4):S229-35.
Jim On SC, Izumi AK. Extramammary Paget disease: failure to respond to topical imiquimod 5%. J Am Acad Dermatol. 2011;65:656-7.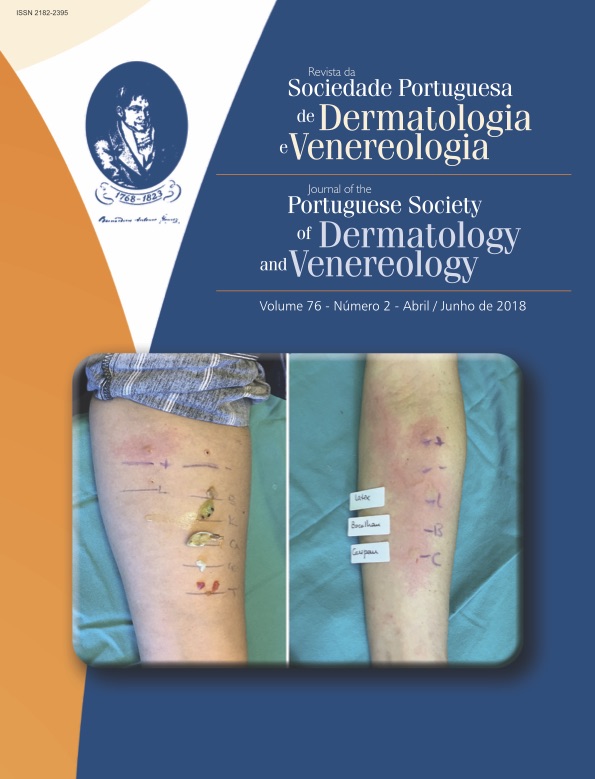 How to Cite
Costa e Silva, M., Costa, M. A., Costa, J. S., Azevedo, F., & Lisboa, C. (2018). Neoadjuvant use of Imiquimod Before Surgery in Extramammary Paget's Disease. Journal of the Portuguese Society of Dermatology and Venereology, 76(2), 197-200. https://doi.org/10.29021/spdv.76.2.901
All articles in this journal are Open Access under the Creative Commons Attribution-NonCommercial 4.0 International License (CC BY-NC 4.0).