Atopic Dermatitis: The Future is Now
Pedro Mendes Bastos

Médico especialista em Dermatovenereologia, Centro de Dermatologia, Hospital CUF Descobertas, Lisboa, Portugal

Margarida Gonçalo

Assistente Hospitalar Graduada Sénior de Dermatovenereologia, Clínica Universitária de Dermatologia, Centro Hospitalar e Universitário de Coimbra, Coimbra, Portugal; Professora Auxiliar de Dermatologia, Faculdade de Medicina, Universidade de Coimbra, Portugal

http://orcid.org/0000-0001-6842-1360
Keywords:
Dermatitis, Atopic/therapy, Interleukins
Abstract
.
Downloads
Download data is not yet available.
References
Torres T. Atopic dermatitis: the new therapeutic revolution in dermatology. Acta Med Port. 2017;30:669–70.
Sullivan M, Silverberg N. Current and emerging concepts in atopic dermatitis pathogenesis. Clin Dermatol. 2017;35:349–53.
Guttman-Yassky E, Waldman A, Ahluwalia J, Ong P, Eichenfield L. Atopic dermatitis: pathogenesis. Semin Cut Med Surg. 2017;36:100–3.
Bieber T, D'Erme A, Akdis C, Traidl-Hoffmann C, Lauener R, Schäppi G, et al. Clinical phenotypes and endophenotypes of atopic dermatitis: where are we, and where should we go? J Allergy Clin Immunol. 2017;139(4S):S58–64.
Brunner P, Leung D, Guttman-Yassky E. Immunologic, microbial and epithelial interactions in atopic dermatitis. Ann Allergy Asthma Immunol. 2018;120:34–43.
Owen J, Vakharia P, Silverberg J. The role and diagnosis of allergic contact dermatitis in patients with atopic dermatitis. Am J Clin Dermatol. 2018 (in press).
Paller A, Kabashima K, Bieber T. Therapeutic pipeline for atopic dermatitis. End of drought? J Allergy Clin Immunol. 2017;140:633–43.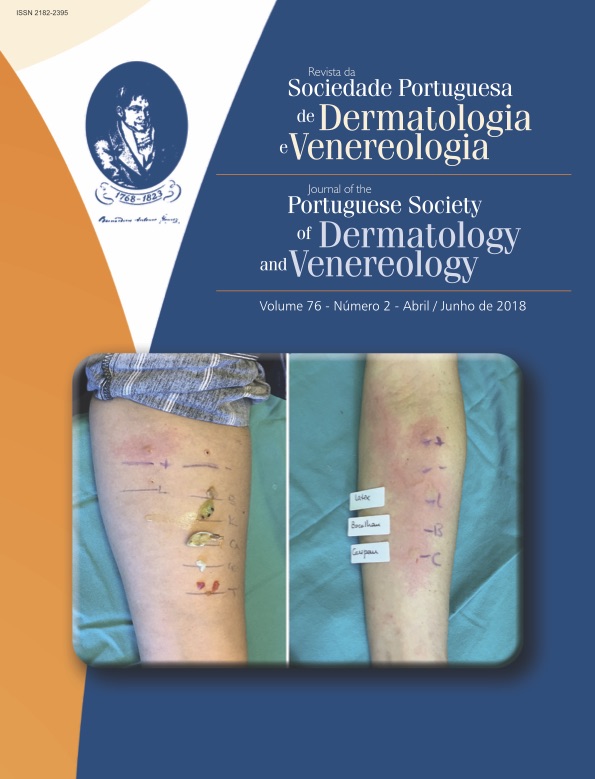 How to Cite
Mendes Bastos, P., & Gonçalo, M. (2018). Atopic Dermatitis: The Future is Now. Journal of the Portuguese Society of Dermatology and Venereology, 76(2), 213-214. https://doi.org/10.29021/spdv.76.2.918
Section
Letter to the Editor
All articles in this journal are Open Access under the Creative Commons Attribution-NonCommercial 4.0 International License (CC BY-NC 4.0).