Vemurafenib-Induced Toxic Epidermal Necrolysis: An Emerging Adverse Event
Ana Filipe Monteiro

Interna do Internato de Formação Específica de Dermatovenereologia, Hospital de Santarém EPE, Santarém, Portugal

Margarida Rato

Interna do Internato de Formação Específica de Dermatovenereologia, Hospital de Santarém EPE, Santarém, Portugal

César Martins

Assistente Hospitalar Graduado de Dermatovenereologia, Hospital de Santarém EPE, Santarém, Portugal
Keywords:
Antineoplastic Agents/adverse effects, Melanoma/drug therapy, Stevens-Johnson Syndrome/etiology, Vemurafenib
Abstract
Vemurafenib, a selective inhibitor of the BRAF V600 mutation, is Food and Drug Administration and European Medicines Agency approved for the treatment of stage IV metastatic melanoma alone or in combination. Among the adverse effects, cutaneous toxicity is the most common. Most of these reactions such as maculopapular rash, photosensitivity and hyperkeratotic lesions are manageable, and the majority of patients are able to continue therapy. However, a few cases of life-threatening severe cutaneous adverse reactions have been reported and drug withdrawal is mandatory in these cases. Herein, we report a case of vemurafenib- -induced toxic epidermal necrolysis in a patient receiving therapy for metastatic melanoma. After several hospital complications, our patient survived to the drug-induced reaction and he is in remission for 2 years.
Downloads
Download data is not yet available.
References
Chapman PB, Hauschild A, Robert C, Haanen JB, Ascierto
P, Larkin J, et al. Improved survival with vemurafenib in
melanoma with BRAF V600E mutation. N Engl J Med.
;364:2507–16. doi: 10.1056/NEJMoa1103782.
Gençler B, Gönül M. Cutaneous side effects of BRAF
inhibitors in advanced melanoma: Review of the literature.
Dermatol Res Pract. 2016;2016:1–6. doi:
1155/2016/5361569.
Peuvrel L, Quéreux G, Saint-Jean M, Brocard A, Nguyen
JM, Khammari A, et al. Profile of vemurafenib-induced
severe skin toxicities. J Eur Acad Dermatol Venereol.
;30:250–7. doi: 10.1111/jdv.13443.
Sinha R, Edmonds K, Newton-Bishop JA, Gore ME, Larkin
J, Fearfield L. Cutaneous adverse events associated with
vemurafenib in patients with metastatic melanoma: practical
advice on diagnosis, prevention and management of
the main treatment-related skin toxicities. Br J Dermatol.
;167:987–94. doi: 10.1111/bjd.12010.
McArthur GA, Chapman PB, Robert C, Larkin J, Haanen
JB, Dummer R, et al. Safety and efficacy of vemurafenib
in BRAFV600E and BRAFV600K mutation-positive melanoma
(BRIM-3): extended follow-up of a phase 3, randomised,
open-label study. Lancet Oncol. 2014;15:323–32.
doi: 10.1016/S1470-2045(14)70012-9.
Sinha R, Lecamwasam K, Purshouse K, Reed J, Middleton
MR, Fearfield L. Toxic epidermal necrolysis in a patient
receiving vemurafenib for treatment of metastatic malignant
melanoma. Br J Dermatol. 2014;170:997–9. doi:
1111/bjd.12796.
Jeudy G, Dalac-Rat S, Bonniaud B, Hervieu A, Petrella T,
Collet E, et al. Successful switch to dabrafenib after vemurafenib-
induced toxic epidermal necrolysis. Br J Dermatol.
;172:1454–5. doi: 10.1111/bjd.13522.
Wantz M, Spanoudi-Kitrimi I, Lasek A, Lebas D, Quinchon
J-FJ-F, Modiano P. Necrolyse epidermique toxique au vemurafenib.
Ann Dermatol Vénéréol. 2014;141:215–8.
doi: 10.1016/j.annder.2013.10.054.
Lapresta A, Dotor A, González-Herrada C. Toxic epidermal
necrolysis induced by vemurafenib. Actas Dermosifiliogr.
;106:682–3. doi: 10.1016/j.ad.2015.03.008.
Arenbergerova M, Mrazova I, Horazdovsky J, Sticova E,
Fialova A, Arenberger P. Toxic epidermal necrolysis induced
by vemurafenib after nivolumab failure. J Eur Acad
Dermatology Venereol. 2017;31:e253–4. doi: 10.1111/
jdv.14010.
Kılıç S, Özkaya E, Baykal C, Vatansever S. Vemurafenib-
-induced toxic epidermal necrolysis: Is it an emerging side-
effect of the drug? J Eur Acad Dermatology Venereol.
;31:e354–5. doi: 10.1111/jdv.14150.
Ling-He Meng JZ, Meng LH, Zhang LT, Yu GX. Cytokines
induced skin adverse reactions. J Clin Exp Dermatol Res.
;5.
Guillot B, Blazquez L, Bessis D, Dereure O, Guilhou JJ.
A prospective study of cutaneous adverse events induced
by low-dose alpha-interferon treatment for malignant
melanoma. Dermatology. 2004;208:49–54. doi:
1159/000075046.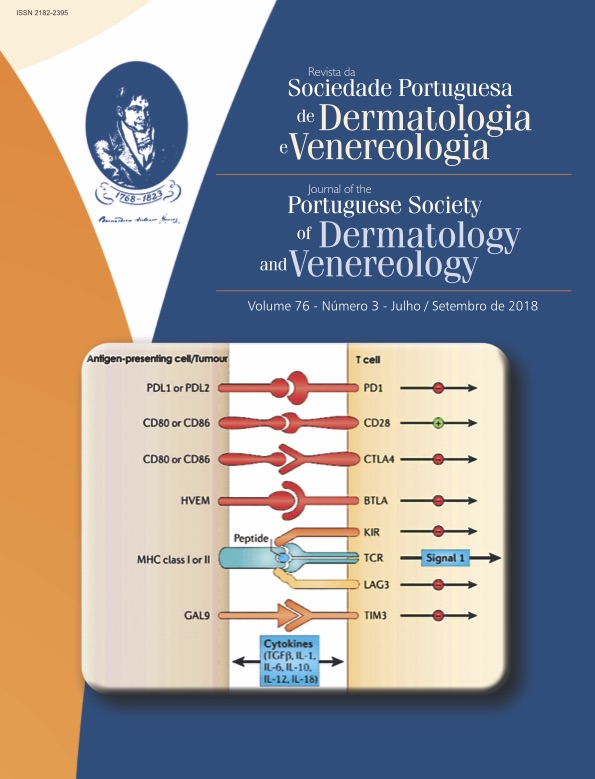 How to Cite
Monteiro, A. F., Rato, M., & Martins, C. (2018). Vemurafenib-Induced Toxic Epidermal Necrolysis: An Emerging Adverse Event. Journal of the Portuguese Society of Dermatology and Venereology, 76(3), 329-332. https://doi.org/10.29021/spdv.76.3.926
All articles in this journal are Open Access under the Creative Commons Attribution-NonCommercial 4.0 International License (CC BY-NC 4.0).