Multiple Adult Xanthogranuloma: Case Report and Brief Literature Review
Felipe Siqueira Ramos

Médico Especializando do 1º ano de Dermatologia do Hospital Universitário de Taubaté - HUT/UNITAU – Taubaté-SP, Brasil

Flávia Regina Ferreira

Mestre e Doutora em Ciências pela Universidade Federal de São Paulo -UNIFESP/EPM - Professora Assistente III da disciplina de Dermatologia do Departamento de Medicina da Universidade de Taubaté / Médica do Serviço de Dermatologia do Hospital Universitário de Taubaté - HUT/UNITAU – Taubaté-SP, Brasil

Samuel Henrique Mandelbaum

Especialista em Dermatologia - Professor Assistente da disciplina de Dermatologia do Departamento de Medicina da Universidade de Taubaté/ Chefe do Serviço de Dermatologia do Hospital Universitário de Taubaté - HUT/ UNITAU – Taubaté-SP, Brasil

Fernanda da Rocha Gonçalves

Especialista em Patologia - Médica Patologista Assistente do Hospital do Servidor Público Estadual – São Paulo-SP, Brasil
Keywords:
Adult, Granuloma, Histiocytosis, Non-Langerhans-Cell, Skin Diseases, Xanthomatosis
Abstract
Multiple adult xanthogranuloma is a non-Langerhans cell histiocytosis, a rare variant of the juvenile xanthogranuloma. The etiology is unknown, affecting individuals predominantly below 30 years of age, without predilection for gender. Clinically presents itself as multiple, disseminated, yellow-brownish papules or nodules. Diagnostic confirmation is given by histopathology and by immunohistochemistry, which further allow to distinguish it from Langerhans cell histiocytosis. The spontaneous regression is uncommon. We report a classic, rare and clinically exuberant case of multiple adult xanthogranuloma and took the opportunity to perform a brief literature review on the topic.
Downloads
Download data is not yet available.
References
Silveira DP, Goldoni BA, Althoff GC, Solano Junior P, Ely PB. Xantogranulomas múltiplos do adulto: relato de caso e revisão da literatura. Arq Catarin Med. 2014; 43:101-3.
Caro-Bisso KE, Castillo-Farneschi W, Chian-García C. Xantogranuloma múltiple del adulto: reto diagnóstico y terapêutico. Dermatol PERU. 2013; 23: 43-6.
Navajas B, Eguino P, Trébol I, Lasa O, Gardeazábal J, Díaz-Pérez JL. Xantogranuloma múltiple del adulto. Actas Dermosifiliogr. 2005; 96:171-4.
Achar A, Naskar B, Mondal PC, Pal M. Multiple generalized xanthogranuloma in adult: case report and treatment. Indian J Dermatol. 2011; 56:197-9.
Vadeboncoeur S, Provost N. Multiple Xanthogranulomas in an adult: known entity, new association. J Cutan Med Surg. 2016; 20:474-7.
Ederle A, Kim KH, Gardner JM. Eruptive xanthogranuloma in a healthy adult male.
J Cutan Pathol. 2016 (in press).7. Namiki T, Miura K, Yokozeki H. Multiple CD163(+) adult xanthogranuloma associated with myelodysplastic syndrome. J Dermatol. 2015; 42:1106-7.
Tan LC, Aw CW. Unusual presentation of adult xanthogranuloma. Singapore Med J. 2014; 55:e25-e27.
Saad N, Skowron F, Dalle S, Forestier JY, Balme B, Thomas L. Multiple adult xanthogranuloma: Case report and literature review. Dermatology. 2006; 212:73-6.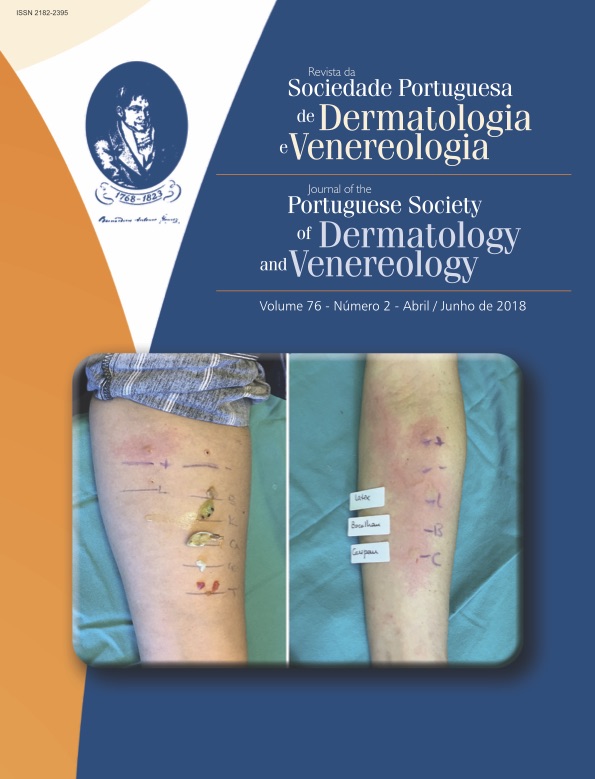 How to Cite
Siqueira Ramos, F., Ferreira, F. R., Mandelbaum, S. H., & da Rocha Gonçalves, F. (2018). Multiple Adult Xanthogranuloma: Case Report and Brief Literature Review. Journal of the Portuguese Society of Dermatology and Venereology, 76(2), 193-196. https://doi.org/10.29021/spdv.76.2.950
All articles in this journal are Open Access under the Creative Commons Attribution-NonCommercial 4.0 International License (CC BY-NC 4.0).