Facial Sebaceous Nevus of Jadassohn: An Exuberant Presentation
Keywords:
Head and Neck Neoplasms, Infant, Nevus, Sebaceous of Jadassohn, Skin Neoplasms
Abstract
Sebaceous nevus of Jadassohn (SNJ) is an organoid hamartoma of the skin usually seen at or shortly after birth. Its most common location is the scalp, however, it may involve other areas of the head and neck. Classically it presents as a well- -defined plaque composed of multiple confluent yellowish-orange or yellow-brownish papules. The development of neoplasms in SNJ is well documented (10%-30%) as well as its possible association with a neurocutaneous syndrome. We report an exuberant case of facial SNJ in a 2-month-old male patient who underwent surgery at an early age. Recent literature on the subject is briefly addressed.
Downloads
Download data is not yet available.
References
Jadassohn J II. Bemerkugen zur histologie der systematisirten naevi and ueber 'Talgdruesen-navi. Arch Dermatol Syph. 1895; 33:355-94.
Robinson SS. Nevus Sebaceous (Jadassohn): report of five cases. Arch Dermatol Syphilol. 1932; 26:663-70.
Cestari MCP, Frange AP, Muylaert BB, Oliveira AM, Esteves EB, Borelli NS, Haddad Filho D. Nevo sebáceo de Jadassohn no couro cabeludo - reconstrução com retalho de rotação bilateral. Surg Cosmet Dermatol. 2016; 8:377-80.
Bello RT, Tellechea Ó, Fernandes S. Triquilemoma desmoplástico em nevo sebáceo do couro cabeludo. Rev Soc Port Dermatol Venereol. 2016; 74:199-203.
Zanini M, Wulkan C, Paschoal LHC. Nevo organóide ou nevo sebáceo de Jadassohn: uma discussão. Med Cutan Iber Lat Am. 2003; 31:121-22.
Cheema AM, Hayat N. Naevus Sebaceous of Jadassohn's of Eyelid. J Ayub Med Coll Abbottabad. 2015; 27:927-29.
Atherton DJ. Naevi and other development defects. In: Rook A, Wilkinson DS, Ebling FJ, editors. Textbook of dermatology. London: Blasckwell Science; 1998.p.520-34.
Liu Y, Valdebran M, Chen J. Nevus Sebaceous of Jadassohn with eight secondary tumors of follicular, sebaceous, and sweat gland differentiation. Am J Dermatopathol. 2016; 38: 861-66. doi:10.1097/DAD.0000000000000603.
Baltazar IL, Pollo T, Ferreira FR, Lima EM, Gonçalves FR, Mandelbaum SH. Carcinoma basocelular, siringocistoadenoma papilífero, adenoma apócrino e triquilemoma sobre nevo sebáceo de Jadassohn. Surg Cosmet Dermatol. 2018; 10: 172-75.
Gonçalves L, Calado E. Síndrome do nevo linear sebáceo. Acta Pediatr Port. 2003; 3:195-8.
Bruno CB, Cordeiro FN, Soares FS, Takano GS, Mendes LT. Aspectos dermatoscópicos do siringocistoadenoma papilífero associado a nevo sebáceo. An Bras Dermatol. 2011; 86:1213-6.
Galvis KH, Fratinii SM, Fernandes KP, Rodrigues N, Costa JM, Melo DF. Nevo de Jadassohn. Rev Bras Med. 2015; 71:23-5.
Hashem R, Tynngard N, Lundmark K, Flaki L. Microcystic adnexal carcinoma originating in a nevus sebaceous: a case report of a 16-year-old boy. Acta Derm Venereol. 2019; 99:1182–83. doi: 10.2340/00015555-3272.
Piccini OS, Gómez MR, Cioffi MB, Silveira GD, Oliveira MP, Jager MO. Nevo sebáceo de Jadassohn: relato de caso. Rev Bras Cir Plást. 2018; 33(Supl. 1):67-9.
Lena CP, Kondo RN, Nicolacópulos T. Do you know this syndrome? Schimmelpenning-Feuerstein-Mims syndrome. An Bras Dermatol. 2019; 94:227-9. doi: 10.1590/abd1806-4841.20197661.
Góes HO, Virgens AR, Herênio Neta A, Cha CC, Sica RP, Meski AG. Carcinoma basocelular desenvolvido sobre nevo sebáceo: tratamento com terapia fotodinâmica abordando campo de cancerização. Surg Cosmet Dermatol. 2017; 9:100-3.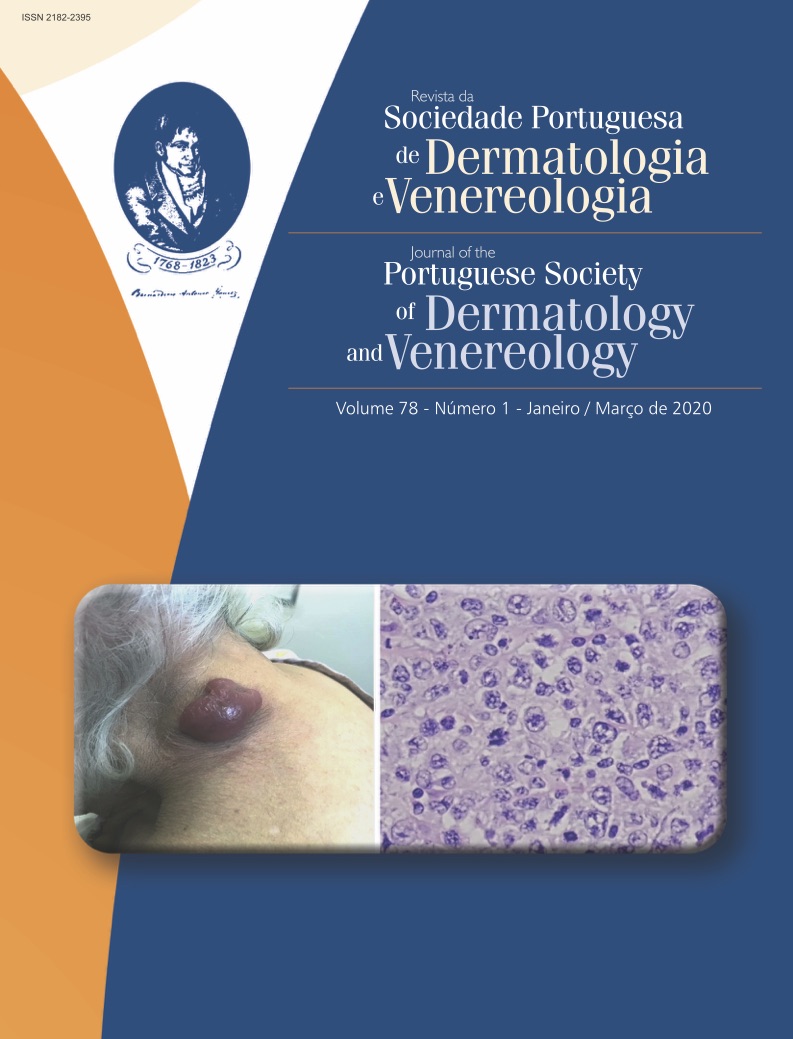 How to Cite
Pereira, C. F., Patriota Naville, M., Regina Ferreira, F., & da Rocha Gonçalves, F. (2020). Facial Sebaceous Nevus of Jadassohn: An Exuberant Presentation. Journal of the Portuguese Society of Dermatology and Venereology, 78(1), 57-60. https://doi.org/10.29021/spdv.78.1.1136
All articles in this journal are Open Access under the Creative Commons Attribution-NonCommercial 4.0 International License (CC BY-NC 4.0).