Vitamin D and its Controversies: What the Dermatologist Needs to Know
Maria F. Araújo

Aluna do Mestrado Integrado em Medicina, NOVA Medical School, Universidade Nova de Lisboa. Lisboa, Portugal

Tiago Meirinhos

Médico especialista em Reumatologia, Serviço de Reumatologia, Centro Hospitalar do Baixo Vouga. Aveiro. Portugal

Pedro Mendes-Bastos

Médico especialista em Dermatovenereologia, Centro de Dermatologia, Hospital CUF Descobertas. Lisboa, Portugal
Keywords:
Dermatology, Skin Diseases, Vitamin D, Vitamin D Deficiency
Abstract
Vitamin D3 (cholecalciferol) is a steroid hormone precursor and is synthesised when skin is exposed to ultraviolet B radiation. It is also found in a limited number of foods, especially oily fish. The two main sources of vitamin D are sun exposure and oral intake, including vitamin D supplementation and dietary intake. Multiple factors can influence vitamin D status. Vitamin D has well known effects on calcium metabolism and is traditionally linked to the prevention of rickets in children and bone fractures in the elderly. Because vitamin D receptors are present in many organs and tissues, vitamin D may have extraskeletal effects. Vitamin D has gained much attention in research and clinical practice as a possible preventive factor for a wide array of chronic diseases. The authors reviewed the literature with the purpose of providing the practising dermatologist with a simple and succinct document relevant to everyday clinical practice. At the present time, the lack of quality evidence to support vitamin D evaluation and supplementation in dermatologic conditions is still striking.
Downloads
Download data is not yet available.
References
LeFevre ML. Screening for Vitamin D Deficiency in Adults:
U.S. Preventive Services Task Force Recommendation
Statement. Ann Intern Med. 2015; 162: 133-40. doi:
7326/M14-2450.+
LeFevre ML, LeFevre NM. Vitamin D screening and supplementation
in community-dwelling adults: common
questions and answers. Am Fam Physician. 2018; 97:
-60.
Lin KW. Vitamin D screening and supplementation in primary
care: time to curb our enthusiasm. Am Fam Physician.
; 97:226-7.
Theodoratou E, Tzoulaki I, Zgaga L, Ioannidis JP. Vitamin
D and multiple health outcomes: umbrella review of
systematic reviews and meta-analyses of observational
studies and randomised trials. BMJ. 2014; 348:g2035.
doi: 10.1136/bmj.g2035.
Silva JM, Teixeira CS, Correia M. Vitamina D e melanoma.
Rev Soc Port Dermatol Venereol. 2017; 75: 37-41.
Pludowski P, Holick MF, Grant WB, Konstantynowicz
J, Mascarenhas MR, Haq A, et al. Vitamin D supplementation
guidelines. J Steroid Biochem Mol Biol.
;175:125-35. doi: 10.1016/j.jsbmb.2017.01.021
Vaz-Carneiro A. A Vitamina D na prevenção de doenças
crónicas: uma análise baseada na evidência científica.
Acta Med Port. 2017; 30: 351-3.
Cunha N, Campos S, Serrão V. Vitamin D levels in a cohort
of Portuguese melanoma patients relate to time of
follow-up from diagnosis, sun exposure behaviour, and
use of photoprotection. Eur J Dermatol. 2018, 28:93-4.
doi: 10.1684/ejd.2017.3161.
Buckley L, Guyatt G, Fink HA, Cannon M, Grossman
J, Hansen KE, et al. 2017 American College of Rheumatology
guideline for the prevention and treatment of
glucocorticoid-induced osteoporosis. Arthritis Rheumatol.
; 69: 1521-37. doi: 10.1002/art.40137.
Fang S, Sui D, Wang Y, Liu H, Chiang YJ, Ross MI, et
al. Association of vitamin D levels with melanoma patient
outcome after adjustment for C-reactive protein.
J Clin Oncol. 2016;34:1741-7. doi: 10.1200/
JCO.2015.64.1357.
Newton-Bishop JA, Davies JR, Latheef F, Randerson-Moor
J, Chan M, Gascoyne J, et al. 25-Hydroxyvitamin D2/
D3 levels and factors associated with systemic inflammation
and melanoma survival in the Leeds melanoma
cohort. Int J Cancer. 2015; 136:2890-9. doi: 10.1002/
ijc.29334.
Sondak VK, McIver B, Kanetsky PA. Vitamin D and melanoma:
what do we tell our patients? J Clin Oncol.
;34:1713-4. doi: 10.1200/JCO.2016.66.5240.
Rizzoli R, Boonen S, Brandi ML, Bruyère O, Cooper C,
Kanis JA, et al. Vitamin D supplementation in elderly or
postmenopausal women: a 2013 update of the 2008 recommendations
from the European Society for Clinical
and Economic Aspects of Osteoporosis and Osteoarthritis
(ESCEO). Curr Med Res Opin. 2013;29:305-13. doi:
1185/03007995.2013.766162.
Grigalavicius M, Moan J, Dahlback A, Juzeniene A. Daily,
seasonal, and latitudinal variations in solar ultraviolet A
and B radiation in relation to vitamin D production and
risk for skin cancer. Int J Dermatol. 2016;55: e23-8. doi:
1111/ijd.13065.
Direção Geral da Saúde. Circular Informativa nº13/
DSCS/DPCD/DSQC de 01/04/2008- DGS. Lisboa:
DGS; 2008.
LeBlanc ES,Zakher B, Daeges M, Pappas M, Chou R.
Screening for vitamin D deficiency: a systematic review
for the U.S. Preventive Services Task Force. Ann Intern
Med. 2015; 162:109-122. doi: 10.7326/M14-1659.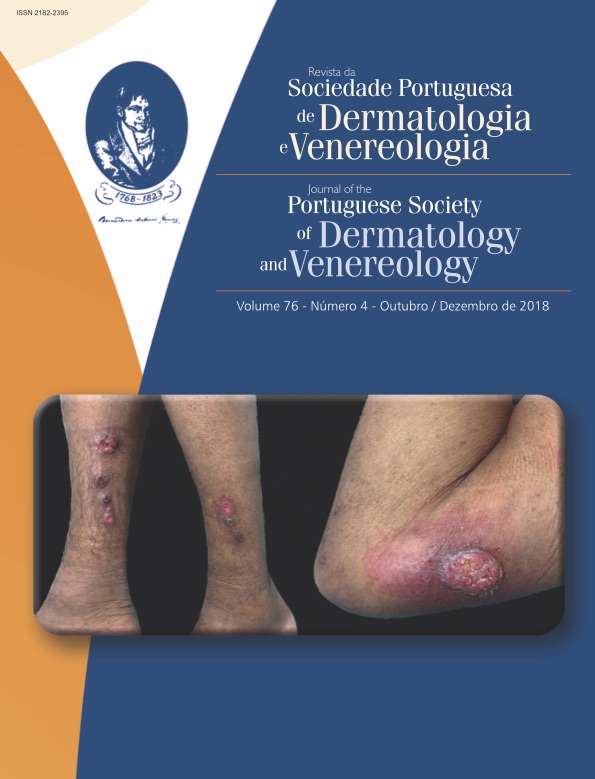 How to Cite
Araújo, M. F., Meirinhos, T., & Mendes-Bastos, P. (2018). Vitamin D and its Controversies: What the Dermatologist Needs to Know. Journal of the Portuguese Society of Dermatology and Venereology, 76(4), 415-418. https://doi.org/10.29021/spdv.76.4.997
All articles in this journal are Open Access under the Creative Commons Attribution-NonCommercial 4.0 International License (CC BY-NC 4.0).