Reconstruction of a Large Defect of the Glabella
Alexandre Miroux Catarino

Médico Interno de Dermatovenereologia/Resident of Dermatology and Venereology, Serviço de Dermatologia, Centro Hospitalar de Lisboa Ocidental, Lisboa, Portugal

http://orcid.org/0000-0001-8243-8724

Maria Goreti Catorze

Assistente Hospitalar Graduada de Dermatovenereologia, Serviço de Dermatologia, Centro Hospitalar de Lisboa Ocidental, Lisboa, Portugal / Consultant of Dermatology and Venereology, Dermatology Department, Centro Hospitalar de Lisboa Ocidental, Lisbon, Portugal

José Manuel Labareda

Assistente Hospitalar Graduada de Dermatovenereologia, Serviço de Dermatologia, Centro Hospitalar de Lisboa Ocidental, Lisboa, Portugal / Consultant of Dermatology and Venereology, Dermatology Department, Centro Hospitalar de Lisboa Ocidental, Lisbon, Portugal

Isabel Faro Viana

Chefe de Serviço de Dermatovenereologia, Serviço de Dermatologia, Centro Hospitalar de Lisboa Ocidental, Lisboa, Portugal / Department Director of Dermatology and Venereology, Dermatology Department, Centro Hospitalar de Lisboa Ocidental, Lisbon, Portugal
Keywords:
Forehead/surgery, Neoplasms, Basal Cell, Reconstructive Surgical Procedures, Skin Neoplasms/surgery, Surgical Flaps.
Abstract
The reconstruction of large defects of the glabella, especially when involving the forehead, is a surgical challenge. Surgical reconstruction of this location should take into account aesthetic subunits, avoid approximation of eyebrows and maintain symmetry of the face. The authors present a case with reconstruction of a surgical defect involving the glabella and the forehead after Mohs surgery. An A-T advancement flap to close the superior portion of the defect was combined with a rhomboidal transposition flap for closing the lower zone in order to maintain the distance between the eyebrows. Reconstruction by aesthetic subunits and the association of flaps allowed a good aesthetic and functional result.
Downloads
Download data is not yet available.
References
Martinez SA, Masa I, Salinas Velasco V. Nasal root island flap for reconstruction of glabellar defects. Ann Plast Surg. 2015;74:34-6. doi: 10.1097/SAP.0b013e31828d9969.
Blake B, Maher I. Reconstruction of a large defect of the glabella and forehead. Dermatol Surg. 2015;41:280-2. doi: 10.1097/DSS.0000000000000205.
Goulão J, Alves J, António AM. Reconstrução de um defeito cirúrgico complexo do canto interno. Rev Soc Port Dermatol Venereol; 2018;76:201-4. doi.org/10.29021/spdv.76.2.915.
Puviani M, Curci M. The "Batman flap": a novel technique to repair a large central glabellar defect. Int J Dermatol. 2018;57:477-9. doi: 10.1111/ijd.13844.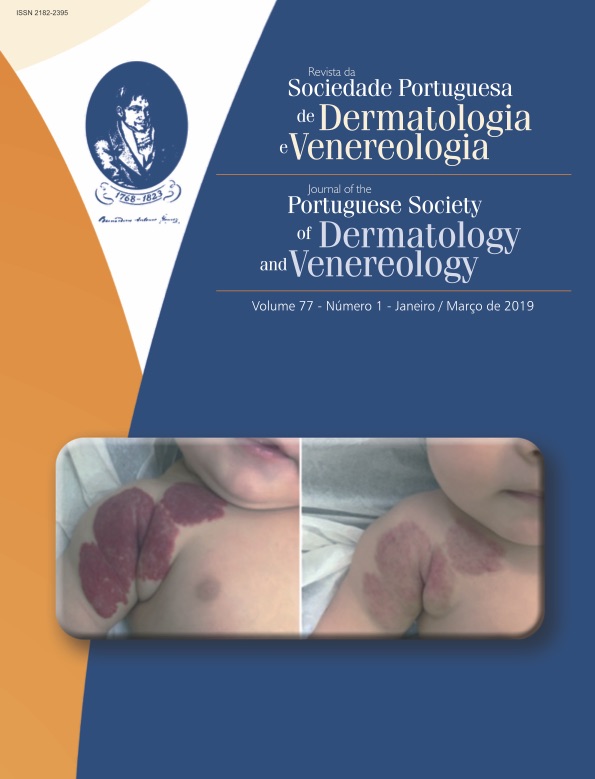 How to Cite
Miroux Catarino, A., Catorze, M. G., Labareda, J. M., & Viana, I. F. (2019). Reconstruction of a Large Defect of the Glabella. Journal of the Portuguese Society of Dermatology and Venereology, 77(1), 81-85. https://doi.org/10.29021/spdv.77.1.1009
All articles in this journal are Open Access under the Creative Commons Attribution-NonCommercial 4.0 International License (CC BY-NC 4.0).