Disseminate and Recurrent Infundibulo-Folliculitis in Childhood
Alexandre Miroux Catarino

Médico Interno de Dermatovenereologia/Resident of Dermatology and Venereology, Serviço de Dermatologia, Centro Hospitalar de Lisboa Ocidental, Lisboa, Portugal

http://orcid.org/0000-0001-8243-8724

Margarida Dias

Assistente Hospitalar Graduada de Dermatovenereologia, Serviço de Dermatologia, Centro Hospitalar de Lisboa Ocidental, Lisboa, Portugal / Consultant of Dermatology and Venereology, Dermatology Department, Centro Hospitalar de Lisboa Ocidental, Lisboa, Portugal

Isabel Viana

Assistente Hospitalar Graduada de Dermatovenereologia, Serviço de Dermatologia, Centro Hospitalar de Lisboa Ocidental, Lisboa, Portugal / Consultant of Dermatology and Venereology, Dermatology Department, Centro Hospitalar de Lisboa Ocidental, Lisboa, Portugal
Keywords:
Child, Folliculitis
Abstract
Disseminate and recurrent infundibulo-folliculitis is a rare entity of unknown etiology, characterized clinically by a papular and follicular eruption and histologically by spongiotic changes in the infundibular portion of the hair follicle. It usually occurs in young adults males with phototype V-VI of Fitzpatrick. The dermatosis habitually reaches the trunk and limbs, has a recurrent course and is characterized by poor response to therapy. We present a case of infundibulo-folliculitis in a 10-year-old child.
Downloads
Download data is not yet available.
References
Hitch JM, Lund HZ. Disseminate and recurrent infundibulo-
folliculitis: report of a case. Arch Dermatol. 1968;
:432-5.
Calka O, Metin A, Ozen S. A case of disseminated and
recurrent infundibulofolliculitis responsive to treatment
with systemic isotretinoin. J Dermatol. 2002; 29:431-4.
Hinds GA, Heald PW. A case of disseminate and recurrent
infundibulofolliculitis responsive to treatment with
topical steroids. Dermatol Online J. 2008; 14:11.
Owen WR, Wood C. Disseminate and recurrent infundibulofolliculitis.
Arch Dermatol. 1979; 115:174-5.
Nair SP, Gomathy M, Kumar GN. Disseminate and recurrent
infundibulo-folliculitis in an Indian patient: A
case report with review of literature. Indian Dermatol
Online J. 2017; 8:39-41.
Soyinka F. Recurrent disseminated infundibulofolliculitis.
Int J Dermatol. 1973; 12:314-7.
Kline A, Relic J. Disseminate and recurrent infundibulofolliculitis
in childhood: a rarely reported entity. Pediatr
Dermatol. 2015; 32:e5-7.
Sardana K, Arora P, Mishra D. Follicular eczema: a commonly
misdiagnosed dermatosis. Indian Pediatr. 2012;
:599.
Silverberg NB. Typical and atypical clinical appearance
of atopic dermatitis. Clin Dermatol. 2017; 35:354-9.
Ravikumar BC, Balachandran C, Shenoi SD, Sabitha L,
Ramnarayan K. Disseminate and recurrent infundibulofolliculitis:
response to psoralen plus UVA therapy. Int J
Dermatol. 1999; 38:75-6.
Aroni K, Aivaliotis M, Davaris P. Disseminated and recurrent
infundibular folliculitis (D.R.I.F.): report of a case
successfully treated with isotretinoin. J Dermatol. 1998;
:51-3.
Seema S, Metikurke V. Successful treatment of infundibulofolliculitis
with topical tretinoin. Report of a case.
Nasza Dermatol Online. 2012; 3:212-4.
Heymann WR. Infundibulofolliculitis of the neck. Cutis.
;70:178-80.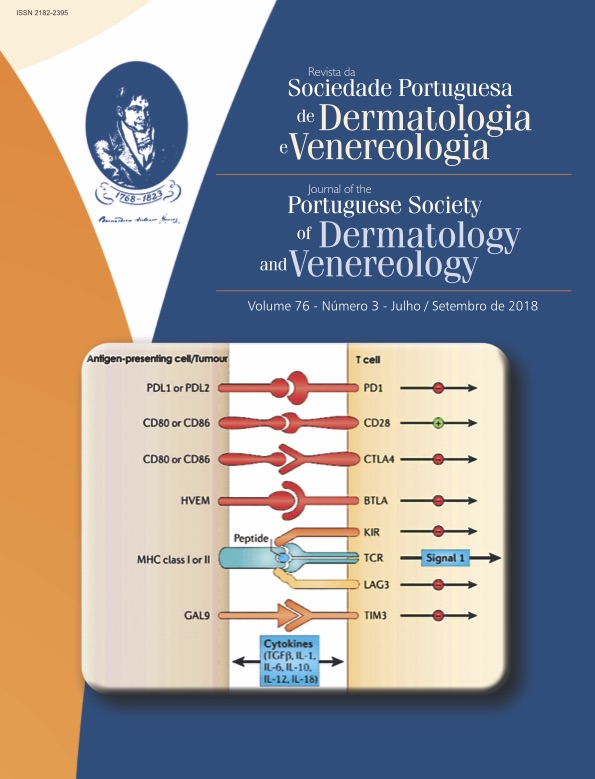 How to Cite
Miroux Catarino, A., Dias, M., & Viana, I. (2018). Disseminate and Recurrent Infundibulo-Folliculitis in Childhood. Journal of the Portuguese Society of Dermatology and Venereology, 76(3), 337-340. https://doi.org/10.29021/spdv.76.3.892
All articles in this journal are Open Access under the Creative Commons Attribution-NonCommercial 4.0 International License (CC BY-NC 4.0).