Update on Sexually Transmitted Infections
Alexandre Miroux Catarino

Médico Interno de Dermatovenereologia/Resident of Dermatology and Venereology, Serviço de Dermatologia, Centro Hospitalar de Lisboa Ocidental, Lisboa, Portugal

João Borges-Costa

Assistente Hospitalar de Dermatovenereologia / Consultant, Dermatology and Venereology, Centro Hospitalar Lisboa Norte, Lisboa, Portugal; Professor Auxiliar Convidado de Dermatologia e Venereologia / Associated Professor, Dermatology and Venereology, Faculdade de Medicina da Universidade de Lisboa, Lisboa, Portugal; Professor Auxiliar Convidado de Microbiologia / Professor, Microbiology, Instituto de Higiene e Medicina Tropical da Universidade Nova de Lisboa, Lisboa, Portugal
Keywords:
Hepacivirus, Hepatite A, Hepatitis A Virus, Hepatitis C, HIV Infections, Neisseria gonorrhoeae, Sexually Transmitted Diseases, Zika Virus, Zika Virus Infection
Abstract
Sexually transmitted infections are an important area of public health, requiring clinicians to be alert to their diagnosis. We present three issues that we consider pertinent: the Zika virus as a new sexually transmitted infection, hepatitis, including the epidemic hepatitis C infection in men who have sex with men that are HIV positive and the sexually transmitted hepatitis A outbreak verified in Europe, and the antimicrobial resistance of Neisseria gonorrhoeae.
Downloads
Download data is not yet available.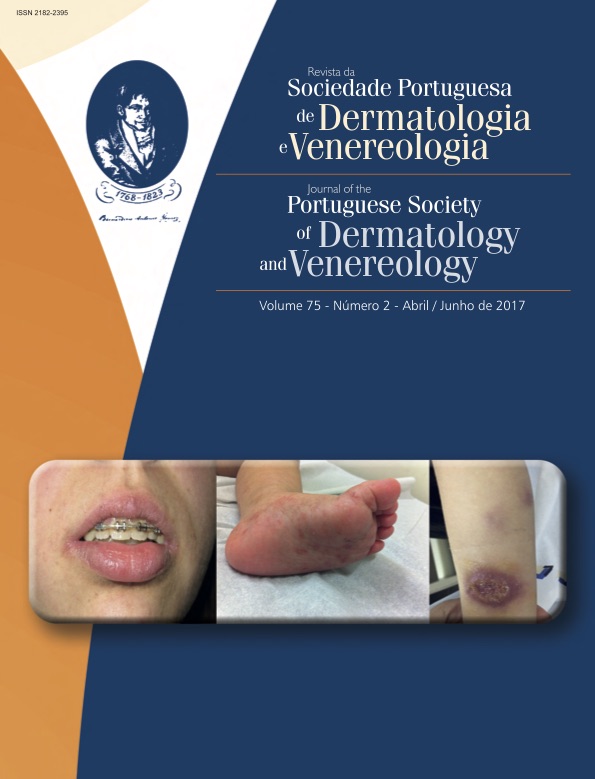 How to Cite
Miroux Catarino, A., & Borges-Costa, J. (2017). Update on Sexually Transmitted Infections. Journal of the Portuguese Society of Dermatology and Venereology, 75(2), 163-168. https://doi.org/10.29021/spdv.75.2.771
Section
Grupo para o Estudo e Investigação das Doenças Sexualmente Transmissíveis (GEIDS
All articles in this journal are Open Access under the Creative Commons Attribution-NonCommercial 4.0 International License (CC BY-NC 4.0).