Dermatoses with Minimal Histological Changes: Making the Invisible Visible
Katarina Kieselová

Serviço de Dermatologia, Centro Hospitalar de Leiria, Leiria, Portugal

https://orcid.org/0000-0002-0064-7571

Luís Soares-de-Almeida

Serviço de Dermatologia, Centro Hospitalar Lisboa Norte, Hospital de Santa Maria, Lisboa, Portugal; Clínica Universitária de Dermatologia de Lisboa, Universidade de Lisboa, Faculdade de Medicina, Lisboa, Portugal
Keywords:
Biopsy, Skin/pathology, Skin Diseases/pathology
Abstract
Skin biopsies remain an indispensable tool for aiding dermatologists in accurate diagnosis and treatment. However, some clinically evident skin diseases show histological picture resembling normal skin when examined after preparation with hematoxylin and eosin (H&E). In order to establish the correct diagnosis, clinicopathological correlation is essential, together with further investigations such as special stains and immunohistochemistry techniques. Hereby, we discuss the most relevant of these "invisible" dermatoses on H&E, and include strategy for approaching such cases.
Downloads
Download data is not yet available.
References
Brownstein MH, Rabinowitz A. The invisible dermatoses. J Am Acad Dermatol. 1983;8(4):579-588.
Requena L, Kutzner H. [Invisible dermatosis]. Pathologe. 2002;23(1):54-64.
Tomasini C. Invisible dermatoses from the perspective of the dermatopathologist: new observations. G Ital di dermatologia e Venereol organo Uff Soc Ital di dermatologia e Sifilogr. 2017;152(5):500-515.
Requena L, Sánchez Yus E. Invisible dermatoses. Additional findings. Int J Dermatol.
Mysore V. Invisible dermatoses. Indian J Dermatol Venereol Leprol. 2010;76(3):239-248.
Carlotti A. [Invisible dermatoses]. Ann Dermatol Venereol. 2009;136(2):152-159.
Tomasini C, Michelerio A. Invisible dermatoses: clues and pitfalls to diagnosis. Diagnostic Histopathol. 2018;24(8):320-337.
Cardoso JC, Veraitch O, Gianotti R, et al. "Hints" in the horn: diagnostic clues in the stratum corneum. J Cutan Pathol. 2017;44(3):256-278.
Park YW, Kim DY, Yoon SY, et al. "Clues" for the histological diagnosis of tinea: how reliable are they? Ann Dermatol. 2014;26(2):286-288.
Fernandez N, Torres A, Ackerman AB. Pathologic Findings in Human Scabies. Arch Dermatol. 1977;113(3):320-324.
Kim YC, Kim YJ, Kang HY, Sohn S, Lee E-S. Histopathologic features in vitiligo. Am J Dermatopathol. 2008;30(2):112-116.
Alhumidi A, Alshamlan N, Alfaraidi M, Mohajer K. Invisible dermatosis, diagnostic discrepancy between the general pathologist and dermatopathologist. J Cutan Pathol. 2019;46(12):905-912.
Johnston RB. 8 - Vasculopathic Reaction Pattern. In: Johnston RB, ed. Weedon's Skin Pathology Essentials (Second Edition). Second Edi. Elsevier; 2017:163-194.
Antia C, Baquerizo K, Korman A, Bernstein JA, Alikhan A. Urticaria: A comprehensive review: Epidemiology, diagnosis, and work-up. J Am Acad Dermatol. 2018;79(4):599-614.
Severino M, Chandesris M-O, Barete S, et al. Telangiectasia macularis eruptiva perstans (TMEP): A form of cutaneous mastocytosis with potential systemic involvement. J Am Acad Dermatol. 2016;74(5):885-91.e1
Brownstein MH, Hashimoto K. Macular amyloidosis. Arch Dermatol. 1972;106(1):50-57.
Walters R, Pulitzer M, Kamino H. Elastic fiber pattern in scleroderma/morphea. J Cutan Pathol. 2009;36(9):952-957.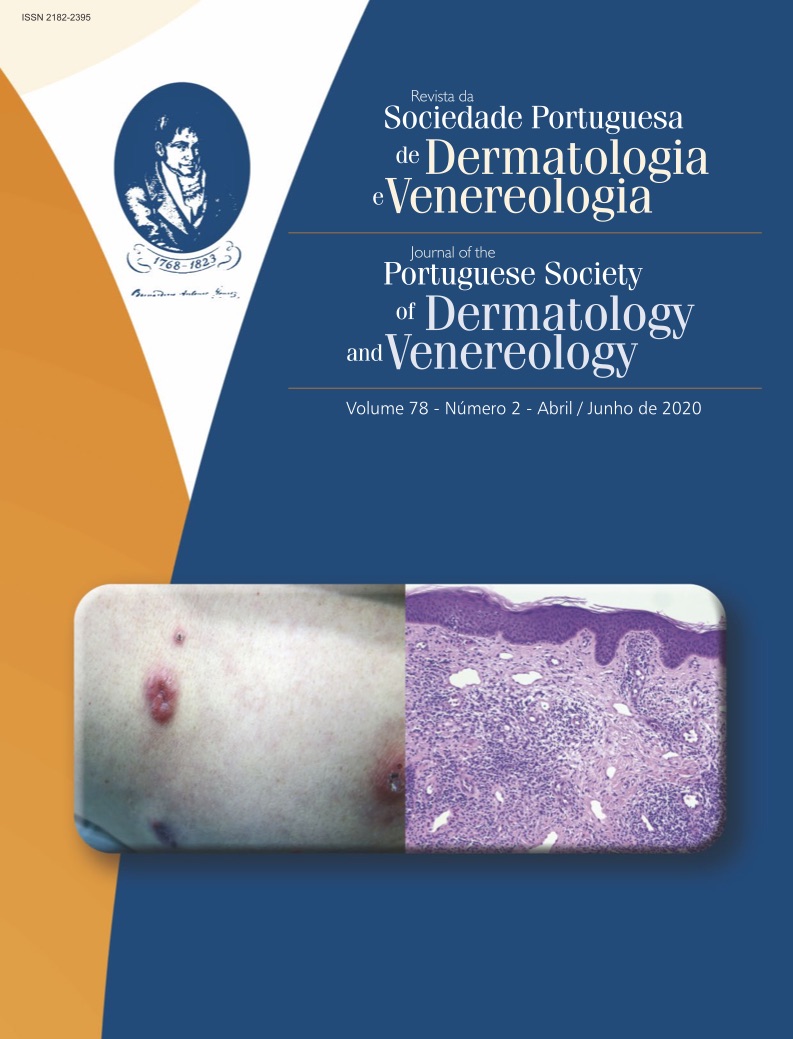 How to Cite
Kieselová, K., & Soares-de-Almeida, L. (2020). Dermatoses with Minimal Histological Changes: Making the Invisible Visible. Journal of the Portuguese Society of Dermatology and Venereology, 78(2), 141-146. https://doi.org/10.29021/spdv.78.2.1206
Copyright (c) 2020 Journal of the Portuguese Society of Dermatology and Venereology
This work is licensed under a Creative Commons Attribution-NonCommercial 4.0 International License.
All articles in this journal are Open Access under the Creative Commons Attribution-NonCommercial 4.0 International License (CC BY-NC 4.0).