Cutaneous Ancient Schwannoma of the Ear
Sofia Antunes-Duarte

Serviço de Dermatologia, Hospital de Santa Maria, Centro Hospitalar e Universitário de Lisboa Norte, Lisboa, Portugal

https://orcid.org/0000-0003-3662-0423

Pablo Espinosa Lara

Serviço de Dermatologia, Hospital de Santa Maria, Centro Hospitalar e Universitário de Lisboa Norte, Lisboa, Portugal

https://orcid.org/0000-0003-0692-7301

Marta Aguado Lobo

Serviço de Dermatologia, Hospital de Santa Maria, Centro Hospitalar e Universitário de Lisboa Norte, Lisboa, Portugal

https://orcid.org/0000-0003-1699-1753

Tiago Oliveira

Serviço de Anatomia Patológica, Hospital de Santa Maria, Centro Hospitalar e Universitário de Lisboa Norte, Lisboa, Portugal

https://orcid.org/0000-0001-8593-1071

Ana Fraga

Serviço de Dermatologia, Hospital de Santa Maria, Centro Hospitalar e Universitário de Lisboa Norte, Lisboa, Portugal

Dolores López-Presa

Serviço de Anatomia Patológica, Hospital de Santa Maria, Centro Hospitalar e Universitário de Lisboa Norte, Lisboa, Portugal

https://orcid.org/0000-0002-2246-459X

Luís Soares-de-Almeida

Serviço de Dermatologia, Hospital de Santa Maria, Centro Hospitalar e Universitário de Lisboa Norte, Lisboa, Portugal; Clínica Universitária de Dermatologia de Lisboa, Faculdade de Medicina, Universidade de Lisboa, Lisboa, Portugal; Instituto de Medicina Molecular, Faculdade de Medicina da Universidade de Lisboa, Lisboa, Portugal

http://orcid.org/0000-0003-4026-6105

Paulo Filipe

Serviço de Dermatologia, Hospital de Santa Maria, Centro Hospitalar e Universitário de Lisboa Norte, Lisboa, Portugal; Clínica Universitária de Dermatologia de Lisboa, Faculdade de Medicina, Universidade de Lisboa, Lisboa, Portugal; Instituto de Medicina Molecular, Faculdade de Medicina da Universidade de Lisboa, Lisboa, Portugal

https://orcid.org/0000-0001-6917-527X
Keywords:
Neurilemmoma, Skin Neoplasms
Abstract
Schwannoma is a benign encapsulated nerve sheath tumor composed of Schwann cells, that may arise anywhere along the course of a nerve. Cutaneous schwannomas, associated with peripheral nerves, usually present as a slow-growing well-circumscribed nodule, localized in the dermis or subcutaneous tissue. They are generally asymptomatic; however, they may become painful by the nervous compression. Since the clinical signs are non-specific, histology is required for a definitive diagnosis. Herein, we present a case of a solitary cutaneous ancient schwannoma of the ear, a histopathological variant of schwannoma with distinctive morphological characteristics.
Downloads
Download data is not yet available.
References
Noh S, Do JE, Park JM, Jee H, Oh SH. Cutaneous Schwannoma Presented as a Pedunculated Protruding Mass. Ann Dermatol. 2011;23(Suppl 2):S264-S266.
Ritter SE, Elston DM. Cutaneous Schwannoma of the Foot. Cutis. 2001;67(2):127-129.
Kondo RN, Pontello Júnior R, Taguti PS. Cutaneous schwannoma: an atypical presentation. An Bras Dermatol. 2017;92(3):441-2.
Serban O, Poanta LI, Mihaileanu F, Fodor D. Schwannoma of the lower leg with malignant transformation, a case report. EJCRIM. 2015; 2.
Patel AH, Makhijani S. Cutaneous schwannoma presenting as a lower back mass. International Journal of Surgery Case Reports. 2017; 32: 25-28.
Carter JJ, Langman G, Orpin SD. A solitary painful papule on the ear. Clin Exp Dermatol. 2009;34:125-126.
Argeny ZB, Balogh K, Abraham AA. Degenerative ("ancient") changes in benign cutaneous schwannoma. A light microscopic, histochemical and immunohistochenfiical study. J Cut Pathol. 1993; 20:148-153.
Cárdenas LF, Sangüeza O. Schwannoma con cambios degenerativos, schwannoma anciano. Rev Asoc Colomb Dermatol. 2009;17: 236-8.
Fong KL, Bouwer H, Baranyai J, Jones RW. Ancient Schwannoma of the Vulva. Obstet Gynecol. 2009; 113:510-512.
Park J, Roh SG, Hwang SR, Kim JI, Kim HU, Yun SK. Cutaneous ancient schwannoma of the forehead. Eur J Dermatol. 2013; 23: 518-519.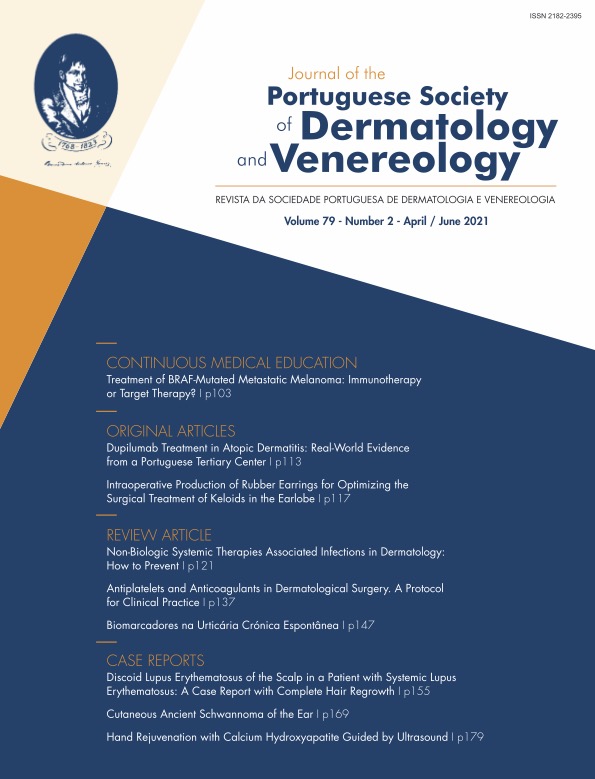 How to Cite
Antunes-Duarte, S., Espinosa Lara, P., Aguado Lobo, M., Oliveira, T., Fraga, A., López-Presa, D., Soares-de-Almeida, L., & Filipe, P. (2021). Cutaneous Ancient Schwannoma of the Ear. Journal of the Portuguese Society of Dermatology and Venereology, 79(2), 169-171. https://doi.org/10.29021/spdv.79.2.1312
Copyright (c) 2021 Journal of the Portuguese Society of Dermatology and Venereology
This work is licensed under a Creative Commons Attribution-NonCommercial 4.0 International License.
All articles in this journal are Open Access under the Creative Commons Attribution-NonCommercial 4.0 International License (CC BY-NC 4.0).