Cutaneous Primary Cryptococcosis in an Immunocompetent Patient: Case Report
Keywords:
Cryptococcosis, Cryptococcus neoformans, Dermatomycoses, Immunocompetence
Abstract
Cryptococcosis is a systemic infection caused by Cryptococcus neoformans, an encapsulated opportunistic yeast. It primarily causes significant infections in immunocompromised individuals and the symptoms vary according to the integrity of the immune system. Cutaneous cryptococcosis affects about 20% of patients with disseminated cryptococcosis, but primary cutaneous cryptococcosis (PCC) without systemic infection is rare.
A 76-year-old male patient with chronic obstructive pulmonary disease, hypertension and dyslipidemia, presented with a violaceus inflammatory skin plaque with blisters that progressed despite intravenous ceftriaxone for 7 days. Histopathology of an incisional biopsy was compatible with the diagnosis of cutaneous cryptococcosis. There was a complete response to fluconazole 300 mg/day for 3 months. No systemic disease was detected and there was no evidence of immunosuppression.
The importance of including cutaneous cryptococcosis in the differential diagnosis of skin lesions in patients without immunosuppression or the use of immunosuppressive therapy is emphasized. The cutaneous manifestations of the infection can be the first indication for a disseminated disease, therefore, its early recognition is essential to obtain a good prognosis.
Downloads
Download data is not yet available.
References
Neuville S, Dromer F, Morin O, Dupont B, Ronin O, Lortholary O; French Cryptococcosis Study Group. Primary cutaneous cryptococcosis: a distinct clinical entity. Clin Infect Dis. 2003;36:337- 47.
Chayakulkeeree M, Perfect JR. Cryptococcosis. Infect Dis Clin North Am. 2006;20:507-44, v-vi. 3. Negroni R. Cryptococcosis. Clin Dermatol. 2012;30:599-609. doi: 10.1016/j.clindermatol.2012.01.005.
Husain S, Wagener MM, Singh N. Cryptococcus neoformans infection in organ transplant recipients: variables influencing clinical characteristics and outcome. Emerg Infect Dis. 2001;7:375-81.
Singh N, Alexander BD, Lortholary O, Dromer F, Gupta KL, John GT, et al; Cryptococcal Collaborative Transplant Study Group. Cryptococcus neoformans in organ transplant recipients: impact of calcineurin-inhibitor agents on mortality. J Infect Dis. 2007;195:756-64.
Pappas PG. Cryptococcal infections in non-HIV-infected patients. Trans Am Clin Climatol Assoc. 2013;124:61-79.
Badreshia S, Klepeiss S, Ioffreda M, Miller J, Adams DR, Mackley C. Cutaneous cryptococcus in an elderly woman with chronic essential dermatitis. Cutis. 2006;78:53-6.
Schröter GP, Temple DR, Husberg BS, Weil R 3rd, Starzl TE. Cryptococcosis after renal transplantation: report of ten cases. Surgery. 1976;79:268-77.
Jarvis JN, Harrison TS. Pulmonary cryptococcosis. Semin Respir Crit Care Med. 2008;29:141-50.
Subramanian S, Mathai D. Clinical manifestations and management of cryptococcal infection. J Postgrad Med. 2005;51:S21-6.
Al-Akeel R, Ahmed M, Syed R. An overview of diagnostic criteria for identification of cryptococcal meningitis with special emphasis on AIDS. African J Biotechnol. 2012;11:11760-6.
Martinez LR, Garcia-Rivera J, Casadevall A. Cryptococcus neoformans var. neoformans (sero- type D) strains are more susceptible to heat than C. neoformans var. grubii (serotype A) strains. J Clin Microbiol. 2001;39:3365-7.
Schupbach CW, Wheeler CE Jr, Briggaman RA, Warner NA, Kanof EP. Cutaneous manifestations of disseminated cryptococcosis. Arch Dermatol. 1976;112:1734-40.
Latino GA, Gago E, Vidau P, Vivanco B. Cutaneous cryptococcosis in a patient on chronic haemodialysis. Nefrologia. 2012;32:697-8. doi: 10.3265/Nefrologia.pre2012.Jun.11563.
Gazzoni AF, Severo CB, Salles EF, Severo LC. Histopathology, serology and cultures in the diagnosis of cryptococcosis. Rev Inst Med Trop Sao Paulo. 2009;51:255-9.
Odom A, Muir S, Lim E, Toffaletti DL, Perfect J, Heitman J. Calcineurin is required for virulence of Cryptococcus neoformans. EMBO J. 1997;16:2576-89.
Valente ES, Lazzarin MC, Koech BL, da Rosa RV, de Almeida R, de Oliveira UL, et al. Disseminated cryptococcosis presenting as cutaneous cellulitis in an adolescent with systemic lupus erythematosus. Infect Dis Rep. 2015;7:5743. doi: 10.4081/idr.2015.5743.
Mostafa WZ, Ishak EA, Ekladious EM, Arnaout HH. Disseminated cryptococcosis with cutaneous lesions. J Dermatol. 1996;23:209-13.
Chuang YM, Ho YC, Chang HT, Yu CJ, Yang PC, Hsueh PR. Disseminated cryptococcosis in HIV-uninfected patients. Eur J Clin Microbiol Infect Dis. 2008;27:307-10.
Perfect JR, Dismukes WE, Dromer F, Goldman DL, Graybill JR, Hamill RJ, et al. Clinical practice guidelines for the management of cryptococcal disease: 2010 update by the infectious diseases society of america. Clin Infect Dis. 2010;50:291-322.
Gilbert D, Eliopoulos G, Chambers H, Saag M, Pavia A. Guia Sanford para Terapia Antimicrobiana 2019. 49rd ed. São Paulo: Guanabara Koogan; 2019.
Mourad A, Perfect JR. Present and future therapy of cryptococcus infections. J Fungi. 2018;4:79. doi: 10.3390/jof4030079.
Gullo FP, Rossi SA, Sardi Jde C, Teodoro VL, Mendes-Giannini MJ, Fusco-Almeida AM. Cryptococcosis: epidemiology, fungal resistance, and new alternatives for treatment. Eur J Clin Micro- biol Infect Dis. 2013;32:1377-91. doi: 10.1007/s10096-013-1915-8.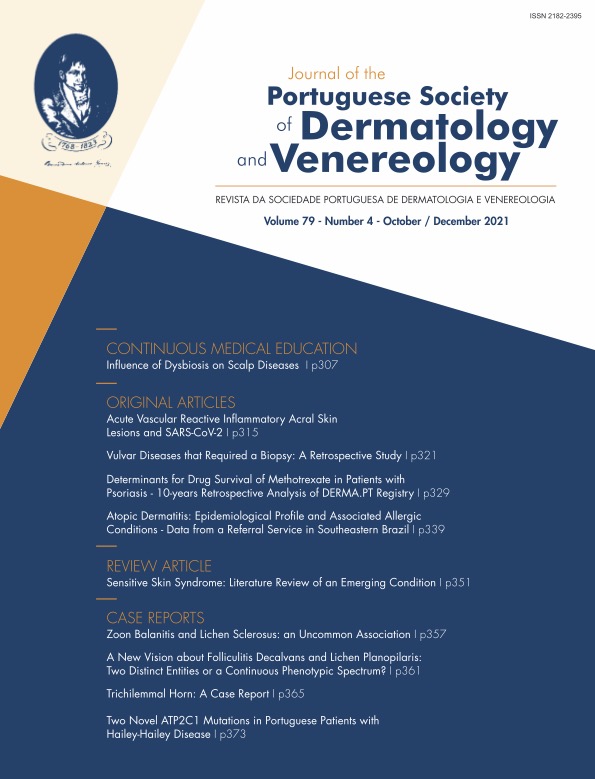 How to Cite
S. Aranha, N., M. F. L. Moço, J., A. Sassamoto, C., & C. K. Prigenzi, K. (2021). Cutaneous Primary Cryptococcosis in an Immunocompetent Patient: Case Report. Journal of the Portuguese Society of Dermatology and Venereology, 79(4), 381-385. https://doi.org/10.29021/spdv.79.4.1410
Copyright (c) 2021 Journal of the Portuguese Society of Dermatology and Venereology
This work is licensed under a Creative Commons Attribution-NonCommercial 4.0 International License.
All articles in this journal are Open Access under the Creative Commons Attribution-NonCommercial 4.0 International License (CC BY-NC 4.0).