FAST AND SIMULTANEOUS GROWTH OF MULTIPLE MELANOCYTIC NEVI ASSOCIATED WITH SEMINOMA
André Laureano

Interno do Internato Complementar de Dermatologia e Venereologia/Resident, Dermatology and Venereology

Alexandra Chaveiro

Assistente Hospitalar de Dermatologia e Venereologia/Consultant, Dermatology and Venereology

Ricardo Correia

Assistente Hospitalar de Urologia/Consultant, Urology

Ana Afonso

Chefe de Serviço de Anatomia Patológica/Chief of Pathology

Jorge Cardoso

Chefe de Serviço de Dermatologia e Venereologia, Director do Serviço/Chief and Head of Dermatology Department Serviço de Dermatologia, Hospital de Curry Cabral – Centro Hospitalar de Lisboa Central, Portugal
Keywords:
Chorionic gonadotropin, beta subunit, Human, Melanosis, Nevus, pigmented, Skin neoplasms, Seminoma
Abstract
Potential effects of pregnancy-associated hormones, endogenous and exogenous hormones on melanocytic nevi have been known for years. A 35-year-old man presented with a 6 month history of fast and simultaneous growth of previous, multiple melanocytic nevi located on the trunk, associated with increased levels of beta-human chorionic gonadotropin derived from testicular seminoma. After radical orchiectomy and adjuvant radiotherapy the tumor marker became undetectable. Without tumor relapse or further growth or other changes in skin lesion after 3 years of follow-up. We propose that in our patient, β-HCG derived from seminoma increased the growth pattern of previous nevi, a rarely described association.
Downloads
Download data is not yet available.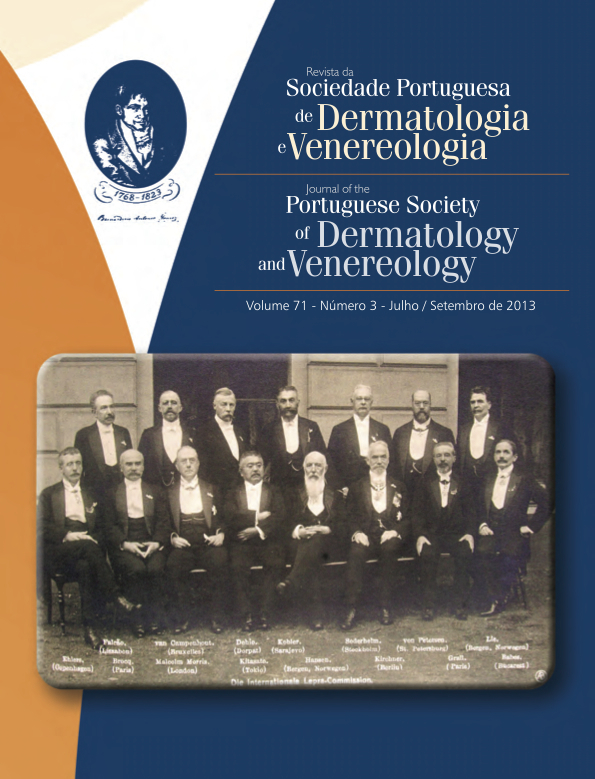 How to Cite
Laureano, A., Chaveiro, A., Correia, R., Afonso, A., & Cardoso, J. (2014). FAST AND SIMULTANEOUS GROWTH OF MULTIPLE MELANOCYTIC NEVI ASSOCIATED WITH SEMINOMA. Journal of the Portuguese Society of Dermatology and Venereology, 71(3), 415-418. https://doi.org/10.29021/spdv.71.3.203
All articles in this journal are Open Access under the Creative Commons Attribution-NonCommercial 4.0 International License (CC BY-NC 4.0).